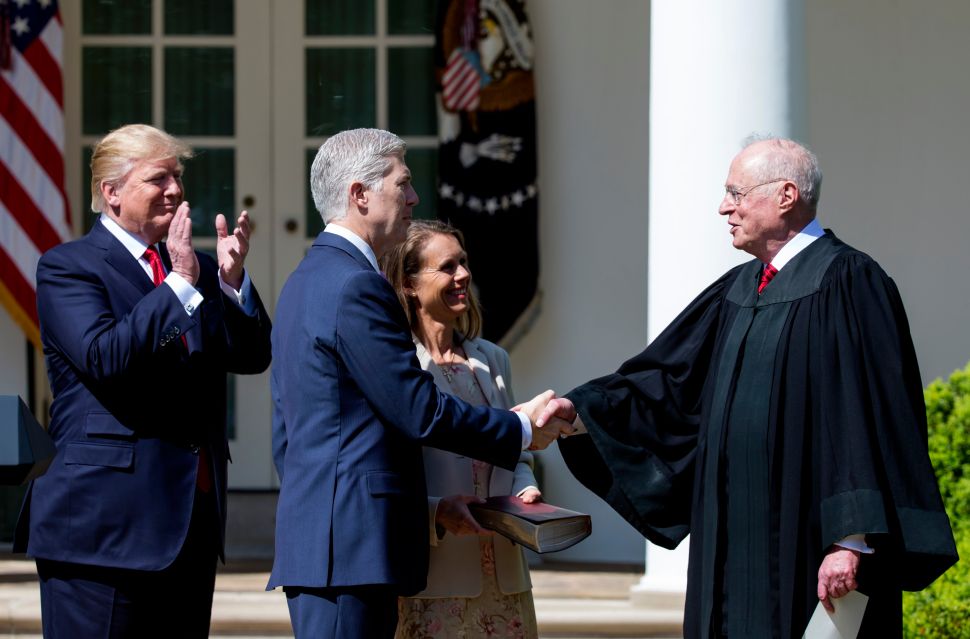 Justice Anthony Kennedy announced on Wednesday his retirement from the Supreme Court.
As a conservative "swing vote" who controlled the outcome of social cases like same sex-marriage and affirmative action, Kennedy's retirement is a blow to Democrats still recovering from Trump's appointment of Justice Neil Gorsuch over Obama's nominee Merrick Garland. Despite ensnarement in Special Counsel Robert Mueller's Russia investigation, Trump will designate another judge, likely someone whose views will fall to the right of Kennedy.
"We have a very excellent list of great, talented, highly educated, highly intelligent, hopefully tremendous people," Trump told reporters following Kennedy's announcement.
Here is a brief list of possible contenders the president could be referring to:
Judge Thomas Hardiman
A conservative jurist on the U.S. Third Circuit Court of Appeals headquartered in Philadelphia, Hardiman was listed on Trump's rolodex of contenders last January shortly before Gorsuch's nomination. 
Judge Brett Kavanaugh
First nominated to the U.S. Court of Appeals for the District of Columbia by former President George W. Bush in 2003, Kavanaugh has remained a controversial figure with media institutions and Democratic lawmakers. The New York Times published an op-ed in 2006 condemning his appointment as "unqualified," pointing to his support for Bush-era surveillance practices.
Judge William Pryor
Like Attorney General Jeff Sessions, Pryor embraced a law-and-order hardline while serving as Alabama's attorney general. According to a Washington Post report from last year, "Pryor defended the state's practice of handcuffing prison inmates to hitching posts in the hot sun if they refused to work on chain gangs" and disavowed Roe v. Wade as "the worst abomination of constitutional law in our history." He currently resides on the U.S. Circuit Court of Appeals for the 11th Circuit.
Judge Raymond Kethledge
One Republican with knowledge of the White House discussions told POLITICO that Trump was weighing Kethledge. As a judge on the U.S. Sixth Circuit Court of Appeals, Kethledge has designated a favorable ruling to a Tea Party group and one against the Internal Revenue Service, according to Big Law Business.
Attorney General Jeff Sessions 
Trump periodically tweets his dissatisfaction with the attorney general. But nothing is impossible in this political climate!