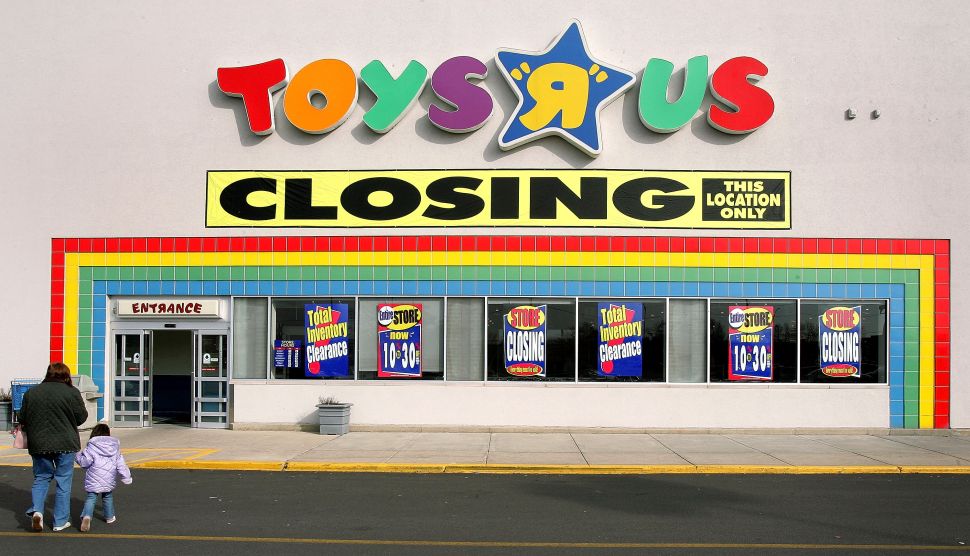 The epic fall of the 70-year-old Toys "R" Us is painful to watch. After selling off $2 billion worth of inventory at a discount, office equipment and leases from some of its 735 stores in the U.S., the retail giant still owes creditors and vendors billions of dollars.
Next Monday, Toys "R" Us will put all of its intellectual property assets up for auction in bankruptcy court in Richmond, Va. The list includes brand names, trademarks, various designs of its famous mascot Geoffrey the Giraffe, and, the most eye-popping of all, a long list of web domain names it has registered and bought over the years to prevent others from using them.
According to court filings, there are more than 400 domain names. They include:
ihatetoysrus.com
toysrussucks.com
fucktoysrus.com (also the same name ending with .net and .org)
sextoysrus.com
adult-toys-r-us.com
gays-r-us.com
To claim its indisputable dominance in the toy market (at some point in history), Toys "R" Us also bought a number of generic-sounding names about toys, such as:
discounttoys.com
toy.com
toyz.com
toystoystoys.com
etoys.com
etoysauctions.com
Also, many variations around Geoffrey the Giraffe:
geoffrey.com
geoffreygiraffe.com
geoffreysbirthdayclub.com
geoffreysjungle.com
geoffreysboxoffice.com
In addition, the company claimed dozens of domain names outside the toy category to block copycats from other industries:
lodges-r-us.com
bistros-r-us.com
burgers-r-us.com
cigars-r-us.com
turkeysrus.com
videogamesrus.com
toysrusmovies.com
It's common practice for businesses, especially consumer-facing companies, to claim domain names that bear similarities to their brands.
"Most companies would first take all the possible misspellings of their names, and then all the things that people could talk nasty about you, like [company-name]sucks.com," Bob Phibbs, CEO of The Retail Doctor, a retail consultancy based in New York, told Observer.
But owning kinky names like sextoysrus.com is unusual.
"I honestly believe that a couple of Toys 'R' Us employees who work in the back were too high on energy drinks and came up with these names," Phibbs suspected.
In terms of their actual value, Phibbs estimated that the "r-us.com" names would likely sell the best. "I think someone could easily take that and would want all the parts that go along with it, like burgers, diapers, or whatever, because let's face it, it's one of the best-known brands in America," he said.