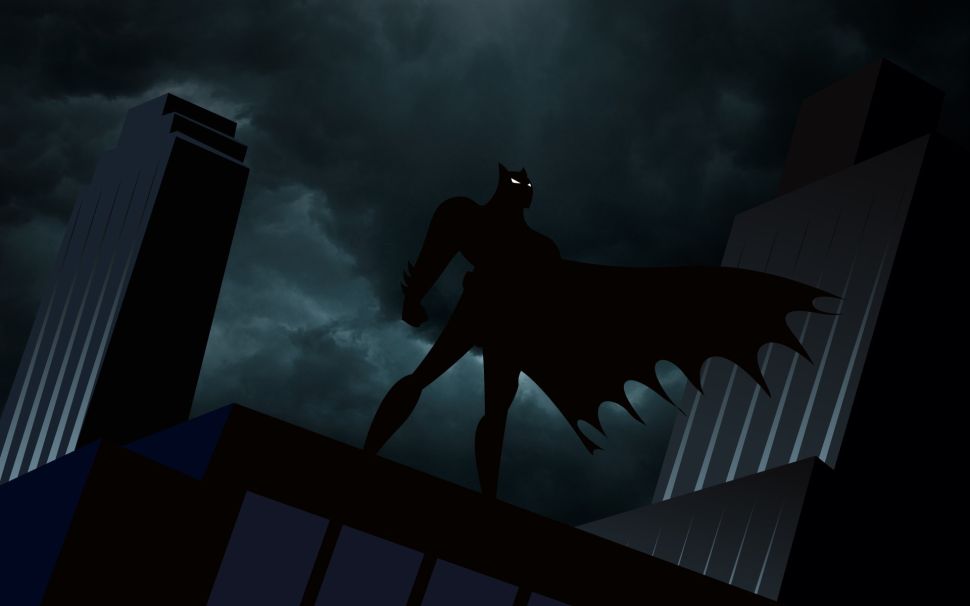 Since the modern big screen superhero boom began in the late 1990s, audiences have been given more than 30 origin story movies. Of those dozens of films, just two revolved around a black main character (Blade, Black Panther) and just three featured women in the lead role (Elektra, Catwoman, Wonder Woman). Moviegoers have yet to see a major blockbuster comic book film headlined by a star of Asian, Hispanic or multiracial descent.
That trend is finally starting to change as Hollywood studios put more emphasis on racial and gender representation. Unsurprisingly, that fits perfectly with consumer opinions.
Geek Wrapped surveyed 990 superhero comic book and film fans about their sentiment toward superheroes' races or ethnicities, how well they believed superheroes reflected themselves, and what they preferred them to look like. The results paint a fascinating picture of what superhero movies could and perhaps might look like moving forward.
Marvel's Black Panther proved to be a cultural touchstone in a way no superhero film before it ever did. Composed of a predominantly black cast led by Chadwick Boseman and directed by black director Ryan Coogler, race and culture were inherently baked into the blockbuster's story. As such, more than 60 percent of the survey participants said they didn't want T'Challa's race or ethnicity to change in the books or on the screen.
A similar sentiment was discovered in regard to Chris Hemsworth's Norse god Thor.
But 60 percent of comic book fans also indicated that they were open to race-swapping the normally Caucasian characters of Batman and Captain America.
One particularly interesting real-world Hollywood development related to this idea: Will Smith was actually offered the role of Superman before he played his own original superhero in Hancock. One driving factor behind his decision to turn down the role was the racial implications at play.
"The last Superman I got offered, the script came, and I was like, 'There is no way I'm playing Superman!' Because I had already done Jim West (Wild Wild West), and you can't be messing up white peoples' heroes in Hollywood," Smith said in 2008.
"You mess up white peoples' heroes in Hollywood, you'll never work in this town again!" he added.
But as recent box office trends would suggest, American audiences are hungry for diversity.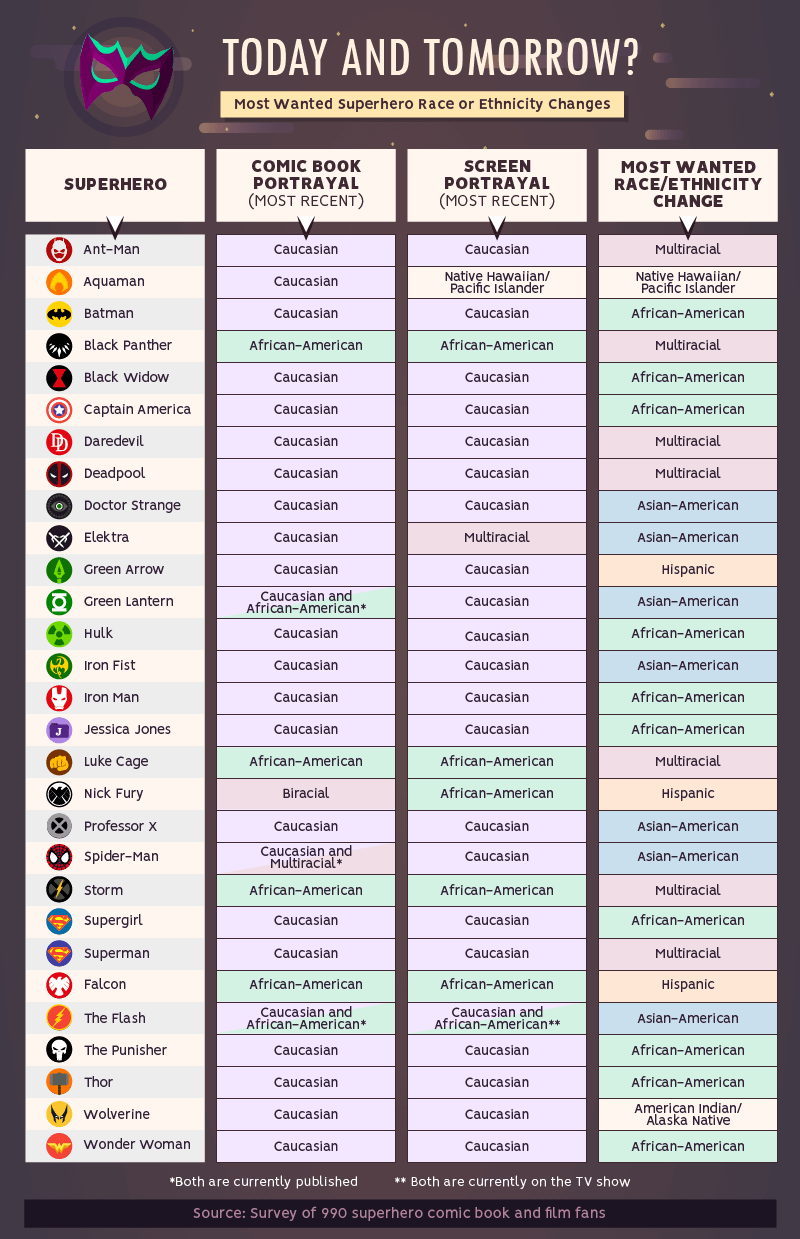 Some pundits within the entertainment industry claim that social just warriors and their politically correct agendas are "ruining" superhero movies. However, according to Geek Wrapped's survey, that stance does not align with popular opinion.
Almost 93 percent of women and 84 percent of men responded to the outlet's questioning that they would like to see greater diversity compared to what is currently available. Caucasian respondents were the only demographic to score positively in terms of feeling represented by today's superhero landscape. Black, multiracial or biracial fans, as well as Asian respondents, thought they were barely represented at all.
Almost 92 percent of millennials feel as if superhero properties should be more diverse, with 88 percent of Gen Xers and 77 percent of baby boomers agreeing.
We've begun to see that attitude reflected in more public ways in recent years.
In 2010, a Twitter campaign was launched by fans to try and get Donald Glover (Atlanta, Solo: A Star Wars Story) cast as Peter Parker in Sony's Amazing Spider-Man reboot. While the role eventually went to the white Andrew Garfield, the online movement showed that fans were ready for a black actor to headline his own major superhero project. (Glover would later voice the half-black, half-Puerto Rican Miles Morales in animation and play his uncle in last year's Spider-Man: Homecoming.)
Who are some other stars fans desperately want to see take on an iconic superhero properties?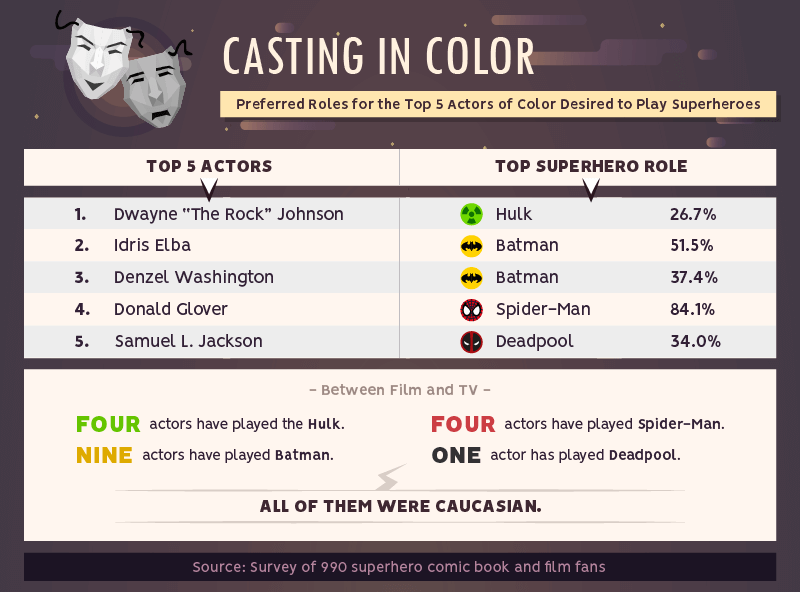 Idris Elba has become a popular fan choice for a number of marquee roles. A groundswell of online support has sprung up for him to be cast as John Stewart in Warner Bros.' potential Green Lantern movie and, more notably, as Daniel Craig's successor in the James Bond series. Now, we can add Batman to the wish list as Ben Affleck's time in the role could be coming to an end.
Many around the entertainment industry have been lobbying for Denzel Washington to take on the cape and cowl, especially Forbes' Scott Mendelson. And I'm on record saying I'll see literally any movie with Dwayne "The Rock" Johnson in it.
Overall, it seems as if both general audiences and hardcore comic book fans are ready to see a more a culturally diverse lineup of stars in their favorite superhero roles. Your move, Hollywood.