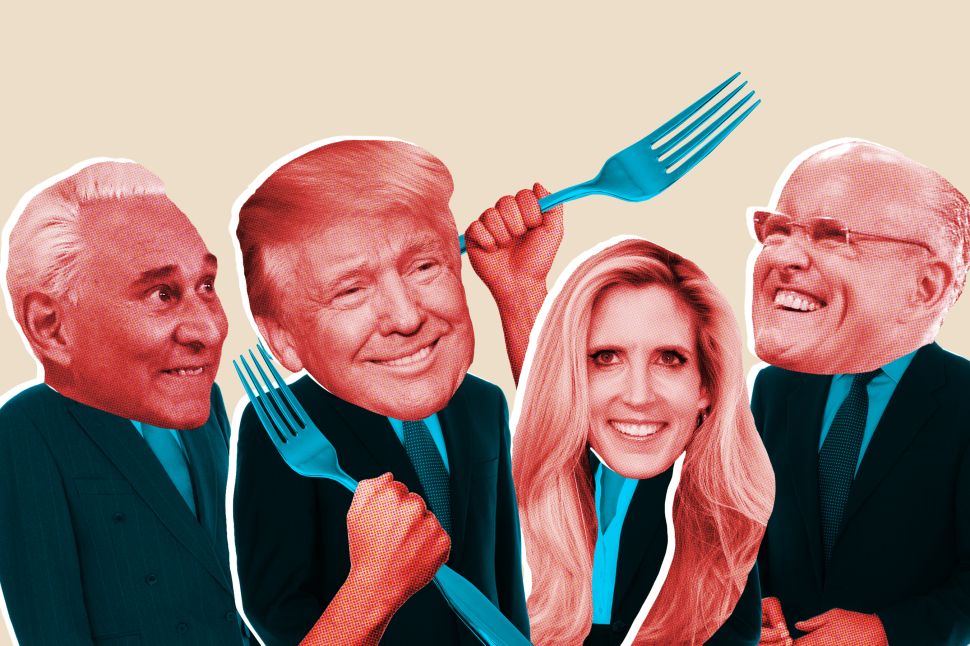 Spending a day at "the Beach," the Trump era's greatest stars bake in the sun. Glasses of Chardonnay and french fries in hand, power brokers like White House economic advisor Larry Kudlow, Senator Lindsey Graham and former Trump campaign manager Corey Lewandowski relax beneath umbrellas exchanging crumbs of gossip like currency.
This watering hole for the vain and powerful is not somewhere in Southampton, but at New York's legendary Beach Café.
"Here, everybody speaks the same language," explained the restaurant's proprietor Dave Goodside. "Politics."
Smack on the corner of 70th Street and 2nd Avenue in Manhattan, the Beach Café—known simply as "the Beach" to its Upper East Side clientele—is a place where politicians and CEOs nestle into lime-green booths to enjoy views of cabaret shows (and a taxidermic hammerhead shark), overcooked cheeseburgers and hurricanes whipped up by members of the president's inner-circle.
On one occasion, Lewandowski dined in the very next room as former Trump advisor Roger Stone, after reportedly facilitating Stone's ousting from Trumpland.
"Corey had just gotten Roger fired, so there was enough tension between the two of them, both wearing T-shirts and shorts—it was that kind of vibe," reflected Goodside. "Stuff like that, I really get a charge out of."
"The Beach Café is what downstairs at the 21 Club used to be," Stone told Observer, referencing the famous lounge with a marble bar and golden-framed paintings frequented by past presidents. "A low key place where movers and shakers from politics, business, theater and media mix with the [well]-heeled locals."
"Roger knows when he comes here, he's always going to see me. I know that he likes his deviled eggs on his table, as soon as he sits down," said Goodside. "When the Eisenhowers would come in here, or the Trumps would come in here, they always knew they were going to have a nice experience."
First opened in 1968 by two New Canaanite brothers, Bill and Tom White, the Beach was modeled after the Winged Foot Country Club in Mamaroneck, N.Y., combining old Hollywood with garden party culture. Having grown up in Trumbull, Connecticut, alongside a working class population largely seen as the labor force behind New Canaan's sprawling country clubs, Goodside learned from the White brothers how to attract WASPs with honey. Like a young Jay Gatsby, Goodside booked jazz talent to attract literary bigwigs Arthur Miller and George Plimpton, alongside American heiresses Tobie Roosevelt and Anne Eisenhower.
The Beach started drawing the politically powerful during the height of the Gulf War, after one of the White sons threw a 1992 fundraiser for American military troops aboard the U.S.S. Intrepid. One of the Intrepid's financial backers, Zachary Fisher, was so impressed with the young man that he started bringing politicians to the restaurant for lunch.
"It's like they were looking for Republicans to hang out here," Goodside told Observer. "All these country club golf guys joined, and they belonged to the same clubs like Winged Foot and Garden City… These are the people who are building the world. They're the big titans of industry. These are the people, when they pick up the phone, and they need a lobbyist to take care of something, they get through, and they've always had a home here."
Upon becoming the sole owner of the Beach in 2005, Goodside draped American flags throughout the venue while ensuring baseball remained on the television screens. Green checkered tabletops, model sailboats and classic American cuisine further reflected the atmosphere of Northeastern country clubs—regulars could even request off-menu dishes like chicken parmesan sandwiches, feeling special when items were cooked specifically for them. On one such occasion two weeks ago, Goodside wheeled out a portable cooker to grill hotdogs for conservative commentator Ann Coulter and The Wrap's media editor Jon Levine, who both enjoyed Chardonnay with their pork.
"I think we started to become more true to the American experience," said Goodside. "I don't put soccer on."
"It's just a great neighborhood bar, where you wouldn't have to worry about them having SOCCER on, instead of the Yankees," echoed Coulter in an email.
Midday the Beach attracts politico sightings; but at night, Goodside busks in Broadway talent for the bourgeois craving booze-soaked piano solos, nostalgia and the drama of show biz.
"The ambiance is wonderful. It's very intimate… All four shows I've done have been jam packed. One night they turned away 100 people!" exclaimed Observer's film critic and occasional Beachhead cabaret performer Rex Reed. "One night the famous jazz singer Helen Merrill was there."
Besides theatergoers, media caricatures and D.C. establishment fixtures like former defense secretary Donald Rumsfeld, the Beach Café was treasured by the Trump family. For 30 years, the president's sister, Elizabeth Trump Grau, attended the restaurant's cabaret nights. Goodside described watching Ivanka Trump bounce around the booths as a child and an occurrence from earlier this month in which the secret service inspected the Beach for a meeting between the president and New York City Mayor Bill De Blasio (which was later cancelled). Coincidentally, Ivana Trump was rumored to be attending the Beach's cabaret that evening, but was also a no-show.
As Trump amassed power through real estate and reality television during the 2000s, his long-standing allies like Rudy Giuliani and Larry Kudlow used the venue to strike alliances and play politics.
"Rudy Giuliani occasionally pops in," said Stone. "Jake Menges, who is known in the political world as presidential counselor Rudy Giuliani's closest aide, dines there whenever he is in New York, which is often."
Following Trump's presidential upset, former members of the president's inner-circle like Sam Nunberg, Lewandowski and Stone flocked to the Beach to flex their political capital and hash out resentments from the campaign trail.
Despite drawing the GOP's biggest players, along with occasional fringe grifters like Alex Jones and Milo Yiannopoulos—the latter of whom told Observer "I can't wait for the vigilante squads to start gunning journalists down on sight" when asked about his favorite item on the menu—Goodside insisted that your average Beachhead leans Democratic.
"It's New York City. There might be more Republicans here than Queens, but they're still a minority," explained the owner, before standing to greet Democratic council member Ben Kallos.
"[Kallos] could have gone to many other places to meet associates, but [he chose] to come here!" Goodside wrote over text message, adding that Democratic Congresswoman Carolyn Maloney and the former presidential candidate John Lindsay were both "famous Beach people."
Although power pulses through the Beach like electricity, it does not keep the lights on. Faced with rising rent and insurance costs, coupled with lower margins, Goodside said "there is no profit" to be made in restaurants anymore. With the property's lease nearing its end, the Beach will likely close unless an angel investor shoulders some of the financial burden.
"Restaurants are being replaced by well-funded chains or groups that have less of a personal touch," said Goodside, noting that even small changes in weather can deter would-be customers. "I don't do it for money. I like being able to keep the lights on for the neighbors and for the people who appreciate what we do."
"All the [cabaret] venues are closing. There are very few places left," lamented Reed.
Goodside was mum on the lease's exact timeline but pointed across the street to the New York City restaurant chain 5 Napkin Burger.
"They're waiting," he growled. "We're a civilized and dignified environment."
"You can go to Peter Luger's, you can go to Sparks, you can even go to Benjamin Steakhouse, but you will not find a better New York strip then the one Dave offers with perfectly crispy french fries," said Stone. "The mixologist behind the bar has memorized your favorite drink. It's more like a club than a restaurant."