Decision fatigue is real. In a world where a Sephora.com search for "moisturizer" yields a cool 525 results, it's easy to see why customers become overwhelmed. Throw in increasing demand for (or at least curiosity about) clean, natural ingredients and the search for your perfect cream becomes even more confusing. Perhaps this is part of why the trend of DIY skin care, where one sources and mixes ingredients to create a bespoke product, is making a comeback. But this time, instead of being an alternative to buying from brands, this customizable option is being supported by a handful of new companies that recognize customers are looking for transparency when it comes to contents—and personalization when it comes to their own skin.
A handful of entrepreneurs are making it easier to purchase trustworthy, pure ingredients—and helping us learn how to use them. Below, a look at some of the brands repackaging natural remedies into something chic.
Tina Hedges, the founder of Loli beauty, grew up in Jamaica where it was commonplace to bear witness to the making of natural potions and lotions, but her career steered her into the clinical labs behind the world's biggest beauty brands (namely, L'oreal). After years of using her own body as a testing center for developing new products, she found herself becoming increasingly reactive. The result was a Marie Kondo moment during which Hedges tossed most of her stash and began to collect books on DIY beauty.
While Loli started as a subscription kit, products are now broken into two main categories—bases and mix-ins, which can be used in multiple ways. The hero is the Plum Elixir, an oil the brand claims is more potent than the more commonly found argan or marula, and can be used as a rejuvenating serum or moisturizer or on dry hair. If skin is dull, you can add a drop of their Cranberry Seed Oil, which Hedges calls "nature's vitamin C," to boost the oil, or further target its results.
"Your skin and hair type changes daily dependent upon your lifestyle, geolocation, health, and even emotional state," she told Observer. Loli's pure, potent and personalized approach gives you the power to stir up just what you need when you need it."
Loli makes a concerted effort to be sustainable—they're 100 percent waterless (meaning less diluted), packaged in reusable glass jars, and the first personal care brand to be a member of Made In A Free World, a technology platform that helps brands assess the risk of people trafficking in their supply chain. Loli Beauty is the first and only beauty company to be a member. Loli's website also suggests BIY (blend-it-yourself) recipes to make it easy for even the total novice. For example, the Redness Remedy provides the base Chia Carrot Brûlée and two targeted mix-ins: Turmeric Root and the aforementioned Cranberry Seed.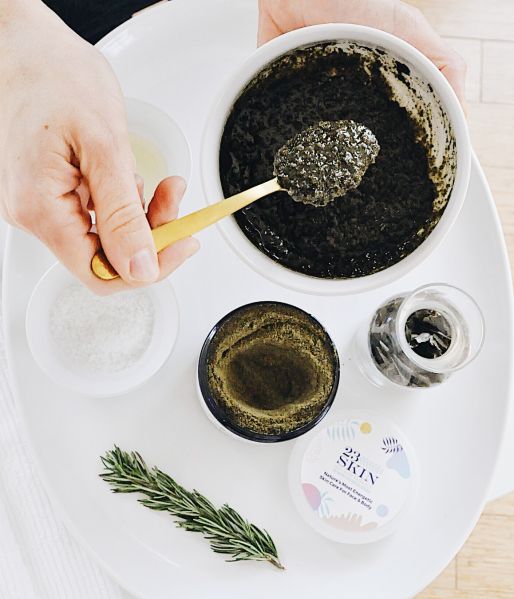 This six-month-old brand offers two multipurpose powders meant to be adapted for different uses as your skin's needs change (which, thanks to seasons, hormones and other factors, is basically constant). The founder, Shiri Sarfati, is a second-generation esthetician who grew up in the beauty world—her mother founded Repechage skin care. Given her upbringing and the crowded beauty industry, the younger Sarfati wanted to launch a brand of her own, but knew the market didn't need another moisturizer. Furthermore, she wanted to help women (especially busy moms like herself) recreate the spa experience at home.
Potent powders were the clear answer: "Because there is no water, there is no need for preservatives. Water is the first ingredient in most skin care products, but the second you formulate with water you introduce the possibility for bacteria to grow. That's why you need preservatives. And just because a product claims it's paraben free does not mean there are no other preservatives. Otherwise you would have mold growing in your favorite skin care product," Sarfati said.
She recommends mixing her Matcha Clay Powder with water for a purifying mask, or with oil for a more hydrating one. She often uses her Seaweed Powder with sea salts, olive oil and a few drops of peppermint oil as a body scrub, or combines it with honey, aloe and warm water for a gently exfoliating mask. "It may not be pretty, it may not smell amazing but it is super potent and it works. The results are insane," she said.
The apothecary-esque jars of S.W. Basics have labels meant to win you over with their transparency (for example, their cream lists only three simple components: organic fair trade shea butter, organic coconut oil, organic olive oil). With single-ingredient, mixable sachets, though, the brand aims to take simplicity one step further. "We want to help people understand natural ingredients at the most basic, customizable level," said founder Adina Grigore. "Trying one ingredient at a time is the best way to know if your skin really likes it." In fact, Grigore doesn't even always mix them at all—she reaches for shea butter to fix chapped lips and jojoba oil as an on-the-go makeup remover. French green clay with water makes a detoxifying but gentle face wash, and aloe and H20 soothes cuts.
To Grigore, the DIY movement represents an ownership over one's own regimen. "There is a massive gap between the "hippie" who makes everything from scratch at home lovingly and the shopper who feels too busy to even think about any of that," she said. Her sachets aim to provide a shortcut.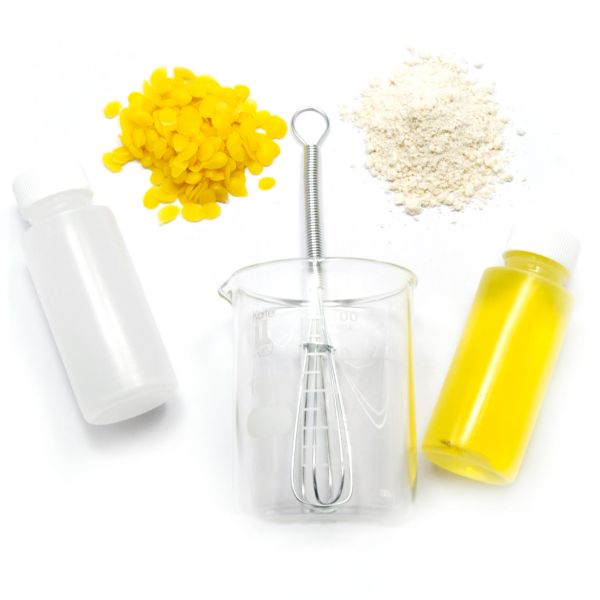 Ktchn Apothecary offers one product—a moisturizer. But it also offers the experience of making you feel like a professional product developer as you whip it up on your home stove. Founder Kevin Lesser's brand actually grew out of a second of concern he had for his dog, George, who licked Lesser's face just after he'd applied a department store moisturizer. The natural a-ha moment took place when he realized that if he was worried about his pup ingesting the ingredients, he might also not want to put that same stuff on his face.
At-home concocting isn't simple though, so Lesser sought out to make his formulation easy to recreate from, yes, your kitchen. Lesser's M.O. is, in part, inspired by the fact that your standard drugstore and department store products are formulated with enough preservatives to last for up to two years. While that might be great for your wallet, it's not so good for your skin as it means they'll contain ingredients that, as Lesser explained, "prioritize in-store shelf-stability and dilute beauty benefits. That's why they never live up to the hype." The brand's Revitalizing Facial Cream is 99.9 percent natural and uses botanical extracts. It claims to reveal visibly smoother skin in three days.