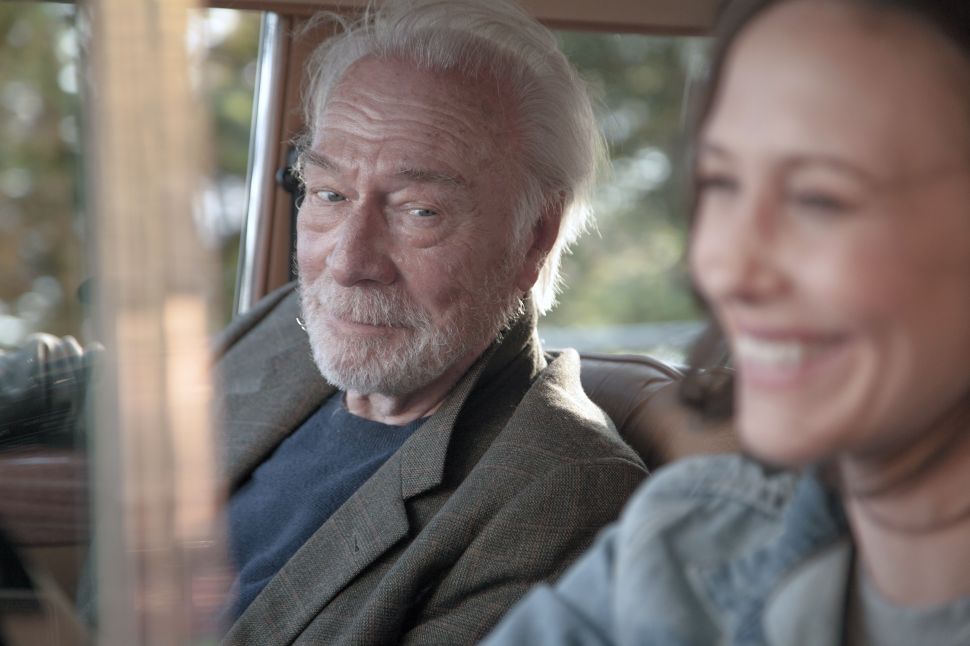 A first-rate cast enriches the otherwise dismal Boundaries, a misguided combination road movie and domestic comedy-drama that otherwise qualifies as a box office also-ran.
Always fascinating Vera Farmiga plays Laura Jaconi, a single mother in Seattle saddled with a criminally dedicated con-man father named Jack (Christopher Plummer), an old codger getting closer to San Quentin every day, and a precocious, mentally disturbed teenage son named Henry (Lewis MacDougall), who is one step away from reform school himself. Jack has just been kicked out of his senior citizen retirement home for dealing drugs. Henry has just been expelled from school for drawing naked photos of everyone he knows, including the principal.
---

BOUNDARIES ★
(1/4 stars)
Directed by: Shana Feste
Written by: Shana Feste
Starring: Vera Farmiga, Christopher Plummer, Lewis MacDougall, Kristen Schaal, Bobby Cannavale, Norman Lloyd, Peter Fonda
Running time: 104 mins.

---
So Laura packs up three generations of Jaconis in a gold Rolls-Royce with a multitude of rescue animals, and drags them down the Pacific Coast to live with her sister Jo-Jo (Kristen Schaal), a dog walker in Los Angeles whose entire world of reference ended with her favorite movie, The Karate Kid. Jack enlists his grandson Henry in a plot to get rid of his leftover $200,000 stash of marijuana, which allows writer-director Shana Feste to make several welcome detours for visits with Laura's worthless ex-husband (Bobby Cannavale), Jack's aging cronies in crime (Norman Lloyd and Peter Fonda), and a group of pot-smoking Buddhist monks.
The reunions are contrived, the comedy is curdled, the narrative consists of too many cliches previously seen in every road movie from Little Miss Sunshine to Streisand's ghastly 2012 cross-country ramble The Guilt Trip, and the writing is too vague for the characters to ever spring to life with any real depth.
Laura has spent her life with worthless men, searching for missing pieces of her father and trying to justify why he was such a terrible parent—but what he did that was so emotionally damaging is never clear. Jack used to leave Laura and her sister alone for weeks at a time, but the screenplay never reveals how old they were. For all we know, they could have been in college. For that matter, the conflicting elements that make Jack a confusing rogue are all frustratingly jumbled.
As played by Plummer, Jack is charming yet indifferent, occasionally caring but always a jerk. Laura is always working on reasons to forgive him for something, but what? Farmiga is too imaginative and keen for the material, and watching the elegant Plummer prattle away about his adult diapers grows wincingly weary too fast for comfort. Their charisma is unimpeachable, but I have seldom seen a cast this intelligent and resourceful so wasteful in material so mundane. Road movies rarely grow fertile new grass, but Plummer should be wise enough by now to recognize a vacant lot when he sees one.