It seems like the British royals are always in the midst of remodeling, whether it be to expand Prince William and Kate Middleton's Kensington Palace apartments, getting the damp out of Princess Eugenie's cottage or making Prince Harry's home a little less of a bachelor pad. And don't forget about Buckingham Palace, which needed a reported $456 million in renovations.
It's not the only elaborate 18th century European residence getting a little spruce up, though. Just a short ways away, in Paris, French president Emmanuel Macron's wife, Brigitte (who, by the way, is still technically not the first lady), is preparing to freshen up Élysée Palace.
According to the Evening Standard, Macron told American Friends of Versailles that she wants to bring the elaborate three-story building up to date. "I want more modern tapestry. We want to bridge the classical and the 21st century." Who can say no to a nice tapestry?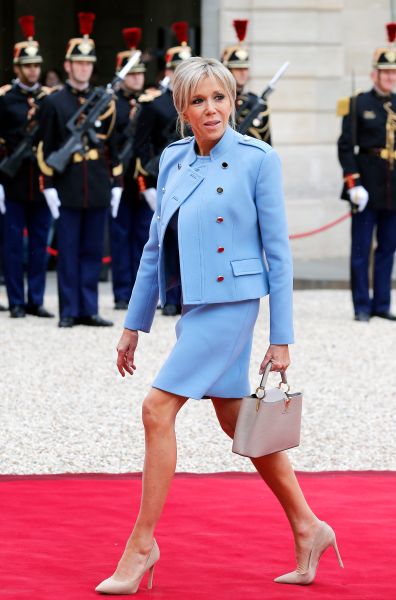 The couple has already taken steps towards financing the renovations, and it's not exactly a sophisticated fundraising concept.
Less than a month ago, the presidency registered "Elysée—Présidence de la République" with the French trademark office, and was seeking "bids for licensing partnership to sell products." It's doubtful we'll see any SugarBearHair #spon on Instagram. The presidency plans on selling branded souvenirs (think red, white and blue mugs, pens, postcards and so on) and using the profits to restore "historical palace buildings."
There are already expectedly kitschy souvenirs available for purchase at the National Assembly, but the Élysée mementos were previously only up for grabs when the palace is open to the public once a year, on Heritage Days.
They'll need to sell quite a few keychains to raise this amount of cash—the cost is estimated at €100 million (about $117 million) over the next seven years, per Associated Press. There might be an online shop, though we wonder if it'll get as much attention as the Princess Charlotte merch offered at the Kensington Palace gift store.
The Macrons have already begun the décor process, but the French public didn't take particularly kindly to the couple's expensive taste in dinnerware. France's first couple spent a reported €50,000 on a 1,200 piece set, selected by Brigitte Macron. Evariste Richer of the Sèvres porcelain factory, which has supplied the presidential palace since 1848, designed the hand-painted plates.
Officials said France's first family needed dishes that were more modern as well as in a complete set, as some of the tableware dated back to Jacques Chirac's presidency more than a decade ago, or even to 1950s French president René Coty. 
Well, no one can deny the former teacher has impeccable taste; just look at her collection of chic Louis Vuitton shift dresses. Still, it's a hefty sum to spend on dishes—then again, Donald Trump apparently doled out $12,800 on a single conference table for the White House, so maybe not.