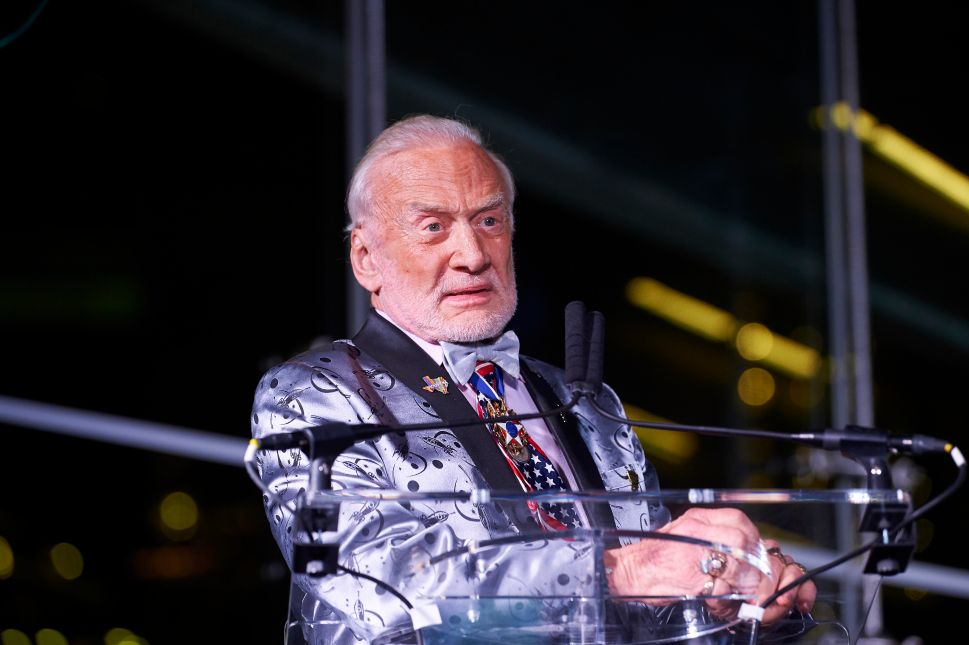 Buzz Aldrin made one small step for man, but family troubles may lead to a giant leap backward for his legacy.
A blockbuster Wall Street Journal investigation found the 88-year-old astronaut is embroiled in a legal and financial fight with two of his children and a former business manager.
Aldrin owns a private company called Buzz Aldrin Enterprises and an educational nonprofit called ShareSpace. Both entities are overseen by his children, Andrew and Janice Aldrin.
Aldrin's offspring want to become guardians of the legendary astronaut so they can make business decisions and have power of attorney. They claim he is paranoid, confused and "in cognitive decline."
But the spaceman vehemently denies these charges. This week, he's undergoing a competency exam by three mental health specialists to prove he's sane.
Aldrin is also suing Andrew and business manager Christina Korp, alleging elder exploitation. The lawsuit further accuses Janice of conspiracy and breach of fiduciary duty.
Specifically, Aldrin claims his kids have transferred $500,000 from his savings account to a foundation account for their own purposes. He also says the implication that he has dementia constitutes slander.
The children claim they simply want to keep Aldrin's legacy alive.
"We love and respect our father very much and remain hopeful that we can rise above this situation and recover the strong relationship that built this foundation in the first place," Andrew and Janice Aldrin said in a statement.
Aldrin's kids have been periodically estranged from their father. The astronaut has spoken publicly about his struggles with depression and alcoholism after returning from the moon, though he says he's been sober for nearly 40 years.
Because of his work, Aldrin was rarely home while his children were growing up. He divorced Janice and Andrew's mother in 1974, and has been remarried and divorced twice since.
It was after the last divorce in 2013 that Korp took over Aldrin's affairs. She was hired as an executive secretary in 2007 after serving as director of operations for singer and radio personality John Tesh.
Korp now directs the ShareSpace Foundation with Janice Aldrin. She also runs an eponymous management firm for former astronauts, according to her LinkedIn profile.
Aside from posting on Aldrin's social media accounts, Korp receives a five percent commission for his speaking engagements.
But according to Aldrin, Korp's thirst for cash means he has attended events and endorsed products he didn't believe in, such as Fabergé eggs and French perfumes.
Korp also allegedly controls Aldrin at his own birthday parties. The astronaut was telling space stories at a celebration a few years ago when Korp abruptly walked over to Aldrin and took away his microphone.
"That's enough, Buzz," she said.
Aldrin's lawsuit is pending in Brevard County (Fla.) Circuit Court.