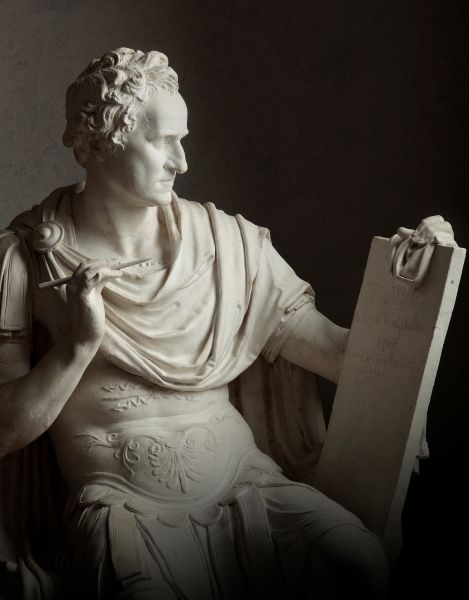 George Washington, is that you?
It's been almost two centuries, but visitors to the Frick Collection will now have the chance to see George Washington as one of the Europe's greatest sculptors saw him—though it's unlike many other depictions of the country's first president.
Think of this person more like "Giorgio Washington." It's how sculptor Antonio Canova imagined him, and what he called him. The venerable Frick is showing plaster studies, sketches and plans for an ill-fated marble statue made for the State House in North Carolina that barely lasted longer than two presidential terms.
Created by the Italian neoclassical sculptor in Rome, it was installed in Raleigh with an elaborate pedestal in 1821 after a year-long voyage from Canova's studio. A fire a decade later destroyed it.
But models for that statue remained in Canova's studio, including a full-scale study in plaster that has never before traveled outside of Italy. In that monumental work and in sculpted studies, Canova portrayed a skirted Washington (with his own hair, no less!) in antique Roman dress, writing his farewell address on stone tablets with a quill poised in the air.
"Giorgio Washington/Al Popolo degli Stati Uniti /1796/ Amici e Concittadini" are written on the tablets, in Italian, naturally. (It translates to: "To the People of the United States/1796/Friends and Citizens.")
At first glance, the image of the first president in Roman attire is an odd one—Washington seated in a skirt and calf-high boots. Blame it on Thomas Jefferson. It was he who insisted to American diplomats in Italy that Canova depict his fellow Virginian that way, and not in a military uniform. It's a whimsical novelty, until you see the dignity of Canova's depiction.
But even more of a novelty is the nude version Canova created, with Washington clad in a fig-leaf with out-stretched arms that might eventually hold a quill and a tablet. (The sculptor probably didn't consider using a leaf from a cherry tree.) Canova's logic was that he needed to position the body and limbs properly before he could sculpt Washington clothed.
No one at the Frick could tell me when anyone else but a satirist had depicted an American president completely naked. Bear in mind that Canova's nude model of Washington was intended as a study, and certainly not a satire—and not an emperor with no clothes. It was never sent to Raleigh.
For the record, Canova also portrayed no less than Napoleon nude, in a finished marble sculpture as the Roman god Mars (1802-06). That neo-classical figure was in the Louvre (then renamed the Musee Napoleon) until 1816, when the British government that defeated Napoleon gave it to the Duke of Wellington. Washington the citizen-leader may not have taken the form of a Roman god, but he wasn't a tyrant.
The Frick being the Frick, there's no special mention or marketing of a naked president. No doubt someone else will get around to that soon.
The works on view—from drawings to a stained marble fragment of the original with the artist's signature—are a rare and revealing look at Canova's process. These curiosities also weave a tale about patronage and the art market when North Carolina seemed as far away from Rome as the moon.
Canova's template for Washington's face transformed the Virginian into a full-blooded (and full-nosed) Roman. He seems less patrician in a life-mask on loan to the show, made in 1785 on a visit by the French sculptor Jean Antoine Houdon. There's also a pro-forma classic portrait in a white wig and long coat at the Frick by Gilbert Stuart.
Canova's Washington owes much to Giuseppe Ceracchi (1751-1801), an Italian whose portrait busts of the first president were copied in abundance wherever there was demand, which was everywhere in Europe and along the American East coast.
But Canova and Washington never met each other, stressed the Frick's chief curator Xavier Salomon. Washington never went to Europe. Canova never visited the United States. Still, Canova's Washington is a solemn salute by a European to an American statesman.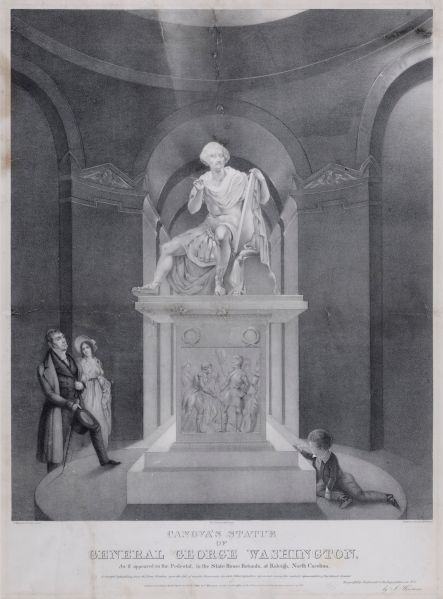 Canova, who declared Washington a "gentleman," claimed to have been inspired by passages from a history of American independence that a studio assistant read aloud while he sculpted. He was paid handsomely by the North Carolinians for this regal depiction.
Except for the vacant eyes and the nails holding the body parts together, the full-sized plaster rendering feels finished. It's as close as we'll get to the sculpture in full, an imposing and improbably modest figure—combining those two attributes of classical sculpture, simplicity and quiet grandeur.
Yet there's nothing like the real thing. Salomon says that a plan is underway in Raleigh to reunite the burned fragments of the original marble statue in 2020—all the more venerable as an incomplete ruin—for the centenary of the sculpture's trip to Raleigh. Get ready for an American toga party.