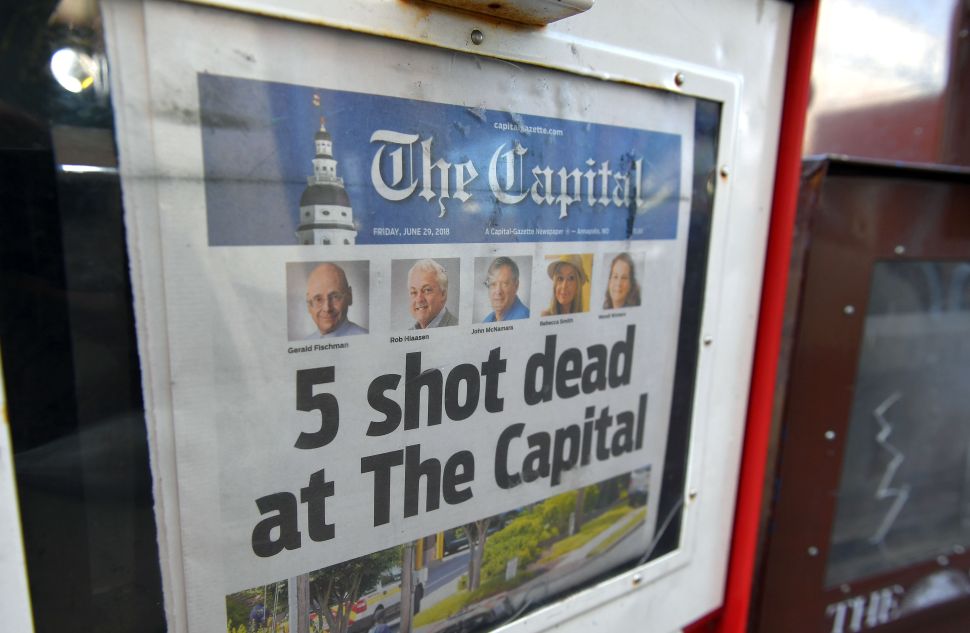 Journalists and all American citizens are reeling after the shooting at the Capital Gazette newsroom in Annapolis, Maryland, in which five staffers were killed and two others were injured.
The shooter, Jarrod Ramos, had a long-running dispute with the paper. In 2012, he sued the Capital Gazette for defamation over a story about his harassment of a high school classmate. He lost the suit but continued to lash out on social media, creating several Twitter accounts for the express purpose of harassing Capital Gazette staffers.
Reporters at the paper live tweeted the shooting from under their desks—the initial call for help actually came from an intern.
Despite the carnage, the Capital Gazette was able to put out a newspaper this morning. The front page featured photos of the fallen, while the editorial page was blank to show the paper was "speechless."
And even reporters with no connection to the area are providing major assistance.
Madi Alexander, a data journalist for Bloomberg Government, set up a GoFundMe to "Help Capital Gazette Journalists." GoFundMe has verified the campaign, and it's featured on the site's homepage.
The drive's initial goal was $30,000, but so far it's raised over $115,000.
Alexander told Observer that thee idea for the GoFundMe came from a Facebook group of journalists who wanted to help out. She got permission from a Gazette columnist before starting the campaign.
"I'm very emotional right now, but I'm also a practical person," Alexander said. "It seemed like an easy way to channel grief into positive action."
She said she hopes the Capital Gazette uses the money to pay for medical bills, funeral costs, newsroom repairs and other unforeseen expenses.
GoFundMe once took a transaction fee of five to eight percent from each donation, which meant not all the money went to its intended recipients.
But the site recently waived that fee, replacing it with an option to "tip" GoFundMe that's separate from the primary fundraiser.
Both GoFundMe and Capital Gazette staff will be consulted before any funds are withdrawn or distributed. Nobody can withdraw money from the fundraiser without prior approval.
Alexander included an extra bit of advice at the bottom of her GoFundMe pitch.
"Thank you all so much for your love and support. Subscribe to a local newspaper," she wrote.
Subscriptions to the Capital Gazette start at just 99 cents for four weeks. There's no better way to remember these fallen journalists than by supporting the work of their colleagues.