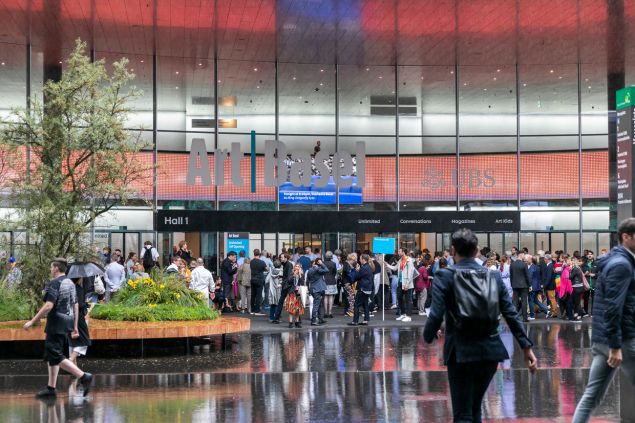 Within the last decade, Art Basel has become a pan-continental, seemingly year-round contemporary art extravaganza with major fairs every four months in Basel, Miami Beach, and Hong Kong and smaller exhibitions scattered across the globe at various intervals in between. But the fair's original event, hosted every June in the Swiss city for which it's named, is still considered the benchmark of blue chippery, where "serious" collectors flock to scope out nearly 300 of the world's most prestigious galleries, all of which have brought work by their latest and greatest artists to eagerly shill in the Messeplatz.
The 2018 edition of the fair officially opened to the public on Thursday evening, but the VIP feeding frenzy has been underway since Tuesday morning, setting the sales trends early on. And one thing's certain this year: for once in the overwhelmingly white male-skewed art market, diversity is the order of the day.
Female artists are getting top billing in gallery booths these days, a budding trend Observer pointed out at New York's Armory Show in March that has thankfully continued—if not fully blossomed—at this summer's Art Basel. As Andrew Goldstein of Artnet News noted in his round-up of best artworks at the fair, "Not so long ago, you could tour the fair and see artwork after artwork featuring naked women, all served up like canapés; turn a corner now and you'll find a statement piece that may make you rethink your gender assumptions, and fast.
Not only is the work of female artists getting seen, it's being sold at a rapid fire rate. Artsy's market analyst Nate Freeman was quick to report a spur of sales on Tuesday of paintings by Abstract Expressionist Joan Mitchell at the mega-sized, multi-city dealer booths. One work was snapped up early on at Hauser & Wirth for $14 million, and another that had been "circled by three collectors and institutions all afternoon" sold later the same day at David Zwirner for $7.5 million.
Freeman pointed out that these were just two of roughly a dozen works by Mitchell dotting at least seven gallery booths, all with higher price tags that he attributed to "a growing understanding that Mitchell should be selling for as much as her contemporaries," who include financially inimitable male figures like Jackson Pollock and Franz Kline.
Women weren't the only market minorities making waves at Basel this year, either. Collectors seemed eager for work by both established and emerging African-American artists, with New York's Alexander Gray gallery selling an abstract work by Washington, D.C. color field painter Sam Gilliam from 1972 to a German art foundation and Los Angeles gallery Blum & Poe reporting that the Louis Vuitton Foundation picked up a recent piece depicting the U.S.-Mexico border by L.A.–based artist Henry Taylor. Judd Tully of Artnews observed that New York's Jack Shainman Gallery, which deals heavily in work by black artists, "virtually sold out its stand." Works that found new homes in private and public collections include pieces by Nina Chanel Abney and Kerry James Marshall; a 2018 painting by U.K.–based Ghanaian artist Lynette Yiadom-Boakye that sold for $150,000; and a $1.8 million 1973 portrait by Barkley L. Hendricks, an artist so popular that Shainman has a waiting list for his works.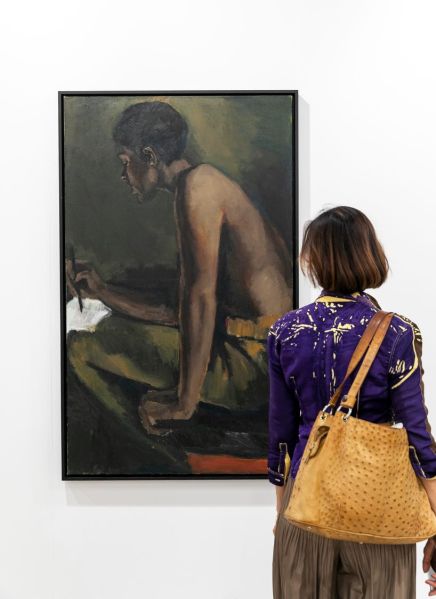 Even outside of the fair grounds the work of female artists and artists of color are in the spotlight. The New York-based non-profit Creative Time, known for its site-specific socially engaged projects, launched its first European Art Basel presentation. The communal construction project and large-scale environmental installation is the result of a collaboration between artists Lara Almarcegui, Isabel Lewis, and the architecture firm Recetas Urbanas that will remain in the middle of the Messeplatz for three weeks. And at the Kunstmuseum Basel, concurrent exhibitions showcase two of the most prominent African-American artists working today; "The Music of Color" explores Gilliam's career while "Black Madonna" presents new works and performances by Chicago-based social practice artist Theaster Gates.
Taken together, all of these trends at the 49th edition of Art Basel and beyond offer a hopeful vision for the future of the art world—one in which women and minority artists might not only be able to earn equal amounts for their work in comparison with their white male counterparts, but perhaps achieve more lasting security in the canon of art history. As Artnet's Julia Halperin suggested in her coverage of the fair, the market is rapidly reassessing price points for artists who have been "undervalued for decades" due in no small part to museums rushing to fill gaps in their collections; she reported that "dealers say Art Basel can be an important opportunity to provide these historically overlooked artists with European exposure that can have a lasting impact."
But dealers' quick commercial capitalization on shifting social norms does not in itself an equality movement make, as welcome as this uptick in sales and attention may be. As we noted last month during Frieze New York, art fairs increasingly blur the lines between cultural events for the masses and luxury trade shows for the one percent. There's certainly unquantifiable cultural value in the increased visibility and prices of work by minority artists. But just because the tastes of a few are in step with the political motivations and social consciousness of a larger public doesn't mean that they'll stay that way. Larger systemic change is the product of deep and sustained investment over time. 
While this Art Basel may be bringing in bigger bucks for those long underserved by the dominant commercial art model, this kind of money flows in shallow, fickle channels. It's worth remembering that fairs only run on cold, hard cash—wherever it might be flooding in from.