With the Robbins bash safely behind it, City Ballet returned to its basic repertory for the final stretch of its season at the Koch—a mixed blessing, as it turned out. Within the span of a very few days the company ricocheted from triumph to washout even more dramatically than it usually does. Let's get the bad news out of the way first.
A quadruple bill on May 30 began with the worst, the dimmest, performance of Mozartiana I've ever seen, and that's a lot of Mozartianas since it had its premiere back in 1981 and was acclaimed as masterpiece (as it happened, Balanchine's last). Back then it was led by Suzanne Farrell—brilliant, daring, elegant, subtle, capping each of her variations with another even more captivating. And it paired her with Ib Anderson, the acclaimed Danish stylist, equally quicksilver and audacious, with his Bournonville-inflected technique and charm. This time round we had Sara Mearns—dogged, uninflected, every variation on the same dull note. Of meaningful phrasing there was none; in its place, abrupt punctuation. Of joy, of playfulness, there was none. The opening "Preghiera" was faux-reverent. And her partner, Chase Finlay, was worse.
It's not his fault that he was cast in a role for which he is absolutely unqualified. Finlay has grown stronger recently, and he's always a handsome presence. But he remains essentially a stodgy dancer, utterly lacking the quickness, the edge, the delightful Bournonville attack and sparkle. Troy Schumacher has grown tired in the enchanting "gigue" role. What a drag the whole thing was! Poor Mozartiana, poor Balanchine, poor us.
The final work on the program was Robbins' Glass Pieces. The big duet—Maria Kowroski and Russell Janzen—was very effective (and better lit than it had been during the Robbins celebration when you could barely see it), but the corps—in particular the guys in the climactic final section—was listless and seemingly exhausted. Glass Pieces depends on its stage effects and its conviction that it's full of new-fangled ideas and approaches. I thought it was derivative thirty-five years ago when it was new, and now it just seems old-hat unless it's vivified by an excited, energized performance. Which is what it didn't get.
In between the two City Ballet standards were a couple of pieces new last year: Lauren Lovette's Not Our Fate and Justin Peck's Pulcinella Variations. The first is overblown, the second over-dry. Both are over-costumed. I've tried forever to appreciate Stravinsky's Pulcinella score, and failed. But it gives Peck the opportunity to show the world that he can handle the classical vocabulary, and it's interesting to watch him go about it. The Michael Nyman score used by Lovette is a demonstration, if you needed one, of how inferior he is to the Philip Glass of Glass Pieces. Talk about faux!
And then, only two nights later, the finest performance of Balanchine's Coppélia that I've seen since the heyday of the original leads, Patricia McBride and Helgi Tomasson. And here's why: Ashley Bouder—new to the central role of Swanilda a mere eighteen years after joining the company, and long its most accomplished technician—was coached by McBride herself. If there's a benefit to Peter Martins' abrupt departure from his role as artistic director, it's that finally the dancers on whom Balanchine and Robbins made crucial roles are being allowed (encouraged? begged?) to come back and coach. Bouder has all the equipment Swanilda demands, but only from McBride can she have learned the subtle gestures and emphases, the entrancing plastique, that give us the Swanilda imagined by Balanchine and Danilova, herself a famous Swanilda and Balanchine's collaborator on this version of the great Delibes ballet. Bouder doesn't resemble McBride, and her performance wasn't an imitation, but here was Balanchine's intention restored to us…plus Bouder's own total control and command.
And how grand it was to see her paired with young Joseph Gordon, stepping up to his biggest opportunity so far and justifying everyone's high expectations. It was obvious from his arrival in the company that he had the talent and the looks of a major player; now we know he has classical chops as well as boyish charm. Yes, Bouder has more certitude and more polish than Gordon, but this disparity in experience reflects the disparity in intelligence and character between the knowing and strong-minded Swanilda and the carefree puppy, Frantz. The important thing is that in the grand concluding pas de deux, Gordon was Bouder's equal. This village marriage is going to be a success!
The final performance of the season brought the return of the Balanchine black-and-white trilogy of Concerto Barocco, Agon, and The Four Temperaments. Barocco has seen better days, but it's seen worse days too—I've barely recovered, after all these years, from the depredations of Yvonne Borree. Ashley Laracey shouldn't have had to wait fifteen years before making her debut as its lead ballerina—from the start she's been a sterling performer. She was accurate, brisk, appealing, but unfortunately she was paired with Savannah Lowery as the second ballerina. Lowery, giving her final performance with the company after sixteen years, was featured in both Barocco and Agon as she deserved to be, but her large-scale presence did not set off Laracey's delicacy helpfully.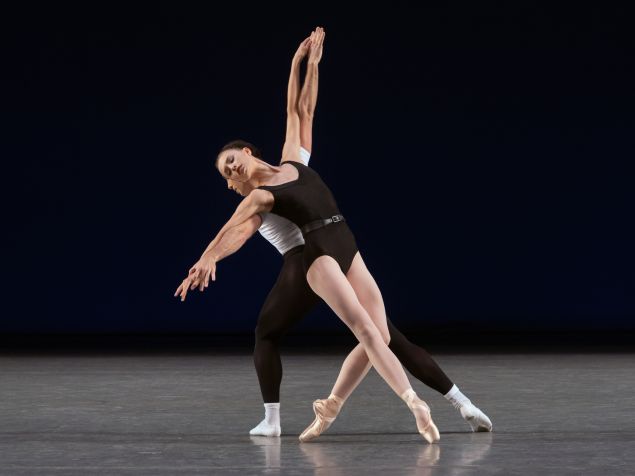 The other major debut that day was Miriam Miller's in the famous pas de deux from Agon. Miller was rushed onto the scene a few years ago as Titania in A Midsummer Night's Dream and was sensational, but clearly no one was sure what to do with her after that. Now she's being featured, and she's a stunner: tall, beautiful, commanding. She's a ballerina, and if she doesn't yet have all the strength a ballerina should have, she'll get it if she keeps being cast. (Remember: the company's senior dancer, Kowroski, dancing today as well as ever, was at the start another great beauty—and weak.) Miller is the future, along with Unity Phelan, Indiana Woodward, Emilie Gerrity, and—further down the line—relative newcomers like Claire Kretzschmar, Meagan Mann, Sarah Villwock, Meaghan Dutton-O'Hara, Ashley Hod, and the ravishing Olivia Boisson, as lyrically beautiful as "Prayer" in Coppélia as she is fascinating as the first "Theme" in The Four T's.
And undoubtedly joining the company soon are at least three of the girls who shone at this year's School of American Ballet workshop, most spectacularly Naomi Corti, whose polish and professionalism are extraordinary. She appeared in a compressed version of Balanchine's La Source, staged by Suki Schorer—the real star of the day. Schorer started dancing in 1956, was almost immediately tapped by Balanchine to teach after she joined City Ballet in 1959, and has been staging ballets annually at the SAB workshop for decades. There's no question about her genius for this work. The question is, how does she go on, from year to year, looking so thin, so chic, so sexy? Can she be an escapee from Shangri-La?