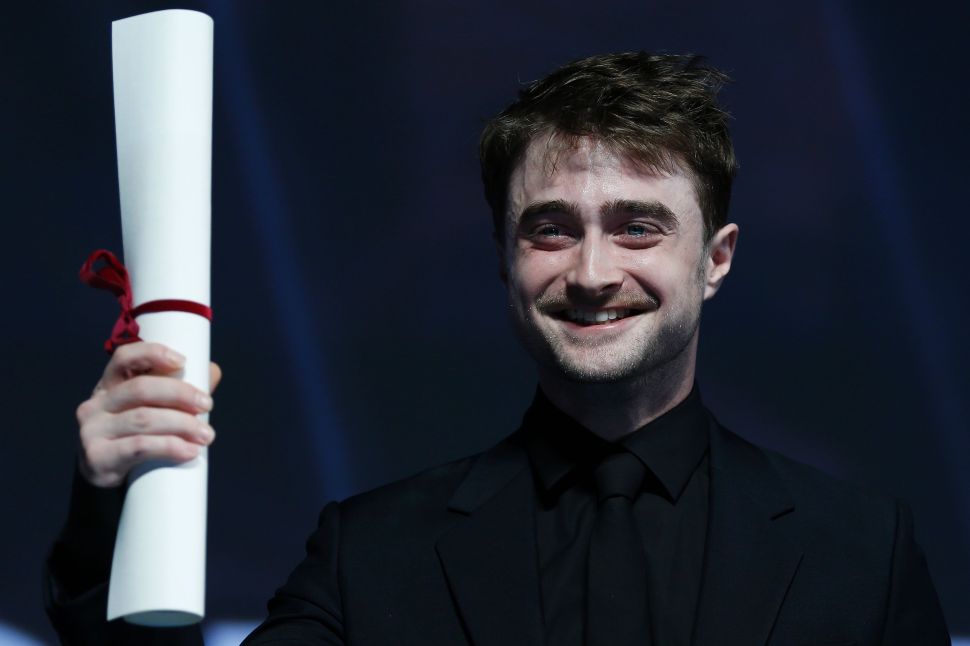 Last year Meryl Streep and Tom Hanks crusaded for journalism onscreen in The Post. Now it's Daniel Radcliffe's turn—on Broadway.
The Harry Potter star will return to the stage in the new play The Lifespan of a Fact. Written by Jeremy Kareken, David Murrell and Gordon Farrell, it will begin performances September 20 at Studio 54.
Based on a true story, the play centers on Jim Fingal (Radcliffe), a fact checker for the literary magazine The Believer. The latest assignment from his editor (played by Tony winner Cherry Jones) is an essay on the suicide of Las Vegas teenager Levi Presley.
But as Fingal gets to work, he discovers that writer John D'Agata (Bobby Cannavale) made up much of the story. D'Agata claims facts don't matter when it comes to a good narrative.
Fingal and D'Agata ended up collaborating on a book that inspired the play and shares its title. The 128-page publication features D'Agata's original story, along with Fingal's fact checks.
This may seem like heady stuff for a former boy wizard, but Radcliffe has actually dealt with media issues onstage before.
He last appeared in New York in the play Privacy, which dealt with the ways in which technology exposes personal information. The 2016 Public Theater production featured a videotaped cameo by Edward Snowden.
Movies like Shattered Glass and True Story have mined issues of journalistic malfeasance for high drama. But the ethical issues in The Lifespan of a Fact are relatively new material for Broadway.
Radcliffe's participation should be able to pack the theater, however. Plays about journalism starring celebrities are a very specific breed of Broadway show, but they always perform well.
In recent years, Nora Ephron's Lucky Guy starring Tom Hanks and a revival of The Front Page starring Nathan Lane both recouped their investments
Ironically Lifespan is opening on Broadway during a very journalistic season. Ink, a play about media mogul Rupert Murdoch's early career in England, will also appear on the Great White Way in the coming year.
Here's hoping for a Radcliffe-Murdoch battle at next year's Tony Awards.