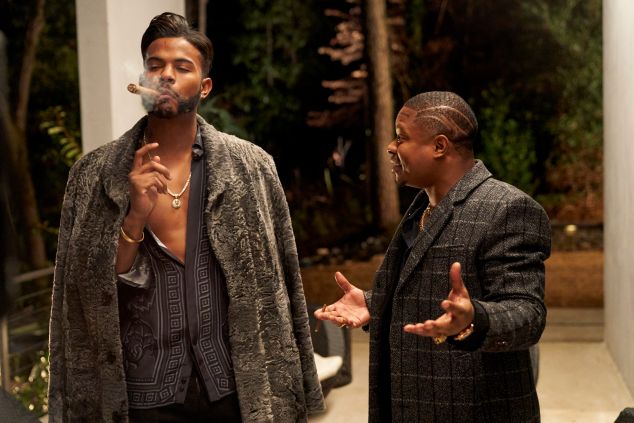 It is hard not to think about hair during SuperFly, specifically the curious coif of the lead character, a cocaine dealer named Priest, played by Trevor Jackson (Grown-ish).
This is in part because the movie puts so much focus on surface details like clothes, hairstyles and cars, and comparatively little on anything else, especially plot and character development. But it is also because the hairdo is such a creative and technical marvel—a cross between Jackie Wilson and Mike Wallace—that it demands our respect. So much so that, when halfway through the movie Priest engages in a long and luxurious threesome with his two girlfriends in a shower scene that stamps SuperFly as "Sin-A-Max" ready, you're thinking more about how his hair is going to recover from all that steam than about carnal delights.
Like in Gordon Parks Jr.'s 1972 original, the glittering finery of the dealer lifestyle is on full display in SuperFly. Many of the plot points and characters are also retained and remixed from the Blaxploitation mainstay; the biggest difference is the switch of setting from Harlem to Atlanta.
Youngblood Priest is a good deal more thoughtful than the average hustler, able to disarm his fellow dealers with knowledge of where their aunties go to church and to deliver thoughtful bits of wisdom like, "All the power in the world can't stop bullets."  With an eye towards getting out of the game, Priest decides to double-cross his supplier and mentor Scatter (The Wire's Michael K. Williams) by going over his head to a Mexican cartel leader (Esai Morales) so he can deal more weight
---

SUPERFLY ★★
(2/4 stars)
Directed by: Director X
Written by: Alex Tse and Phillip Fenty (1972 screenplay)
Starring: Trevor Jackson, Jason Mitchell, Michael K. Williams, Lex Scott Davis and Esai Morales
Running time: 103 mins.

---
The gold rings and watches, the champagne in the club under a falling rain of bills, the rich velvet of Priest's double-breasted evening jackets—this movie is all about beautiful, pricey surfaces. Music video director Director X, making his feature debut, presents it all in a compelling and often intoxicating manner. There is something narcotic and languid about his pacing and camera work that feels purposeful and stylistic when the script is focused but comes off as stumbling and haphazard when the story looses momentum, which is often.
Towards the end, SuperFly pretends as if it has something more substantive on its mind than simply showcasing booty and bling. A car chase through a city park ends with a Confederate statue toppling over, for example, and our hero is able to exact bloody revenge on a murderous police officer with a baton beating that recalls Rodney King. But this attempt at social relevance is way too late to this party.
Bringing systemic injustice to light is neither the film's purpose nor concern. What is? The perfectly tailored gold topcoat Priest wears while delivering the beatdown on the cop, which sparkles in the otherwise dull night.