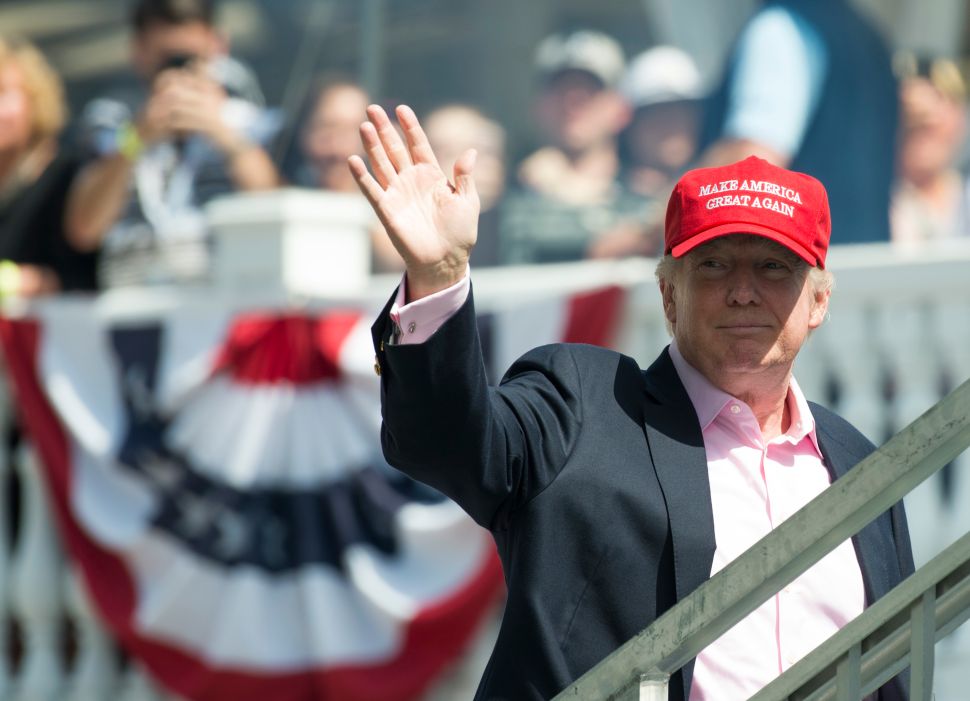 Donald Trump is expected to arrive at his Bedminster, New Jersey golf course this weekend for vacation.
The Federal Aviation Administration (FAA) imposed flight restrictions on three airports in the area of the golf course throughout the upcoming weekend, Patch reported, a characteristic precursor to the president's arrival. According to NJ.com, in preparation for the golf trip, taxpayers will pay $60,000 for golf carts for the president and $27,000 for a portable bathroom for his secret service.
Last year, the president spent 40 days at his Bedminster resort. One trip Trump made to Bedminster in November of 2016 cost the Somerset County Prosecutor's Office and the Bedminster Police a combined $22,000. In total, the bill alloted to taxpayers added up to over $237,000. In response, Bedminster and Somerset County received almost $1 million in federal funds as reimbursement for the cost of special security.
Nearby airports to the Bedminster resort are forced to close for security purposes during Trump's trips, causing the airports to lose over $10,000 in profits. In response, proposed legislation could allocate an additional $3.5 million to local law enforcement around Trump's vacation resorts.
New Jersey Rep. Leonard Lance, who lobbied for the bill, emphasized the importance of compensating airports for the money they lose as a consequence of Trump coming to town.
"Protecting the president and first family is the highest priority, but accommodations should be made for those where livelihood is reduced when the president is in town," he said.
The financial burden of Trump's trips to his resorts on American taxpayers has garnered harsh criticism throughout his presidency. According to a Washington Post report, each trip to Bedminster, of which there were nine last year, costs $40,000.
Trump's even pricier Mar-a-Lago vacations charged taxpayers over $17 million for 17 trips last year. The number was found to be almost equal to $16.7 million spent on Robert Mueller's Russia investigation. Trump has complained of the probe's price tag, tweeting in early June, "A.P. has just reported that the Russian Hoax Investigation has now cost our government over $17 million, and going up fast. No Collusion, except by the Democrats!"