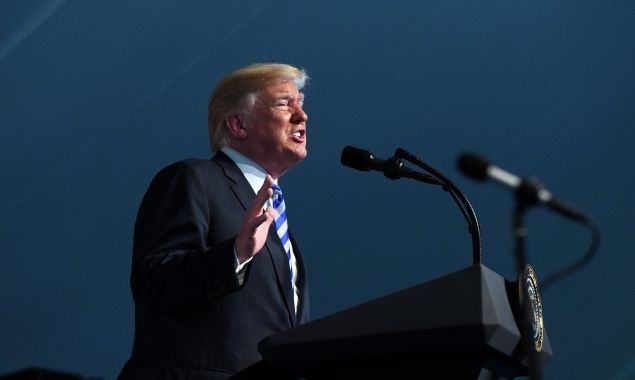 As much as Robert Mueller's investigation into President Donald Trump brings to the minds of many the Watergate days when President Richard Nixon graciously resigned to preserve the dignity of the presidency and the health of the republic, this time it will be different.
Trump will not resign to "save the presidency." He may not run again, having made his case. He may even quit in the middle, and it might make political sense to do so after the second year mark. But one way or another he will be followed by a new group of Republicans with Trump features. It will be a new party with brand new contours, one that has been building for at least a dozen years and has only come to awakening through Trump.
Advocates of Mueller's approach point out that if the investigation concludes while Trump is still president, he might pardon the whole lot. It might be advantageous to spread it out until someone else—someone like Kamala Harris, Kirsten Gillibrand, Cory Booker or Eric Garcetti—can build a head of steam.
But I see another problem. Republicans have the advantage as Democrats still suffer from Post Clinton Syndrome (PCS) with a toothless "resistance" that seems more a psychological transference—a rage against the "dying of the light," an avoidance of the new realities brought by the 2016 election—than a path with a competitive plan in response to the new dynamics.
And Bill has not suffered for his sins. He still speaks as the headliner at events all over the country, and more than half of his generation can think of little else beyond his family. It is a blockage that must be overcome. If Trump and friends are thrown out of office, there will be no returning to the 1960s with the Kennedys, to the 1990s with the Clintons, to the 1920s with Bernie Sanders.
America is at a sea change, and Republicans have the advantage. They have finally left the past behind, enabling them to find a new beginning and forge a new frontier.
Republicans began to break the mold in February 2009, when two New Hampshire state representatives reached back to Thomas Jefferson's Kentucky Resolutions of 1798 and suddenly declared that New Hampshire need not comply with Washington's new Obamacare mandate. More than 30 states followed, and that which was later to be called a Tea Party awakened.
Commentator Michael Barone suggested then that it was beginning to look like the 1960s only with conservatives, and this new movement might be understood in the same way. That is, there was something that would emerge from this explosion which would bring about—to coin a phrase—a new social order.
The 1960s brings a good parallel explanation. In that light, the Trump presidency might be seen as the cultural explosion like that which came to be called the "counterculture" in the mid-1960s. Trump together with his chimerical sidekick Steve Bannon might be viewed as the Abbie Hoffman and Jerry Rubin of the day, cultural and political anarchists who rose in opposition to the war in Vietnam.
It was a chaotic moment, but down the road would follow Ted Kennedy, the Clintons, Jimmy Carter and Barack Obama. It would be a long ride, and commentator Larry Sabato would call it "the Kennedy half century."
Following Barone's analysis, we might begin to see in the Trump administration what might be called a conservative "counterculture" in the making, to which Trump is merely the awakening trickster.
We are in the middle of a natural cycle of advancing and returning powers. Readers of University of Toronto professor Jordan Peterson, who is currently undergoing a surge in popularity in a rising generation, might define it as enantiodromia: The old forms lose their power and new forms advance to replace them.
In our case, centralized government is yielding to decentralized power here and throughout Europe. Federal entities—including the courts, the Congress, the presidency, and even the media—are in decay and yielding in influence, but governors and mayors and their states and regions are vigorous and rising to greater independence and autonomy. This is not only the case in red states. The very prominent Noah Feldman has written recently that California is the new cradle of states rights.
Globalism, cultural and otherwise, has reached the outer limits of pop culture banality. The Americanization of Paris, the Brooklynization of China, and a Starbucks in Milan? Do the Italians not know how to make coffee?
In response, people remember who they are or who they were and the "virtue of nationalism," Yoram Hazony's phrase, begins to resonate; the appeal of an older soul and an older self returning, suddenly finding relevance and making claim to its people's fate.
We are at the beginning of such a transition today. But as the intentional chaos of the Trump moment begins to fall away, there are four in his administration who were original to the substance of this movement from the beginning and could stabilize it: Ambassador to the United Nations Nikki Haley, who was an enormously effective and popular governor of South Carolina; Vice President Mike Pence; Secretary of State Mike Pompeo; and Secretary of Energy Rick Perry, formerly the governor of Texas. Perry's 2010 book Fed Up! Our Fight to Save America from Washington might be seen as an Eagle Scout's guide to these new beginnings.
A phoenix could arise post-Trump with President Pence, President Haley, President Bobby Jindal, President Mitch Daniels, or someone else still unseen. Rumors of a future presidential ticket of Pence-Haley are so strong today that Roger Stone, the "notorious political provocateur" who arrived with us from Richard Nixon's Committee to RE-elect the President ("CREEP"), has declared Pence "not one of us" and plans to run an oppositional character if he runs.
Political futurist Gerald Celente, author of Trends 2000 and Trend Tracking, wrote in 2009 that what we were beginning to see was a "Second American Revolution." He wrote, "Yet what we forecast will become the most profound political trend of the century—the trend that will change the world—is still invisible to the same experts, authorities and pundits who didn't see the financial crisis coming until the bottom fell out of the economy."
President Trump may be gone by September, but what he has awakened could well form the basis of future history.
Visualize that: A hundred years of Trump.