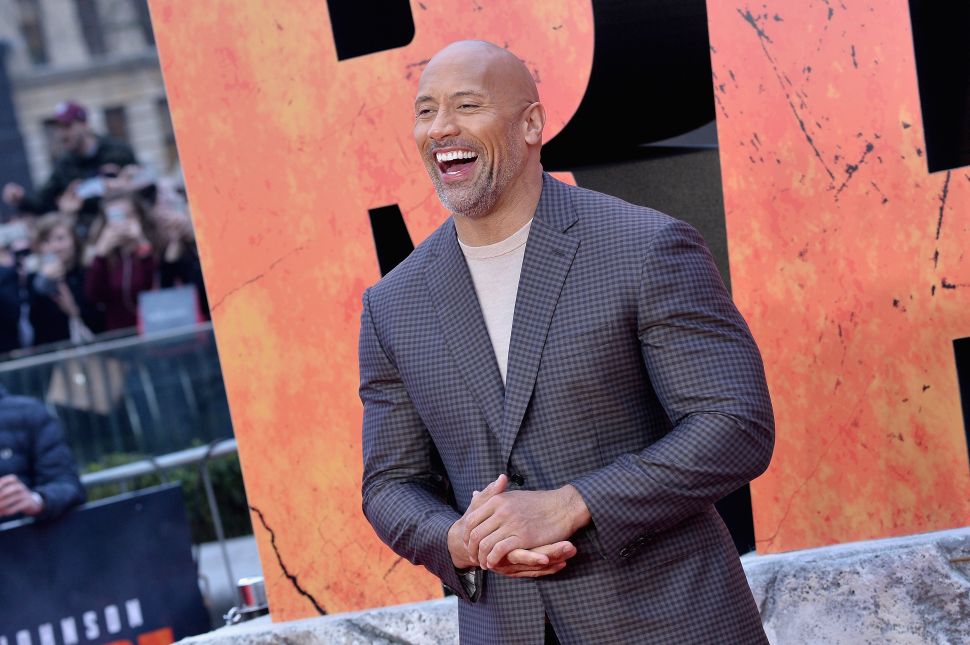 I've gone on the record about my unending love for Dwayne "The Rock" Johnson, AKA Beyoncé for Boys. He's the biggest movie star on the planet, one of the last of a dying breed that can practically guarantee certain box office success. As Hollywood has moved away from the star-driven model of movie-making, Johnson remains one of the few unifying names in the film business.
One further point of evidence of that is Tuesday night's news that his upcoming blockbuster Skyscraper has secured a rare and lucrative summer release date in China, where the country typically imposes a summer blackout on imported Hollywood features, THR reported.
U.S. movies can still sneak into Chinese multiplexes up until June, but July and August are typically reserved for domestic features as the government attempts to juice the box office totals of its homegrown pictures while students are on break. As China's box office looks to overtake North America's the government has been making efforts in recent years to stop the flow of entertainment capital out of China.
Skyscraper will now hit theaters over there on July 20, but will be doing battle with major Chinese tentpoles Hidden Man (July 13) and Detective Dee: The Four Heavenly Kings (July 27). It's quite rare to see a major Hollywood release receive placement in these highly coveted months as our summer blockbusters must often wait weeks until they are permitted into the country.
Sure, this likely has something to do with the co-production deal between Universal Pictures and Legendary Entertainment on Skyscraper, which is owned by Chinese conglomerate Wanda Group, and the film's Hong Kong setting. But it's also a testament to Johnson's unrivaled global star power (even Marvel's Ant-Man and the Wasp is yet to be guaranteed a summer position there).
The Rock is one of the most attractive draws in China, where his monster movie Rampage earned $156.4 million (compared to $97.6 million in North America). Last year's The Fate of the Furious earned a staggering $392.8 million in the Middle Kingdom.
"I'm extremely grateful to the people and culture of China for embracing me and my films the way they have over the years," Johnson wrote on Instagram Tuesday. "Thank you for your love and support—and as always, I look forward to coming back!"
Nine of The Rock's last 11 films have grossed at least $215 million worldwide, with five of them crossing the $500 million mark and two of them surpassing $1 billion. Jumanji: Welcome to the Jungle was expected to be a fun holiday action-comedy that worked as mild counter-programming to Star Wars: The Last Jedi last December. It went on to become Sony's biggest box office hit in North American history.
And even if the Die Hard-lite Skyscraper doesn't blow up (it's tracking for a decent $30 million-plus debut), Johnson's schedule is packed with so many upcoming big name blockbusters that it's impossible to deny that we're witnessing a potentially special box office run.
In the next few years, Johnson will headline:
Disney's Jungle Cruise opposite Emily Blunt and since it's a Mouse House production, it's all but guaranteed to be an international hit.
The Fast and Furious spinoff Hobbs and Shaw with Jason Statham and directed by Deadpool 2's David Leitch. This will be the Fast and Furious' first spinoff, but given the franchise's shocking success, especially in China, this is a great bet to land big with audiences.
Jumanji 2 because when you unexpectedly flirt with $1 billion worldwide the first time around, you absolutely have to run it back.
Red Notice opposite Gal Gadot, for which Johnson is being paid (cartoon eyes pop out of sockets) a minimum of $22 million. The estimated $150 million picture will be one of the biggest releases of 2020.
Black Adam because no movie star resume is complete without at least one major superhero role. While the future of Warner Bros.' DC Extended Universe is unclear after yet another hierarchical shakeup, the outlook is positive. Something tells me new DC Films president Walter Hamada isn't going to want to get rid of Hollywood's biggest asset.
So, yeah—water is wet, sushi is delicious and Dwayne "The Rock" Johnson is an absolute movie star. It will be interesting to see where Johnson ends up on the list of highest-grossing actors when he takes a four-year sabbatical to become the next President of the United States.