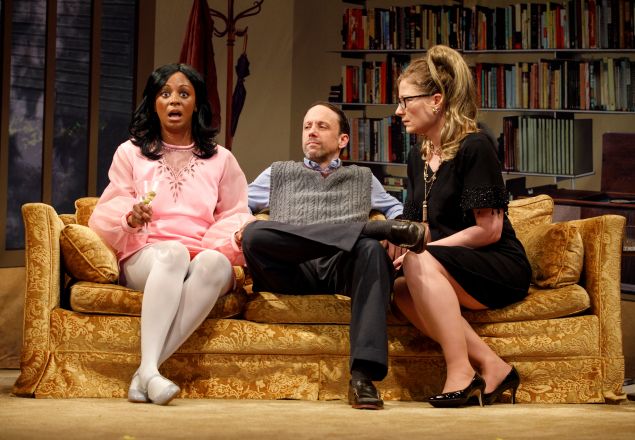 Last year the Edward Albee estate denied a theater in Portland, Oregon the rights to perform Who's Afraid of Virginia Woolf? Why? Nick, the ambitious biology professor, was to be played by an African-American actor. The frustrated director posted on Facebook, and soon Albee's executors were being denounced for literal-mindedness verging on racism.
I'm sure they'd be even less inclined to greenlight Kate Scelsa's freewheeling riff on the 1962 classic. In Everyone's Fine With Virginia Woolf, Nick (Mike Iveson) is certainly white, but he also writes slash fiction about male vampires and werewolves from the Twilight franchise hooking up and getting pregnant (a subgenre called "slash mpreg"). But, hey: Who's afraid of the Albee estate? Not Scelsa. Her breezily intertextual, polysexual, queer-feminist dance remix reclaims that barren harridan Martha in the name of parody. Here's a fruity summer cocktail for folks who like their yuks broad and their literary cuts deep.
Everyone's Fine starts as community-theater Woolf, complete with mismatched thrift-store furniture and cheapo painted backdrops that shudder with each door slam (faux-naïf set by Louisa Thompson). Morosely closeted George (Vin Knight) enters and grumbles the line normally brayed by Martha: "What a dump." To be sure, dumping is what Scelsa, director John Collins and their troupe, Elevator Repair Service (ERS), have in mind: A mass deposit of theatrical allusions and styles, postmodern textual strategies and pop trivia.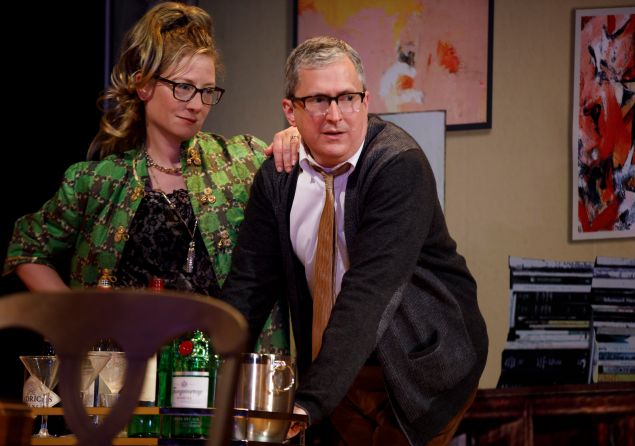 Martha (Anne McNamara, a brassy, mercurial treasure) enters after her spouse and tells him they're expecting guests—to whom she has spilled all their secrets: "You're totally gay and I'm a little gay. We have an imaginary son and an imaginary dog and I loved the dog more and you killed the son." With basically all of Albee's existential shocks out of the way, George and Martha welcome younger couple Honey (April Matthis, demurely oddball) and Nick (Iveson). Let the games begin.
Martha wants to bed someone, anyone; Honey blurts out she's not pregnant; Nick babbles about slash fiction. George teaches Tennessee Williams at the college, which means that after his third (or sixth?) martini, he starts declaiming chunks of Cat on a Hot Tin Roof and A Streetcar Named Desire in a Dixie drag-queen screech.
One highlight is seeing Knight, a primly dry presence, camp it up with hysterical abandon as the perky Iveson smiles blandly from the couch. In the kitchen, Martha chows down on chicken legs (a nod to the movie version of Virginia Woolf) while gauging the swinger possibilities with Honey. Bantering allusions to the "male gaze" and the infantilization of women grind to a halt when Martha detects a Woody Allen reference from the next room. This prompts Martha angrily "smudging" evil spirits out of her womb/home by burning sage as she curtly informs George and Nick: "When gay male writers use children as a metaphor they are transparently talking about the tenuousness of their own egos in the face of an uncaring world!"
Yes, this one's for theater geeks who keep Eve Kosofsky Sedgwick on the bathroom shelf. Scelsa's script is a glitter bomb of meta spoofery and nested references, from Ibsen and Williams to Will & Grace, a gleeful critique of male writers who create needy, dangerous women. The playwright not only reclaims Martha; she throws shade at Blanche DuBois, Maggie "The Cat," and Hedda Gabler. As Everyone's Fine spins into a second and third act (the whole affair is 75 minutes), it grows increasingly fragmented and weird, until the set falls away, a robot makes a cameo and a poisoned George in a floral print dress—channeling Blanche DuBois—is ferried to Hell by a feminist vampire. (Save your complaints; it's impossible to spoil this absurdist stuff.)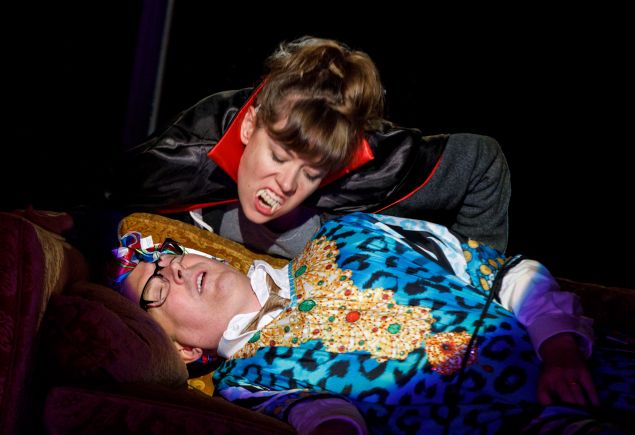 John Collins' springy, athletic staging lands each hyper-literate joke while not stinting on the sight gags (cue the croaking houseplant!). Although the director and prime mover of ERS tends to patiently deconstruct classic literature (from Shakespeare's Measure for Measure to F. Scott Fitzgerald in the magnificent Gatz) over years, he can also, y'know, stage the heck out of a slapstick comedy. Even if Everyone's Fine is shorter and superficially more accessible than other ERS projects, it's still a dense weave of theory and playfulness, an homage (themmage?) as well as cultural intervention. Scelsa shows you can love Edward Albee, while giving him a good hard spank over your knee. Bend over, Eddie, and take it like a man.