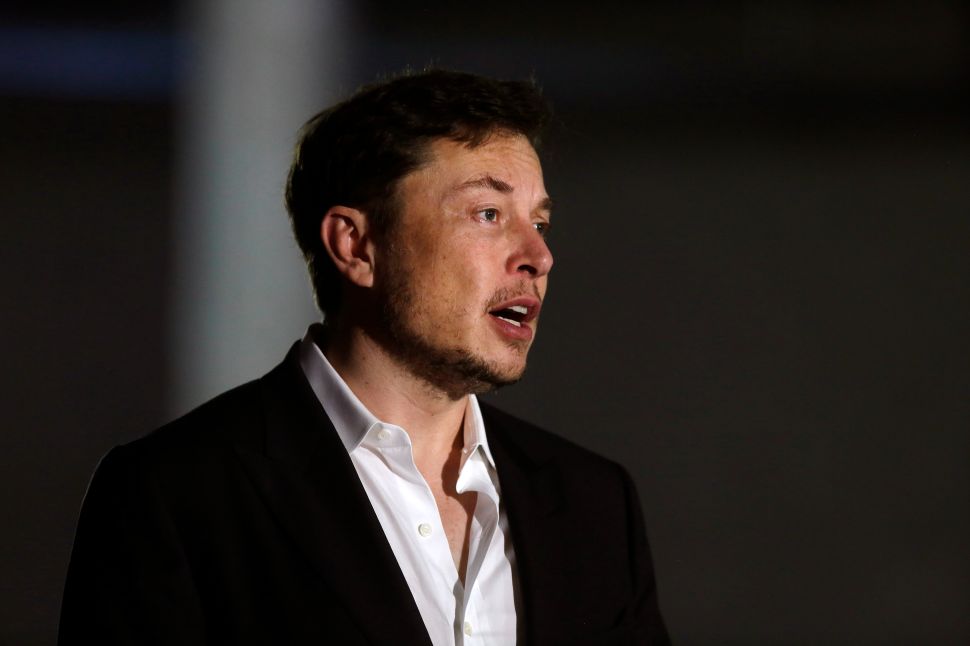 Elon Musk's Tesla vehicles may not run on gas, but farting has become a big problem for him—in the form of a flatulent unicorn.
Musk is embroiled in a legal and social media battle with a Colorado artist and his daughter over a drawing of the gaseous magical creature.
Tom Edwards created the image in 2010 as a satirical commentary on electric cars. He sold a mug showcasing the farting unicorn as a featured item of his pottery business Wallyware.
Musk tweeted a photo of the mug in February 2017, calling it "maybe my favorite mug ever." The social media endorsement led to an uptick in sales for Edwards' business.
But two months later, Musk tweeted the unicorn drawing to promote Tesla's new sketch pad feature, which allows drivers to draw on a touchscreen. The Tesla CEO didn't credit the image, however, leading many outlets to assume Musk drew the cartoon himself.
What's more, Edwards' art was used in Tesla cars as a shortcut to the drawing function—without his permission. And the company even included the unicorn in its 2017 Christmas card.
"The bump in sales wasn't adequate compensation for using my artwork," Edwards told Observer. "We never negotiated that."
He consulted three lawyers, all of whom said Musk's actions were a breach of copyright since he clearly saw Edwards' artwork before using the design in Teslas.
So Edwards and his attorney sent Musk a letter last month, asking that Tesla negotiate a price to fairly compensate for the art. Edwards wasn't interested in a cease and desist order—he was fine with Musk using the art, as long as he got paid.
But Tesla never responded, and the company also didn't reply to Observer requests for comment.
So then, Edwards' musician daughter Robin (who uses the stage name Lisa Prank) got involved by calling out Musk on Twitter.
Musk replied that he wasn't responsible because the image was "chosen randomly by the software team as a joke."
"Your company has been using his creative property for a year without credit or compensation—don't you think artists deserve to be paid for their work?" Robin replied. "Maybe you can respond to the letter his lawyer sent you & you guys can work something out."
Robin also pointed out that "every element that goes into building the Tesla financially benefits" Musk.
Tesla's head honcho countered that he hadn't gotten royalties from the image and said any attempt to sue would be "kinda lame."
"If anything, this attention increased his mug sales," Musk wrote.
A seemingly annoyed Musk then deleted all of his unicorn tweets and blocked Robin.
"It's a simple issue that artists deserve to be compensated for their work," she told Observer. "We need to value art in our society as much as we value tech companies and celebrity billionaires."
"It's like the president of GM tweeting a Bruce Springsteen video and then using the song in an ad without asking," Tom added.
Robin also pointed out that Musk's cadre of online fans had been harassing her ever since she questioned him. She said she was called a "dumb slut," among other trolling nicknames.
Tom Edwards isn't on Twitter, but Robin shared the messages with her dad. And he got his fair share of hate from the Musk cult as well.
"I got a weird phone call from a guy who said I hated freedom," Tom said. "Once the fireworks began, it turned into a tribal thing—tech bros vs. artists."
But the Edwards family gained some fans too, most notably J.K. Rowling.
"That was a lovely, sublime moment in life," Tom said. "I can't believe she got a laugh and a good joke out of my artwork."
And even though copyright infringement isn't a joke, Tom still admires Musk.
"I think he's one of the coolest people on the planet," he said. "He's got one foot in brilliant and one foot in crazy. I just wish he respected copyright laws more."