Artist, model and musician Frances Bean Cobain, also known as the daughter of late Nirvana frontman Kurt Cobain and Courtney Love, has had a dramatic few months. She officially ended her marriage to Isaiah Silva in November 2017, but that wasn't the end of their court battles.
The former couple didn't finalize their divorce settlement until early in May; in a highly publicized decision, she agreed to give her ex the iconic guitar her father played in Nirvana's 1993 appearance on MTV Unplugged, in order to put the entire ordeal behind her. Cobain reportedly originally gave Silva the 1959 Martin D-18E acoustic as a wedding present.
Alas, Silva wasn't ready to end it just yet. He apparently recently filed a lawsuit against Love, Sam Lutfi, Ross Butler and others, alleging they were plotting to murder him to steal back the guitar. And no, this is neither a soap opera nor a Lifetime movie.
So we get why Cobain wants a fresh start. She now wants to part with the 3,357-square-foot house she once shared with Silva—it's definitely time for some new memories. "It's just a life change, a new era," The Agency co-founder Billy Rose, who has the $2.7 million listing for the Spanish revival-style West Hollywood abode, told Observer.
Cobain bought the four-bedroom, four-bathroom pad for $1.83 million July 2011, almost exactly three years before she married Silva in a secret ceremony in June 2014.
"It's a great layout, well-scaled and proportional room sizes. It's particularly private, quiet and secure," Rose said. "It was further privatized by her—the hedges in the front really let you do your own thing; you can walk around without being noticed."
"It has some of the best original detailing I've seen in a long time," Rose said, such as period tiles, hardware, stained glass and light fixtures. The living room contains a fireplace with hand-wrought iron, stenciled beamed ceilings and hardwood floors.
Cobain added a new kitchen, which now has all Viking appliances, a farmhouse sink and a walk-in pantry, but her main contribution was outside the main house. "The garage was converted into what I believe is a recording studio," Rose explained. "It's a really inspirational place. Those who do record think it's a pretty spectacular spot to have that opportunity."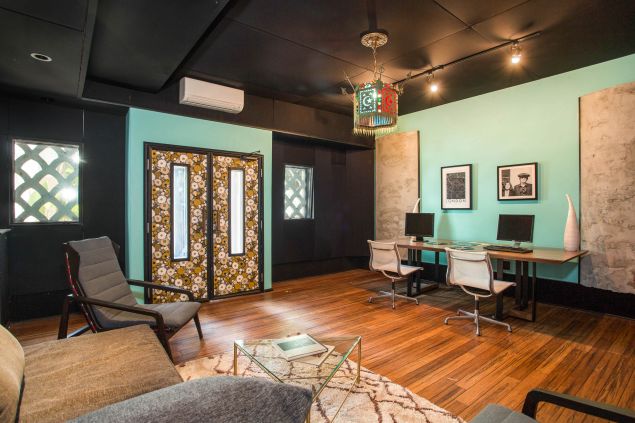 With all of that, another musician would surely be intrigued by such a home, right? "I wouldn't be surprised," Rose said. "Having that room already decked out the way it is; it could very well attract another musician, or be used as a screening room." Still, we're hoping it stays in the musical realm.