The second season of Netflix's GLOW may very well be the best season of original programming the streamer has ever released. Yeah, that's right, I said it. Better than the highs of House of Cards, more emotional than the feels of Stranger Things. It's a fantastic run of episodes that is brimming with heart and humor. I innocently started in on my batch of screeners a few weeks ago, thinking I'd finish the short 30ish-minute episodes over the next few days; I ended up crushing them all that night.
Season two builds on everything you enjoyed about the rookie run while keeping things tight and quickly paced. The show is so remarkably efficient in giving almost every single character meaningful development in entertaining ways that really hit home. And while Alison Brie (Ruth), Betty Gilpin (Debbie) and Marc Maron (Sam) are rightly celebrated as the leads (all are great), season two's strongest pull belongs to Britt Baron, who plays Justine.
After staying in the background for much of season one, GLOW concludes its first season with the big reveal that Justine is actually Sam's daughter. That dynamic has developed into one of the emotional foundations of season two as GLOW perfectly parses reluctant parenthood and childhood needs in hilarious fashion. (Let's just say that Sam's fatherly advice could never be delivered anywhere other than the censorship-free domain of streaming.)
Baron imbues Justine with just the right amount of snark, irrational confidence and touching vulnerability to make her one of the most realistic and relatable kids on television. If you don't flashback to a tough time during high school while watching her, you were probably the jerk popular kid everyone secretly hated.
Speaking with Baron, Observer learned how close she is to her character, what series creator Jenji Kohan brings to the table and what Baron is looking to get out of her Hollywood career.
How similar are you to Justine?
Baron: We're pretty different actually, but that's the joy of acting. I wanted to become an actor so I could play different characters. I don't have much interest in playing a version of my self. It's been a joy to be cast as someone who is so far from who I am. I get to create her physically—how does she walk, how does she move, how does she talk—it's been a gift to be given that opportunity.
But at the same time, I feel like at that age, everyone is kind of going through the same thing in that sense, so I can relate to her. When you're a teen, you think you know everything and you want to be treated as an adult. But you also still want your parents to love you, and you still want to feel protected. It's a rebellious balance beam I walked at that age too.
But overall she's just so cool and smart, I'm impressed by Justine. She's this confident young teen.
Yeah, when she goes to school in season two, I feel like all the boys would be too intimidated to flirt with her.
Yeah, exactly. She's a badass.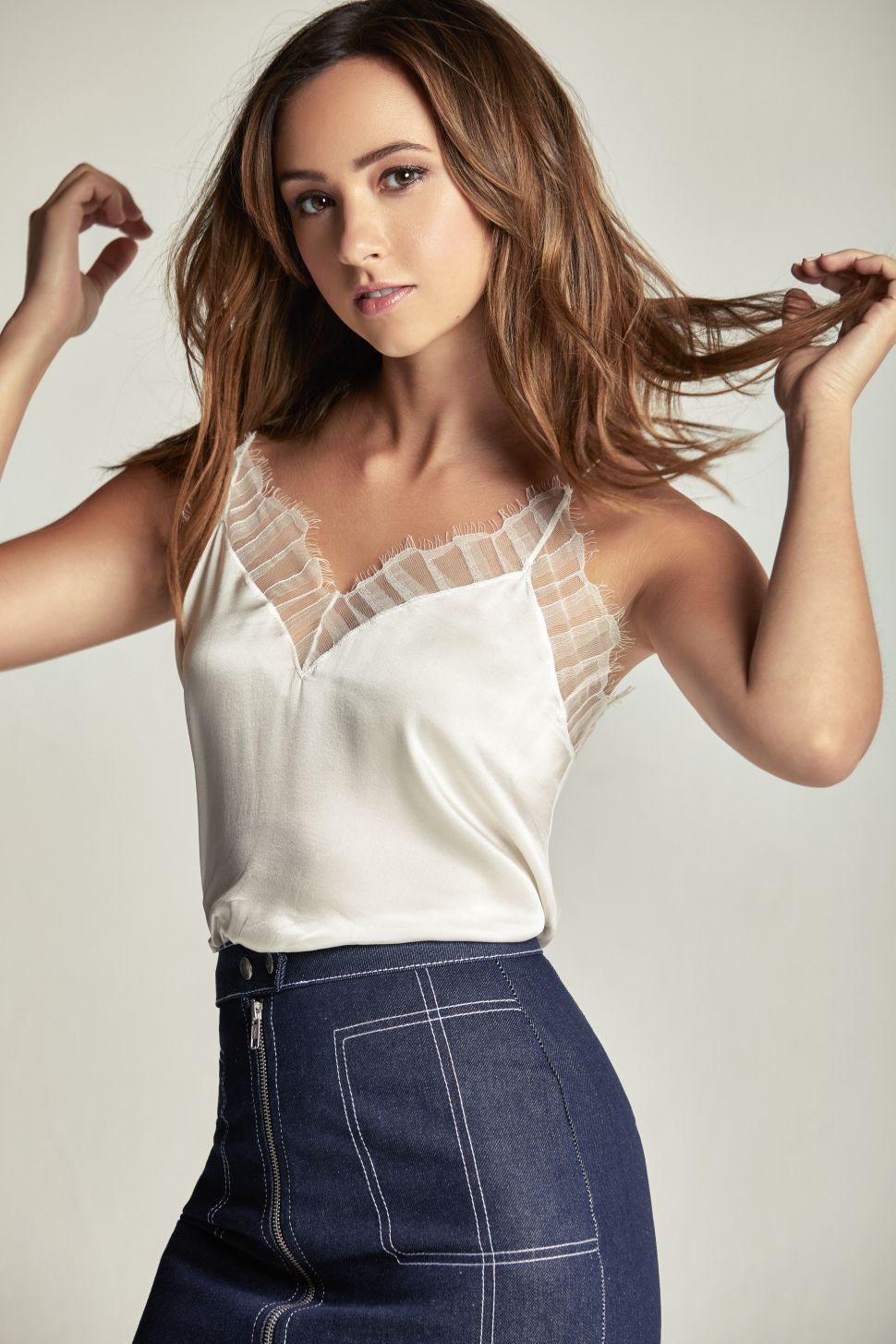 What have you learned from [GLOW creator] Jenji Kohan?
I'm such a fan of her work. She has really opened the door for women. We don't just have a cast of one type of woman because she's so good at casting unique women of all different shapes, sizes and ethnicities that you don't normally see on TV. She's paved the way for more inclusive exposure and different stories on screen.
She's also a supporter of women's relationships. GLOW, Orange is the New Black, they both deal with that dynamic and the ups and downs. I don't know how many other shows I can point to that use that in really different and explicit ways. She's an empowering creative force, and I'm so fortunate to be on one of her shows.
What has it been like working with Alison Brie, who has been on a handful of beloved shows and starred in a bunch of movies?
She is so kind, smart and just so put together. Ali, she has so much going on between shooting GLOW and doing stuff for the Golden Globes and SAG Awards, but she never gets overwhelmed. She's even-keeled, understanding, a great listener. She's such a great role model, and I'm so lucky to have more scenes with her in season two.
They're two characters who wouldn't necessarily get along, so it was nice to kind of see their dynamic grow. The mutual fondness between them, it was a fun thing to explore. Ali is like an older sister to me now.
And you were also a fan of Kate Nash before the show, correct?
Oh my god, yes. I love her music, but she's always changing her hair color so for like, the first full week of filming, I didn't realize she was the Kate Nash. After a week, I thought, "Maybe I should Google the cast?" and when I found out, it was amazing.
I was shameless the next day at training. I went in and immediately told her I was a big fan. This is a British pop star whose music I had on my first iPod and I had no idea. But it's funny cause it just goes to show you, we all idolize different actors and musicians, but we're all just human at the end of the day.
What's your dream job as an actress?
I want to have a career where I get to play different characters. I don't want to be pigeonholed. Natalie Portman is someone I admire because she's in rom-coms, indie movies, dramas. She plays all different types of characters in completely different stories across the board.
If you could have dinner with one fictional character, who would it be and why?
Well my first answer is Harry Potter, but that's just because I want to live in that world and go to Hogwarts. [Writer's Note: Same] [Editor's Note: Ditto]
But I'd probably go with Katniss Everdeen. I read all the books when I was a kid, I love all of the movies. She's such a heroine in terms of my own age kind of thing. Plus, our world is falling apart in a similar way, so sooner rather than later we could be living like that.
This interview has been edited and condensed.