Public artworks have a history of proving controversial. Either people don't get it, the work is in their way or simply not to their taste. But at the source of all these issues is the simple fact that the art in question was installed in public space. You don't get to choose to see this work. It's just there, constantly taunting you with its big, pink, poop-like form (for example) on your daily commute. Usually, though, such a result is not intentional.
But then there are those works installed with the intention of provoking discussion. Such was the case in 2016, when For Freedoms, a Super PAC that recently morphed into a nonprofit organization, released its Make America Great Again billboard-cum-public-artwork on Highway 80 in Pearl, Miss. The slogan was paired with a 1965 photograph of a civil rights march in Selma Alabama, which was taken moments before Alabama state troopers attacked black protesters—the incident that would become known as "Bloody Sunday."
Artist Hank Willis Thomas, cofounder of For Freedoms, said in an interview with the New York Daily News that the point of the billboard was "to start a dialogue about issues such as voter suppression." But a few months after its release, the billboard was covered with black tarp.
Because Pearl is considered "Trump country," many assumed that the sign was created by white supremacists. While some people who understood the intention of the work felt it advocated for resistance, others found it more a form of exploitation. Kirsten West Savali summed up what many thought in a piece posted on The Root when she said, "Here's the thing: For Freedoms' Make America Great Again billboard seems more triggering for black people than a wake-up call for white people. If being subversive is the point, it's a fail for me."
So it would not be surprising if For Freedoms' most recent and even more ambitious endeavor, the 50 State Initiative, induced the same kind of controversy. The public art campaign, which was launched on Monday, aims to set up billboards like the one in Pearl in all 50 states as well as Puerto Rico and Washington D.C. The simultaneous Kickstarters to fund them are currently active, and together form part of what is overall a $1.5 million initiative. It will reportedly bring together over 200 local partners and 175 artists.
Eric Gottesman, Thomas's cofounder in the project, said they use billboards precisely because of their public capacity to reach audiences beyond the confines of the art world: "In using billboards, we are participating in systems—advertising, art, politics and, more broadly, modes of capitalism and democracy—that we know are problematic."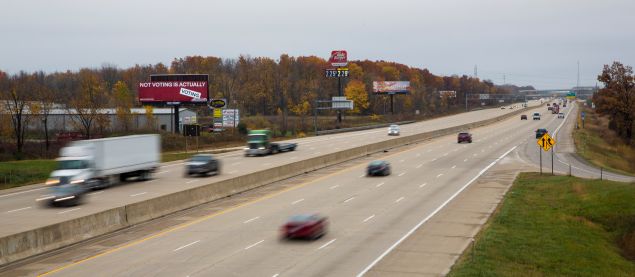 Each Kickstarter campaign has a goal of $3,000, with a single reward level of $10, closing on July 3. "The 50 State Initiative is unlike any Kickstarter campaign we've launched," said Patton Hindle, director of arts at Kickstarter, explaining that running so many concurrent campaigns was unusual for them in a single venture. Participating artists include Sam Durant, Theaster Gates, Marilyn Minter and Carrie Mae Weems. If For Freedoms is successful, the billboards will be erected in the fall, coinciding with the 2018 midterm elections in November.
But what makes this project different from For Freedoms' previous ones is the pairing of the billboards with free public programming, such as art exhibitions and artist-led town hall meetings. Each billboard will function as an invitation, welcoming members of each state to take part in civic conversations—and giving them a place to raise any issues they might have with the works dominating their highway stretch. The Fralin Museum of Art, for example, will hold public dialogues and art-making sessions in order to educate Charlottesville, Va. residents about the history of slavery and discrimination in the city. In doing so, For Freedoms is grasping onto and making use of the very discourse public art so often accidentally enacts.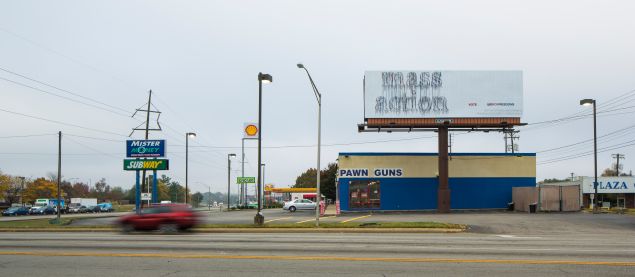 According to Thomas, the Make America Great Again billboard was not created with the anticipation of stoking the kind of controversy that it did. But he was grateful for the experience, because, as he told Observer, it taught his team a valuable lesson in how they wanted to provoke discussion. Namely, that the billboards themselves were not enough.
"We saw that there is an urgent need for more forums for public dialogue, which is why we're collaborating with over 200 partners nationwide to create town halls and exhibitions in addition to billboards," he said, "Our goal is to create dynamic, multifaceted opportunities for citizens to participate in discussions around yes, the public artworks, but also the larger questions they inspire." So while they may not be aiming for uproar, they're at least hoping for some hot button issues to be raised alongside the works—the point of "discussion," after all, isn't that everyone agrees with one another, and there is but a fine line between debate and contention.
What might help For Freedoms' cause be more clear this time around is its transition from a Super PAC (an independent political action committee that can raise unlimited funds) to a nonprofit. For Freedoms has never aligned itself with a political party, but Super Pacs typically do. In an interview with The Art Newspaper, Gottesman stated that "the veneer of politics" associated with the Super Pac "was too much for some institutions to bring us in, even though they were interested from an art perspective."
On each Kickstarter campaign channel, a final statement reads, "One of the most interesting practical challenges is making sure that our billboards are understood by large media companies as works of art, and not part of any partisan political campaigning."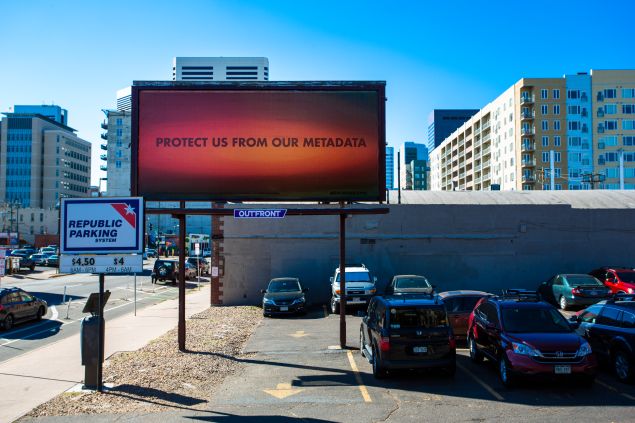 The 50 State Initiative presents an interesting interplay between the local and the national. It may be the largest creative collaboration in U.S. history, but there is nothing necessarily cohesive about it. Just as the billboards will vary across the nation, so to will the conversations generated by them. There is no guarantee for inter-state interaction, nor is there a guarantee that the billboards will go up at all. With 52 separate campaigns, members of each state are afforded the responsibility to fund their own billboard, but they can also keep track of and help other states. The question, however, is whether or not states will feel compelled to engage in this cooperative practice.
But for Thomas and Gottesman, it's less about cohesion and more about nuance. "The idea is that we are trying to create a decentralized but connected series of conversations that are more nuanced and more relevant to people," Gottesman said, in an interview with Miami New Times. And this nuance is at the very heart of the artworks themselves. What the Make America Great Again billboard expressed was a kind of ambiguity that lent itself to endless possibilities.