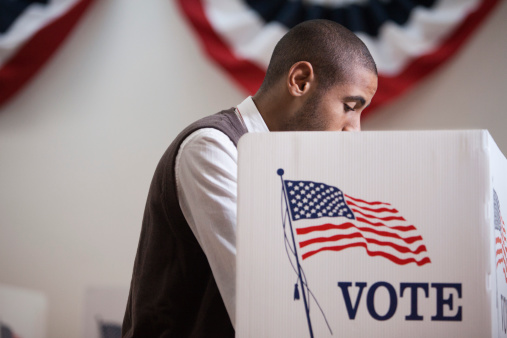 New York congressional candidate Suraj Patel first became interested in politics while serving on a youth council after the Columbine shooting.
For Ysiad Ferreiras, chief operating officer of the community organizing app Hustle, the wake-up call came after he designed T-shirts to protest George W. Bush's presidency
And for Will Levitt, co-founder of the Democratic advisory group Square One Politics, sneaking into the opening night party of the 2004 Democratic National Convention in Boston ignited an interest in policy.
These young firebrands were among the participants in "Expanding the Electorate to New Generations," a panel at the Northside Festival in Brooklyn today. And each of them had a different idea about how to achieve their goals.
Ferreiras—whose organization works with 34 state Democratic parties, Planned Parenthood and Everytown for Gun Safety—said simply informing voters was key.
"If young people and people of color aren't voting, ask yourself: are you letting them know when the fuck the election is?" he said.
Young voters also respond more to people who look like them, which is a tough proposition when the average age of a U.S Senator is 61 years old.
"When all the candidates are old white dudes, the likelihood of people voting for them depends on how old and white they are," Ferreiras said.
Democratic groups like Square One are trying to shift that demographic by giving young candidates resources.
"After Trump was elected, our country was in a crisis," Levitt said. "People said 'I really want to run, but I don't have money or connections.'"
Patel doesn't work directly with Square One, but his campaign fits in squarely with their mission. One of his main platforms in Manhattan, Brooklyn and Queens is youth voter engagement. Moderator Marisa Kabas (editorial director of Hope, a mobile platform for news and activism) called this "paramount to democracy."
Patel agreed, pointing out that much of the discourse since the 2016 election has focused on "resistance." He was involved with that as a volunteer attorney for the ACLU during the Muslim ban and through his work with the political action group The Arena.
But at a certain point, resistance isn't enough.
"I am sick and tired of playing defense," Patel said. "We need to reignite the idea that elections are about the future."
As such, he's focusing his campaign on new voters rather than older ones who "could've done more" in the last election.
"Politics is the only business that blames its customers for not buying a shitty product," Patel said.
Millennials have, in fact, become increasingly more important—they're now the largest voting bloc in America.
"These guys just woke up," Patel said.
Some cities are embracing this. For example, New York City holds a Student Voter Registration Day for 18-year-olds every year.
Candidates also need to get these new voters information in new ways. For his part. Patel provided 50 coffee carts in his district with personalized cups ahead of the upcoming primary election. One side of the cup features Patel's face, while the other reads "Vote June 26."
"We are ruffling feathers, and we're really proud of that," Patel said.
Of course, technology is also a big part of reaching young voters. Democratic strategist Levitt pointed out that President Barack Obama's use of social media in the 2008 election seemed radical, but now it's routine—and that means most campaigns are stuck in neutral online.
"Ten years is like a century in technology terms," Levitt said.
That's why reaching voters in new ways is so important. Several panelists pointed to the Parkland activists, who are pointedly calling out hypocritical politicians on Twitter.
Patel is holding peoples' feet to the fire on social media as well. For example, yesterday he took fellow New York congressman (and Republican) Dan Donovan to task on Twitter over the defunding of ICE.
"Twitter isn't my favorite tool to do much of anything in terms of getting votes, but social media is an easy place to hit the subject matter," Patel told Observer after the panel.
The challenge for politicians like Patel is to use the anger seen all over social media to inspire action.
"You need to give people something to hope for and vote for," he said. "Instead of bullying people out of races, let the voters decide."
"Party elders need to step back and let the new generation speak," Levitt added.
Now, these candidates have started speaking, and are being heard. For example, Liuba Grechen-Shirley (a Square One candidate) made waves after she became the first female candidate ever to spend campaign funds on childcare. She won her case thanks to a viral crusade.
Spontaneous acts of online resistance like this work better than passively using celebrities, according to Patel.
"Randomly throwing Jay-Z out the night before an election to rock the vote is embarrassing," he said.