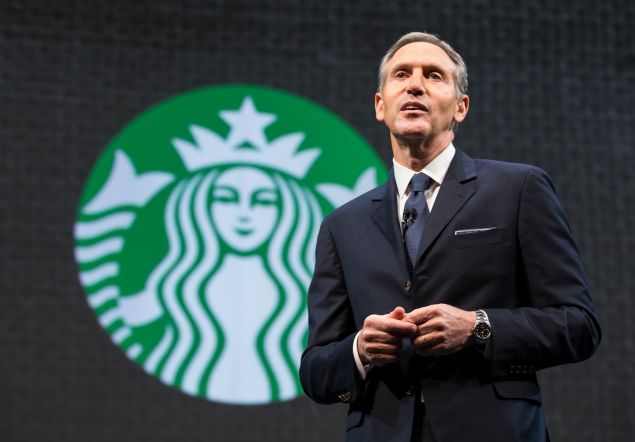 Last week, when Howard Schultz announced he was stepping down from his role as executive chairman of Starbucks—a move widely regarded as his first step toward a 2020 presidential run—Roger Lowenstein of the Washington Post was fast to congratulate himself for having openly fantasized a year ago about what a Schultz-Trump tête-à-tête would look like on the national stage. One could practically hear Lowenstein's lips smacking as he salivated over the inevitable comparison that would emerge as the two men's vastly different résumés were analyzed by the American people:
Imagine two tycoons on the podium—one with a web of murky financial connections to overseas oligarchs and domestic cronies, some of them under criminal investigation, whose finances and tax returns remain a state secret; the other a socially conscious former CEO of an entrepreneurial success story, financed by public shareholders that participate in his company's success, and whose financial statements are open and transparent.
Lowenstein, like many pundits (myself included), saw long ago that Schultz had presidential ambitions, but in his G-rated fantasy of seeing the two men square off, he is assuming Schultz will be there as the Democratic Party's nominee.
But Lowenstein's dream would become Schultz's nightmare if he tried to run for president as a Democrat.
"The question here is whether someone who isn't a highly partisan, traditional Democrat can win in a primary," says Brad Tusk, former campaign manager for New York City's billionaire Mayor Mike Bloomberg, another business leader who has long harbored presidential aspirations as an Independent candidate. "For many voters, Schultz has a lot to offer. But if you're extremely partisan, you're not confusing him with Bernie Sanders. It's a tough path for Schultz as a Democrat."
Politico reported this week that former President Barack Obama has secretly met with at least nine potential Democratic presidential contenders in recent months, plotting his party's strategy to take back the White House in a race sure to be reminiscent of the GOP's crowded 2016 primary. If Schultz believes he will emerge as his party's nominee from this field due to his business experience, he is misreading the lessons of the Trump phenomenon.
Trump wasn't known as the businessman in the 2016 GOP primary; he was, first and foremost, a celebrity. His background in real estate was just what got him in the spotlight in the first place. In that respect, Trump is no more a business mogul than Dwayne "The Rock" Johnson is still a professional wrestler or Arnold Schwarzenegger is still pumping iron; it's just what got him on TV and made him a household name.
So even though Schultz is probably angling to run as a Democrat, filling the niche of highly successful businessman with a common-sense approach, his best bet would be to eschew the Democratic Party and run as an Independent.
"Schultz may be tempted to run as a Democrat, but he will find himself at the mercy of the usual consultants, who will take advantage of him without really trying to help him win," opined Bill Hillsman, a political marketer who was behind several of Ralph Nader's third-party presidential runs, to Observer. "If he is willing to put in the work—and cash—he may fare far better as the first legitimate, business-oriented third-party candidate since Ross Perot."
Tusk agrees with Hillsman's assessment: "It's probably even tougher to run as an Independent, but it may be the smarter path."
But how can someone who is virtually unknown to the vast majority Americans—at least those who don't watch CNBC or read the Wall Street Journal—find a path to 270 electoral college votes in just under 28 months, running as a third-party candidate?
The answer is money. And third-party candidates need a lot of it to be competitive in a system that favors a two-party contest.
In 2017, Trump invested $66 million of his own fortune in a $322 million campaign that relied on made-for-TV rallies, Twitter, and a constant barrage of media coverage. This amount is a relative pittance when compared to the $775 million spent by Obama's re-election effort in 2016. For comparison, Bloomberg was willing to spend over one billion dollars of his own fortune when he was seriously contemplating running as an Independent in early 2016.
Schultz, who has an estimated net worth of $3 billion, could easily invest over $500 million dollars in his campaign war chest—an act that would all but unleash an arms race in the 2020 contest and give him instant credibility as a serious contender. With such a head start, the former Starbucks executive could start messaging a year before Democrats have even begun the process of deciding who will represent them in 2020. An early nine-figure investment would also surely rattle Trump—further cementing Schultz's role as a viable force in the general election.
"Schultz has an interesting story and, unlike Trump, really has had enormous success in business," Ethan Bearman, a frequent commentator on Fox News, tells Observer. "However, unlike our current president, he isn't a household name and doesn't have a platform like The Apprentice to beam into living rooms every week between now and election day to boost his name recognition. Fortunately for him, he has the cash on hand to quickly make himself relevant and present himself as a reasonable alternative to the president and whoever the Democrats ultimately decide on."
The Trump campaign upended many traditional conventions of modern politics—including the notion that successful presidential campaigns must rely on a robust network of governors and local party operations across every state, county and precinct to get out the vote. The 2016 race proved that a candidate who captures the media's attention and dominates on social media can more or less buck convention when it comes to a costly ground-game.
By avoiding a bruising Democratic primary, where he could easily get swallowed up by the Party Machine, Schultz can stay on message and focus on the general election if he runs as an Independent. It would certainly be the path less followed, but it could provide a more straightforward road to the White House. If he doesn't make too many rookie mistakes, he could rise above the Democratic mosh pit and put forth a sensible set of platforms aimed at Americans who want an adult in the White House.
"While some may raise questions about whether the skill sets to lead a company are the same as those needed to lead the country, Schultz, unlike our current president, is a bona fide CEO," David Schultz (no relation), a professor of political science at Hamline University, tells Observer. "Howard Schultz successfully steered a publicly-traded company, had enormous fiduciary responsibilities, and lead hundreds of thousands of Starbucks employees, all without ever filing for bankruptcy. The parallels between him and Donald Trump start and end with the fact that they both come from outside of politics. But in this climate, he might have a shot—but he has a lot of ground to make up and he better get going."