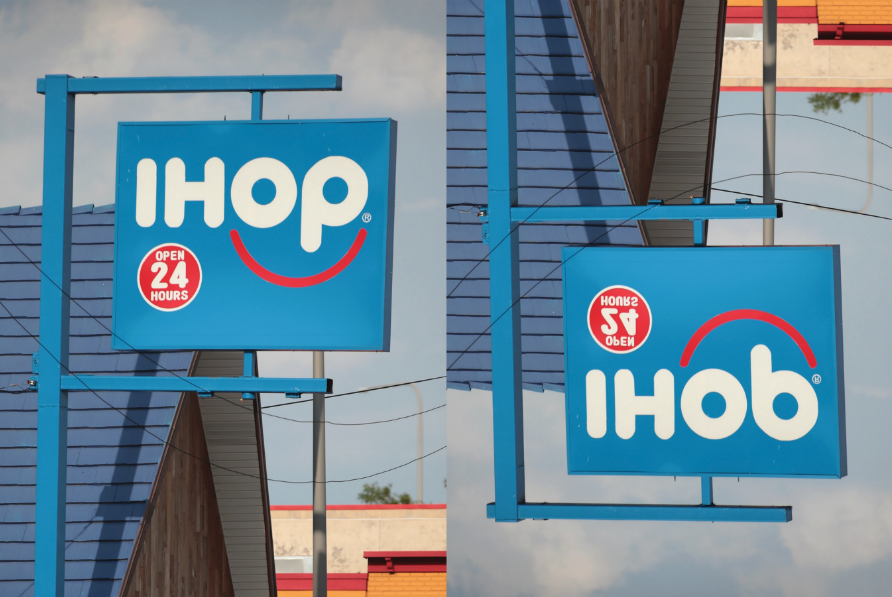 The International House of Pancakes, or IHOP, took the internet by surprise Monday morning by announcing it's flipping the "P" in its name to "b"—which stands for "burgers."
Don't freak out! It's temporary, and there will still be pancakes.
The marketing campaign is to celebrate the addition of several burger items to IHOP's menu, a line-up called "Ultimate Steakburgers," which includes seven Black Angus ground beef burgers with a variety of toppings.
"Everyone knows that IHOP makes world-famous pancakes, so we felt like the best way to convince them that we are as serious about our new line of Ultimate Steakburgers as we are about our pancakes, was to change our name to IHOb," Brad Haley, chief marketing officer for IHOP, said in a statement.
The diner chain famous for its pancakes also wanted to use this campaign to change its image of a place only for breakfast and brunch to a spot for lunch and dinner as well.
"We are definitely going to be IHOP. But we want to convey that we are taking our burgers as seriously as our pancakes," Darren Rebelez, president of IHOP, told CNNMoney.
In any case, the marketing campaign has paid off handsomely—and is perhaps much needed.
Since IHOP announced the name change (without saying to what) on Twitter last Monday, more than 30,000 people have participated in the speculation game. (Before that, an average IHOP tweet usually got 200 to 300 likes.)
Unfortunately, few people guessed it, and that's exactly because the image of IHOP being a breakfast place held too strong.
Until this morning, the most popular guesses of IHOb's "b" had been "breakfast" (per Observer's poll) and "bacon" (per IHOP's poll).
"Burgers are a quintessential, American menu item so it makes perfect sense that IHOP, one of the most iconic, all-American comfort food brands in the world, would go over the top to create a delicious line-up of quality burgers that hit the spot any time of day," said Nevielle Panthaky, IHOP's head of culinary. "The IHOP Culinary team took the creation of these Steakburgers as seriously as we take innovation around our pancakes, which means they're soon to become world famous, too."
The official company name will remain as IHOP, although it has apparently claimed the domain name IHOb.com. (The website is blank aside from an "IHOb" logo in IHOP's signature sky blue color and round-edged font.)
IHOP has temporarily changed its Twitter handle to "IHOb." A few IHOP locations in California, including a flagship restaurant in Los Angeles, will put up new "IHOb" signs, but most IHOP locations will remain the same.