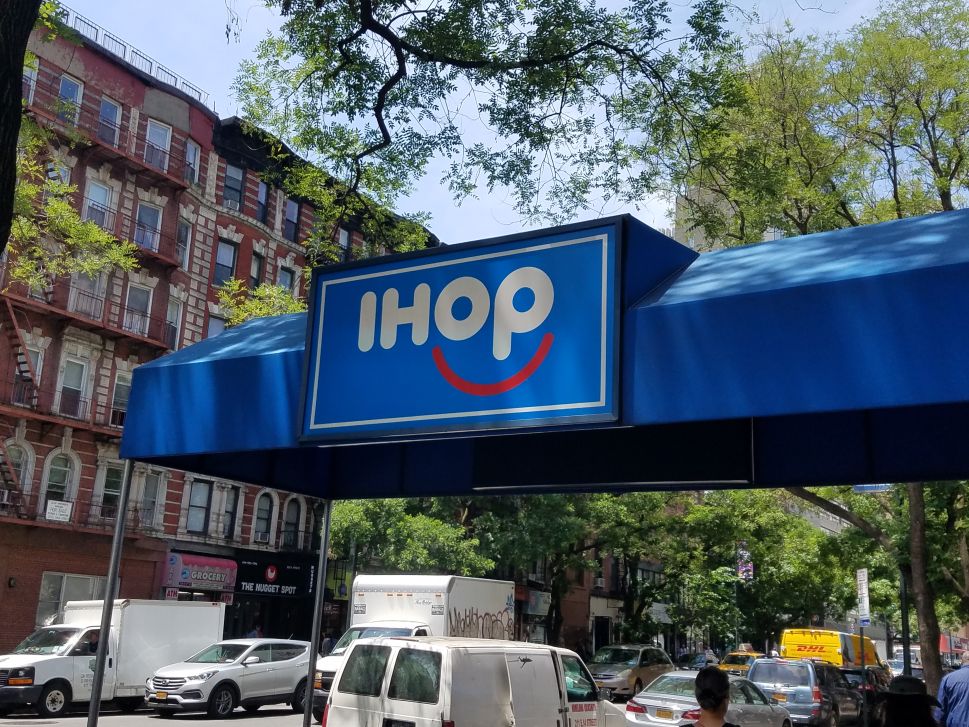 Yesterday I walked into IHOP — excuse me, IHOb — and ordered four hamburgers. Life is strange.
Weeks ago, IHOP announced it would rebrand itself as "IHOb," with the mysterious "b" lingering over the breakfast community like a Damocles sword. Brunch? Breakfast? Blintzes? Bathrooms? The options were unlimited.  
Yesterday it was announced: "burgers," an American standard, never seen before in the friendly confines of IHOP. Ok!
Twitter exploded over the decision. People — many of whom presumably love and consume burgers in other parts of their life — were displeased. I had to see what all the fuss is about. Why burgers? Were they even good? Would they arrest me if I ordered a short stack?
As I walked up to the building, I half expected somebody to be hanging a sign with the new logo. They weren't, which is a good thing, because the "b" has turned the smiling IHOP face into that of a college freshman who passed out at a party got a certain phallic object drawn on his forehead. In this scenario, IHOP fans feel like the freshman.
I strolled in at 1pm, just as the hostess was on the phone with a customer explaining that they do still serve pancakes, but "we serve burgers now too." People are taking this new name business seriously.
I got a seat, and ordered an orange juice — they still have it! — and four burgers: The Classic (lettuce, tomato, onions, bacon, American), The Patty Melt (sautéed onions, American, on rye), The Cowboy (bacon, onion rings), and The Big Brunch (bacon, fried egg, crispy potato, cheese), with fries and a side of pancakes. All come with "signature IHOP sauce," except for the Cowboy, which has BBQ. Nobody seemed to know what's in signature IHOP sauce. More mysteries.
Simone, my waitress, looked at me in shock.
"I'm very hungry," I told her.
Waiting for my burgers, I looked around. Everything looked the same, but much had changed. Instead of pancakes and French toast, people were eating burgers. Table signs advertised The Cowboy as life changing.
The marketing was already working. I was afraid.
The kids in front of me — two teens who seemed ready to eat anything — were talking about how much they expected their burgers to suck. I shared their sentiment.
The burgers arrived and looked…decent? I noticed there was no patty melt, and realized the kitchen instead given me a "Mega Monster" (the classic with another patty, pickles and a slice of white cheddar). I thought about sending it back, but cut them some slack. It's their first day.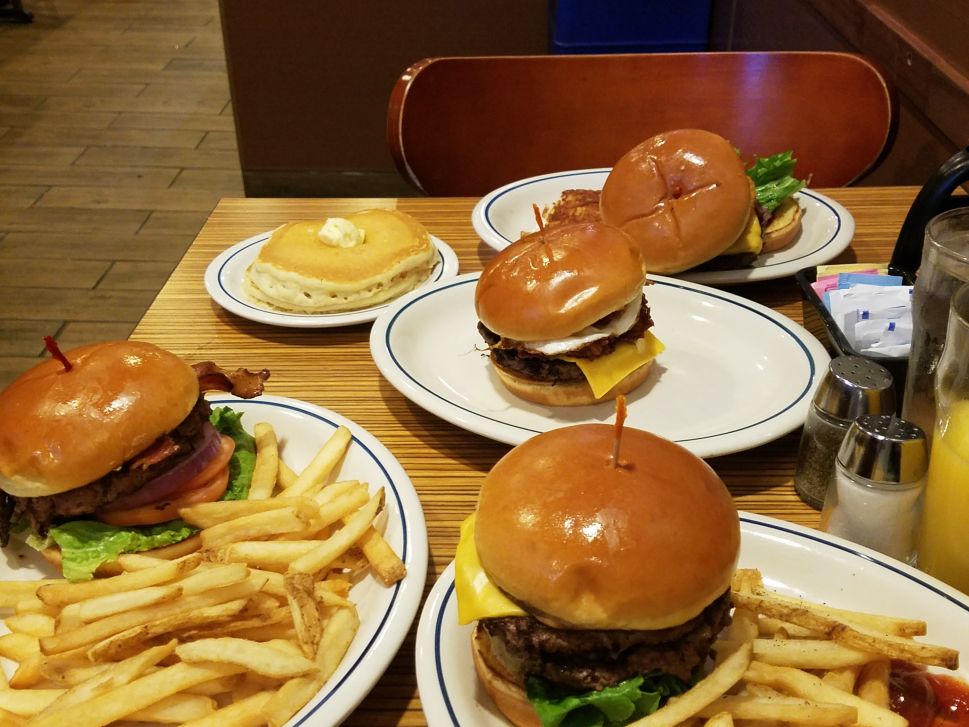 The moment of truth had come. Below, four representatives of this bold new crusade, detailed:
The Mega Monster: The first one I tried. I stared it down before taking a bite. My first impression was that it actually looked like the picture. The brioche bun was soft and sweet, and the romaine and tomatoes seemed fresh. The red onions and pickles crunched, which is more than I can say for McDonald's. The patty itself, on all the burgers, was about a half-inch thick, though not that juicy. Eavesdropping on the conversation the lady next to me had with Simone, all IHOP burgers must hover above medium. They certainly hit that mark, sometimes exceeded it. A burger place that can't do medium rare? Ok… The signature IHOP sauce—probably mayo based—was sweet and tangy, though not terribly signature. I preferred the ketchup on the table. I had a fry: crispy.
The Cowboy: It may be Simone's favorite, but not mine. The onion rings were a little greasy, but my main gripe was with the sauce—so sweet that I wondered if the chef took some liberties with the jars of strawberry syrup jar. It wasn't nearly as bad as I initially thought, though still not great. This burger is like most soccer "injuries": initially it seems way worse than it is. Something about eating BBQ sauce next to maple syrup just didn't sit right with me.
The Big Brunch: My favorite, and the right direction for IHOP to be going in. Even though I was eating lunch, it still felt like I was getting an IHOP breakfast. Yolk spilled out of the perfectly cooked fried egg when I picked it up. I don't love IHOP hash browns, but these were crispy, albeit a little unseasoned. My biggest complaint is the potato dominates the burger a little. I put fries in the middle of my burgers all the time, so I love the idea of having hash browns on one, but the egg, cheese and bacon got lost in the hash.
The Classic: A bold name indeed for a chain that's never served burgers before. The classic was basically a smaller version of the Monster, without the pickle for some reason, so I decided to have some fun and replace the bun with my pancakes. I liked the Big Brunch so much that I wanted to keep the IHOP theme going, plus, those famous buttery IHOP pancakes had been staring at me since they got there. The result was delicious, though not as easy to hold together. This is the burger I expected from a pancake house. The thin pancake enveloped the burger in a warm, buttery hug.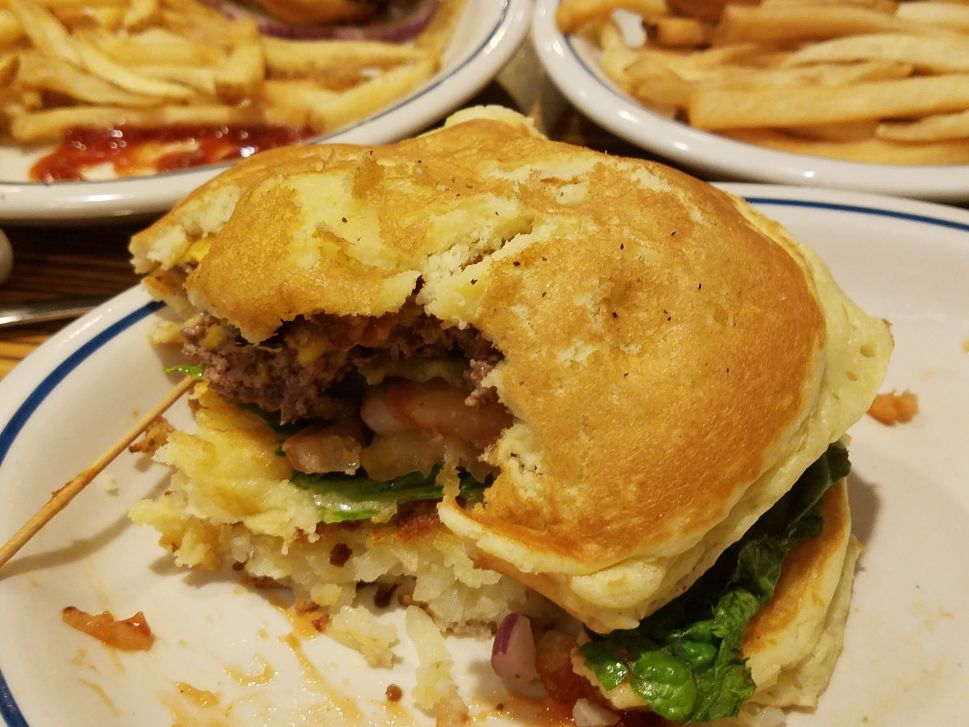 The guy mopping the floor came by and said, "You eatin' good today." He wasn't wrong. As the kids in front of me paid their check, I called out, "How was your burger?"
Their reviews, relayed with a hint of disappointment: "It was decent" and "alright."
I had to agree. It's a fine experiment, and I support the decision to do it. But in the end, Wendy's is right. IHOP/HOb, this just isn't you.