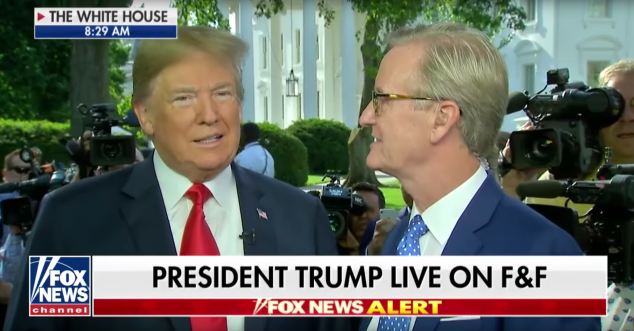 Like a house pet let loose to urinate and defecate in the morning, President Donald Trump dumped almost an hour's worth of raging bull manure on the White House lawn Friday in an extraordinary television spectacle.
"Fertilize a lot of farms with what you heard today," Republican Michael Steele said on MSNBC. The Former national chairman of the GOP called Trump a "megalomaniac" and used words like "dangerous" and "crazy" to describe his words.
Among other cheap shots, Trump called the Federal Bureau of Investigation a "den of thieves" and "scum" who "plotted" against him. He said former FBI Director James Comey did "criminal" things before Trump fired him.
At first, Trump spoke only with Steve (Loosey Goosey) Doocy on Fox & Friends. Like the reliable host of a paid infomercial, Doocy lobbed slow, softball pitches to Trump and got out of the way without pushing back. He wondered if Trump might throw Comey into a dungeon.
DOOCY: "Should James Comey be locked up?"
TRUMP: "…Should he be locked up? Let somebody make a determination."
Trump spoke to Doocy on Fox exclusively from 8:30 a.m. until 9 a.m. After that, Trump spoke to a group of reporters led by—surprise!—Peter Doocy, son of Steve. More credible reporters soon crowded around and shouted questions in the second session of about 20 minutes.
By now, Trump had completed the merger of the Fox propaganda factory with the talking points of his administration. It was time to cast a few crumbs to the outcasts.
Of Michael Flynn, the former national security adviser who has confessed to felonies, Trump said, "Some people say he lied. Some people say he didn't." (In fact, Flynn himself said that Flynn lied.)
Somebody asked about Michael Cohen, Trump's lawyer, who could implicate Trump in his upcoming trials. What if Mikey the Fixer flips to the Feds and rats out Donnie Two-Scoops?
"Look," Trump said. "I did nothing wrong. You have to understand."
Perhaps Trump was worried that the cruelty of his ICE police against immigrants is horrifying even some of his supporters. Trump might have wanted to deflect attention from his two embarrassing summits last week in which he insulted American allies in Quebec while kissing the ring of the North Korean dictator Kim Jong-un in Singapore.
Trump might have wanted to turn reporters away from writing about Paul Manafort, his former campaign chairman who was on the way to jail in that witness tampering has been added to his menu.
Trump blurted his usual insults at "the phony, failing New York Times," and he lied that "I've been totally exonerated" by the report of the Inspector General of the Justice Department Thursday regarding probes of the 2016 presidential campaigns and candidates.
He spoke his usual buzz words about being "tough" and "strong." Trump wore a red necktie, a white shirt and a baggy blue suit with an American flag pin in the lapel. Above him, birds tweeted. Near him, off-camera, sirens shrieked. "Wrrrrrrrrrr!" they said. "Honk! Honk!"
When asked about how his administration is tearing apart immigrant families at the border, Trump blamed Democrats although the policy is strictly a Trump policy enforced enthusiastically by his attorney general, Jefferson Beauregard Sessions III.
"The Democrats forced that law upon our nation," Trump lied. "I hate it. I hate to see separation of parents and children."
His last and harshest comment was saved for former President Barack Obama. It was about how Trump's pal, Russian President Vladimir Putin, invaded Ukraine in 2014 and seized Crimea.
"President Obama lost Crimea because President Putin didn't respect our country and didn't respect Ukraine," Trump said. "President Obama—not Trump. When it's my fault I'll tell you."
Just in case some of the reporters didn't write it down, Trump repeated: "One more time: President Obama gave away Crimea. That should've never happened."
Throughout the hour, he waved his hands and fingers in his habitual speaking gestures, but saved the final flourishes for last.
As he finished, Trump put the fingers of his right hand into the "OK" gesture, then lightly clenched them for two power pumps. Then he spread those fingers wide to set up the pointed gesture of his index finger to the media for emphasis.
By then, he'd had enough. Time to go back to the Executive Mansion and watch the rushes of his performance on DVR.
As he turned back, he raised his left hand—palm out—the way a cop does to stop traffic. Cameras close to that side revealed the fingers of the hand to be long, strong, rough, tough and powerful.