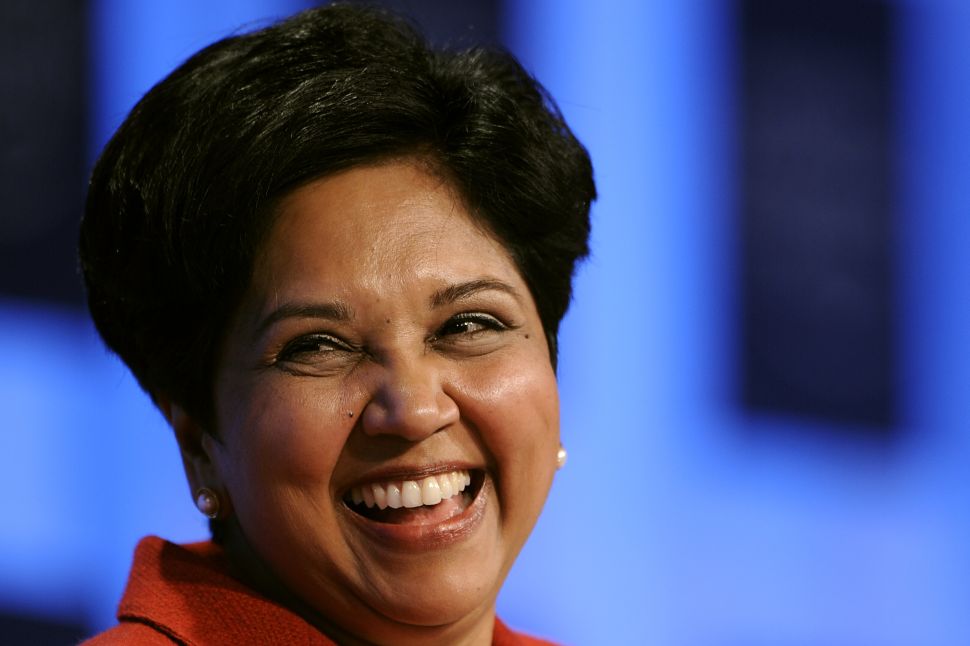 You can't understand the success of an Indian woman without studying something about her family.
Indra Nooyi, chairman and CEO of PepsiCo, is ranked by both Forbes and Fortune among the world's 20 most powerful women. Her upbringing was perfectly typical of her time and culture, but it may sound strange to most Americans.
Today, Nooyi is known for her fascinating journey of breaking one glass ceiling after another in corporate America to claim the top seat of a $150 billion company. But, growing up, all that her mother hoped for her was that she'd get married by the age of 18. To be exact, it was OK if she had dreams as big as becoming the prime minister of India, but marriage was a must in any situation.
Nooyi didn't get married until 25, but she understands where her mother's insistence came from.
"What my mother did was considered very normal during the time I grew up," Nooyi said at the Forbes Women's Summit in New York on Tuesday. "In a conservative city in southern India, every mother's dream is to get her daughter married by the age of 18. Twenty, the latest. Mothers worry about how to make sure their daughters have a good marriage, build a good family and get settled. Once you get settled, you can do whatever you want."
A standard life path to settling down, Nooyi said, consists of a good education (a master's degree at the minimum) and finding a good husband.
Nooyi checked many of those boxes in her early years (she earned an MBA in India and started her career with Johnson & Johnson), but her life sort of veered off course when she decided to purse a second master's degree in the U.S.
In the 1970s and '80s, success in Indian society was measured primarily by one's education. In that realm, America was everyone's dream country.
"Students [who] graduated from the best schools in India want[ed] to go to the U.S. The colleges are the best. Life [in America] feels spectacular. So I kind of get caught up in that spirit," Nooyi said, explaining her motivation for coming to the U.S. in the '70s when she was already leading a stable life in India.
Her parents didn't try to stop her from applying to American schools because they were sure that she wouldn't get any scholarships that would allow her to go.
To their disappointment, though, Nooyi was admitted to Yale University's School of Management in 1978 with a generous financial package.
"When the load of money came, [my parents] got into this dilemma: 'how do we send this young girl to the States without getting married? Once she goes unmarried, she is not marriage-able at all.' So there was a big family meeting. Everybody got together to decide whether I should go to the U.S. or not," she said.
They let Nooyi go at last, but on the condition of having a "support system." Prior to Nooyi's departure, her family called up every friend they knew who had moved to the U.S. and asked them to look after Nooyi when she arrived.
"So every weekend, I had someone coming to Yale to check on me—whether I was going out with some guy, whether I was drinking or smoking. Of course I didn't do any of that. I was the biggest nerd. I didn't make good use of my time in school," she joked.
Fast forward 40 years, Nooyi is now a wife and a mother of two. Outside of her day job managing over 260,000 employees, she still lives by the strong family value passed down by her parents.
"Being a mother is a full-time job. Being an executive is a full-time job. Being a wife is a 'full-time-ish' job," she said. "There are tradeoffs all the time… So if you are struggling with these choices, you are not crazy. You are a human."
She added that companies and society have the responsibility to build the right infrastructure and policies to help women fulfill these multiple roles in life, and that career women need to foster a "sisterhood" to help each other grow rather than seeing each other as competitors.