In 2009, Jennifer Fleiss cofounded Rent the Runway, an online clothing rental service, with her Harvard classmate Jennifer Hyman to help girls afford designer gowns without breaking the bank. Fast forward eight years, after building the startup into a $600 million company, Fleiss, then a mom of three young children, decided to start something new to serve busy working moms like herself.
She found a powerful partner, too: Walmart's newly formed startup incubator, Store No.8. The new venture, named Jetblack which officially launched on Thursday, provides personal shopping service through text messaging.
The idea is to make shopping as easy as texting a friend who knows what you like.
"Consumers are looking for more efficient ways to shop for themselves and their families without having to compromise on product quality. With Jetblack, we have created an entirely new concept that enables consumers to get exactly what they need through the convenience of text messaging and the freedom of a nearly unlimited product catalogue," Fleiss said at the product launch.
Here's how it works:
Jetblack members can text any shopping requests, from household essentials to birthday gifts to fashion items, and professional buyers on the other end—who could either be a human or an artificial intelligence robot, depending on the complexity of your request—will find products that best match your needs, buy them and ship them to your door.
Over time, as the shopping assistant (again, this could be either a human or a robot) learns about your shopping habits and tastes, you can make the process even simpler by just texting a few key words.
Marc Lore, CEO of Walmart U.S. e-commerce, said Jetblack is the first step toward "conversational commerce," a vision of Walmarts where people shop through text messaging, online chat or voice, instead of going to physical stores or browsing pages on shopping websites.
If successful, this will pose a real threat to Amazon, Walmart's largest rival at the moment.
Marissa Vosper, a Jetblack user during its beta phase for a year, said the service is so convenient she no longer shops on Amazon as much.
"I love the convenience and real-time nature of Jetblack. Being able to text someone a screenshot of something I see on Instagram or a one-word description of something I need has really made shopping for my household easier," Vosper, a new mom of a 16-month-old who also runs her own business in New York City, told Observer.
"I went from being a brick-and-mortar shopper—prior to having kids because I had the time and loved shopping—to being a power user of Amazon who shops there on a daily basis, to never using Amazon after getting introduced to Jetblack," she added.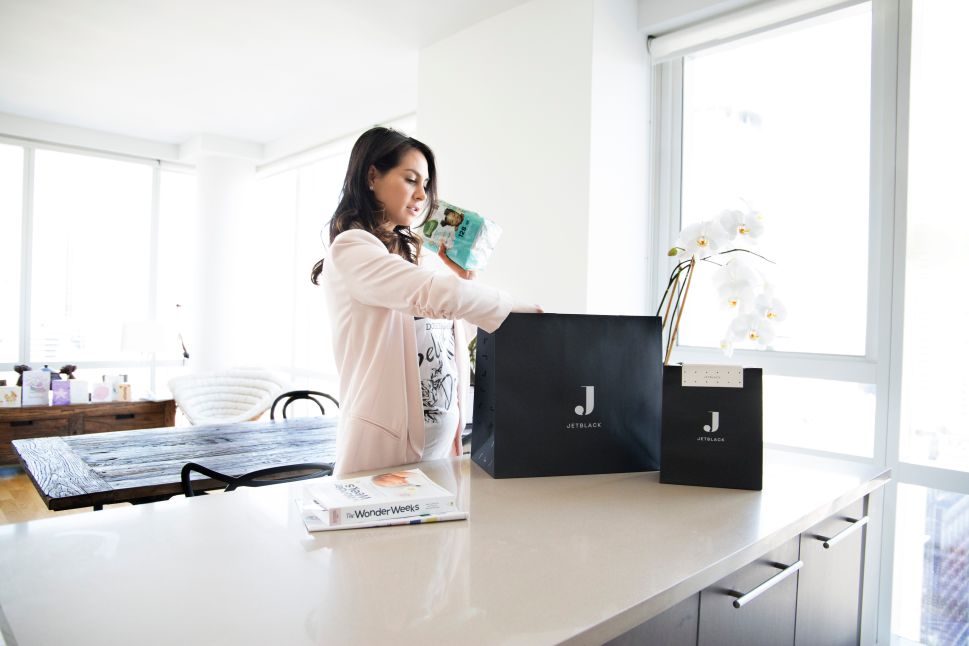 Naturally, Walmart (and its affiliate Jet.com) will be Jetblack's main supplier, starting with everyday essentials like paper towels and baby wipes. Other items and specialty products will be sourced from local brands and shops for now. Not Amazon, in any case.
To both Fleiss and Walmart, Jetblack sounds like a brilliant idea. But it has been introduced at an interesting time.
For one thing, the birth rate in the U.S. is at its lowest level in 30 years, which means Jetblack's target customer base (new moms) isn't likely to see substantial growth anytime soon. On top of that, in light of recent data scandals like Facebook's crisis and many other privacy breach cases before it, consumers are more hesitant to hand over their personal information to tech-intensive businesses.
An A.I.-enabled personal shopping service? Sound like a lot of risky elements in one place.
Nevertheless, Fleiss doesn't see Jetblack as a niche service targeting just moms.
"While Jetblack aims to give time-strapped parents more time back, we anticipate that our member base will eventually expand beyond this target consumer," she told Observer. "At its core, the mission of the service is to provide knowledgeable and curated recommendations with deep insights that are relevant and personalized to each member, no matter who they are."
Fleiss also promised that user data is proprietary information to the company and won't be shared with outside vendors.
Jetblack is currently invite-only and available in Manhattan and part of Brooklyn.