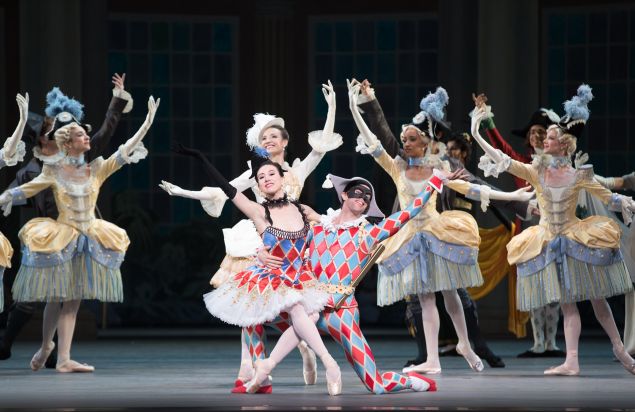 The big event of the ABT season has been Harlequinade, Alexei Ratmansky's reconstruction of Petipa's Les Millions d'Arlequin, a charmer he made in 1900, not long before his retirement from the Imperial Theater. (He had been running it for more than 30 years.) That version breathed its last in the mid-1920s, and here in New York we've only really known the enchanting version that Balanchine created for City Ballet in 1965, based to a large extent on the original, in which Balanchine himself had danced. Clearly, he loved it…although audiences, as I remember things, didn't, not even when in 1973 he expanded it, adding an army of adorable tots to the second-act divertissement, and even though he had two great dancers—Villella and McBride—as his Harlequin and Columbine.
Why didn't it please? I've always thought it was because Americans, always happy with a romantic comedy like Coppélia, are just not accustomed to the hard-edged, even cruel comedy of the commédia del'arte, with its stock characters and situations. Harlequin and Columbine aren't charming young lovers, they're artificial concepts whose problems are the conventional ones of the greedy father who wants his daughter to marry a rich old man, the bold daughter who wants to marry an impecunious, sexy hero, and the conniving servants, Pierrot and Pierrette. Harlequin is so anonymous he never takes off his mask! If you've been raised on the cut-out characters of commédia del'arte in British panto, you can be at home in the world of Harlequinade; if you haven't, and are expecting another Coppélia, you're in for a big disappointment.
Balanchine emphasized the artificial nature of the ballet by setting it in two-dimensional structures based on England's famous Pollock toy theaters. Ratmansky's settings—no doubt authentic—are solid and realistic, though why Harlequin and Columbine are being married in a formal ballroom bigger than the Waldorf's is never explained. The score, by Riccardo Drigo, is also two-dimensional, but joyously so. This is not Tchaikovsky's sublime music for Petipa's The Sleeping Beauty, created ten years earlier, but a bunch of lively rum-tee-tum melodies that you've known all your life (like the relentless Venetian Serenade—"Notturno d'amore"), but don't know why.
Ratmansky's intention here, as in his previous reconsiderations of Sleeping Beauty, Paquita and Swan Lake, is to reproduce the originals as accurately as possible, working with infinite patience from whatever notation exists, plus photographs, reviews, recorded memories. Like Balanchine, he recognizes that Petipa is the fount of classical ballet as we know it, and he wants us to experience his ballets more or less the way they were meant to be seen. (Balanchine chose to use Petipa less literally and more as inspiration, as in Theme and Variations.) Because Ratmansky's knowledge of, and sympathy for, Petipa are so profound, when he fills in the blanks in our knowledge of the originals, he somehow becomes Petipa.
In his Harlequinade, this is most evident in what to me is the high point of the ballet, the extended passage in Act Two when the lead couple's climactic pas de deux is danced against the dazzling patterns of the "Larks" ("Alouettes"), 12 girls in gorgeously elaborate mauve/gray costumes. Here we have the equivalent of the wonderful Vision Scenes that constitute Petipa's most beautiful choreography, and that populate Sleeping Beauty, Don Quixote, Le Corsair, and so many others. If I understand what Ratmansky has explained tot us, the deployment, or positioning, of the girls is Petipa, while the un-notated actions of the arms, body, and head are his own. Perhaps the arabesques are a little higher than those of the late 19th century, but what we see here convinces us that we're seeing the real thing, not pastiche. Because Ratmansky-as-Petipa is the real thing. And the result is ravishing.
ABT gave us four casts, all of which were convincing, if not at the level of McBride-Villella or, later, McBride-Baryshnikov. Harlequinade, despite the complexity and difficulty of many of its passages, can survive the absence of great stars. But it does require accomplished dancers with vivacity, classical technique, humor and brio. ABT has them. Perhaps the first-cast Columbine, Isabella Boylston, was the most stylish and secure, but Cassandra Trenary, Sarah Lane and Skylar Brandt (replacing the absent Misty Copeland) were all effective. I very much liked both James Whiteside and the vastly improved Jeffrey Cirio (he was also impressive as La Bayadère's Solor) as Harlequin, and the airy, charming Gabe Stone Shayer and a surprisingly cautious Daniil Simkin were certainly up to the job. Gillian Murphy was a pleasingly minxish Pierrette. David Hallberg (second-cast!) reminded us of what a superb character dancer he is—his Pierrot was especially complex and moving, whereas sturdy Thomas Forster was dopier and sillier. Duncan Lyle, from the corps, was a hilarious Léandre, the humiliated rich suitor. Tatiana Ratmansky was a radiantly beautiful Good Fairy.
The stage business worked—except when it didn't: At one performance, the magical explosion of money from the notary's desk didn't explode, and no money was forthcoming—bewildering to those not in the know and no doubt disconcerting (to say the least) to the dancers involved. Heads must have rolled backstage after the curtain came down. The corps and the 33—count 'em, 33—children from ABT's school were exemplary, and what terrific experience for the kids! (A little too much experience, I have to say, since the children's passages seemed to me over-extended.)
When you see four performances of a ballet within three days and emerge not only unscathed but ready for more, you know how substantial that ballet is. I can only hope that the ABT audience will want to come back frequently to this Harlequinade. It's not only worthy, it's delectable.
Which is more than can be said for the company's other premiere, Wayne McGregor's overwrought AfteRite (music by Stravinsky—yes, yet another unnecessary stab at The Rite of Spring). This time round, The Chosen One ends up in a gas chamber, because "Inside the last colony, humanity is a fragile frontier and survival demands the fittest. As nature reclaims its rites, a mother must choose what she holds most dear and what she can afford to lose." If I got it right, the mother was the eternally back-from-retirement Alessandra Ferri, and on hand to support her, her loyal cavalier, Herman Cornejo. They could have been anyone. Also wasted were Cirio, Whiteside, Copeland, Trenary, Hee Seo, Cory Stearns and others. They could have been anyone. I could have been elsewhere.