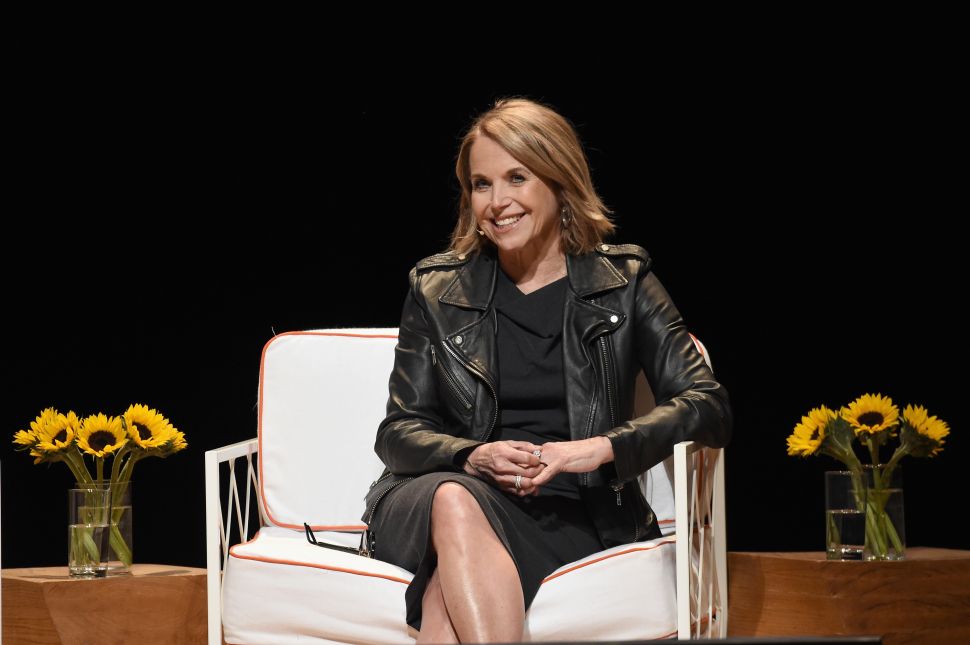 Katie Couric's recent Yahoo gig didn't turn out that well. So now, she's striking out on her own.
Couric is expanding her eponymous production company to focus on new stories spotlighting women. She made the announcement at the Cannes Lions festival, which focuses on advertising and creativity.
Katie Couric Media will launch with a short-form, female-focused online video series called Getting There. The show is co-produced by digital media site theSkimm and will air on its social media channels, which collectively have over two million followers.
TheSkimm recently completed a Series C funding round, with investors including Shonda Rhimes and Tyra Banks. It also started a new Skimm Studios division to focus on video content for female millennials, like Couric's new show.
Consumer products giant Procter & Gamble will sponsor Getting There as part of its gender equality initiatives. P&G will run pre-roll video ads before the interviews.
Both Couric and P&G are involved with #SeeHer, a campaign to reduce unconscious bias against women and girls in advertising and media.
Couric told The Wall Street Journal that her values are "very much aligned" with P&G's, though she will retain complete editorial control over the show. (She also hosts America Inside Out on National Geographic).
Early episodes of Getting There will focus on women like Insecure creator Issa Rae and "Barefoot Contessa" Ina Garten.
Couric and her husband John Molner are the controlling investors in Katie Couric Media. Most of the company's projects will involve branded content with female creative teams, like theSkimm interviews.
The former Today host left Yahoo in 2016 after less than two years on the job. She said the site was more interested in "low-rent" stories than high-quality journalism.
The news of Couric's new partnership comes less than a week after fellow TV icon Oprah Winfrey formed a multi-year production partnership with Apple. They join a host of television stalwarts who have turned to alternative media for their second acts.
While Apple and P&G aren't quite in the same wheelhouse, they're undoubtedly powerhouses in their respective fields. So it makes sense that Winfrey and Couric would want to partner with them.
It's a little strange that Couric and P&G are pinning their hopes on a smaller outfit like theSkimm. But on the flip side, they could also boost the site's name recognition and increase their own appeal among a young crowd.
P&G also announced several other gender equality initiatives at Cannes Lions, as part of its goal to have women direct at least half its commercials by 2023 (today that figure is only 10 percent).
The company is partnering with Queen Latifah's Queen Collective to accelerate racial and gender equality behind the camera by funding films from female directors.
P&G and Global Citizen will also co-host the first #SheIsEqual Summit in New York during September's UN General Assembly.