The original American Idol is spreading her wings in Encino. The Voice coach Kelly Clarkson just scooped up a sprawling farmhouse-style pad, only a few months after a scary home incident elsewhere in the city.
Clarkson has been based in Nashville for the past 10 years, but she and her husband, Brandon Blackstock, were renting a house in Los Angeles, where they stayed during the Billboard Women in Music Awards.
Clarkson disclosed on the red carpet that the home was robbed the night before. "It was crazy, we got here and our whole house was like bashed in," she told Extra. "We caught it on camera…Somebody was in [our] kid's room and ransacked our whole room and closet and everything, and that's never a good feeling."
Perhaps that's why Clarkson and Blackstock decided it was time to put down permanent roots on the West Coast, in a home that's all their own—with extra security. They paid $8.5 million for a custom-built spread in the Royal Oaks neighborhood, per the Los Angeles Times.
Encino, located in the San Fernando Valley, isn't as high-profile or celeb-studded as enclaves such as Beverly Hills, Bel Air or Brentwood. But it has an allure for many famous faces, like Real Housewife Kyle Richards, who snapped up the Smokey Robinson estate for $8.25 million last year. Maybe Richards will show her new neighbor around the area, as the two women are already acquainted—Clarkson sings the opening theme of Richards' new Paramount show, American Woman.
The 9,839-square-foot estate features reclaimed wood beams and high ceilings throughout, with plenty of pocket doors. The eight-bedroom, 11-bathroom abode has hand-poured sinks, handmade vintage wood barn doors and custom-blended brick floors, according to the listing held by Keller Williams broker Dennis Chernov.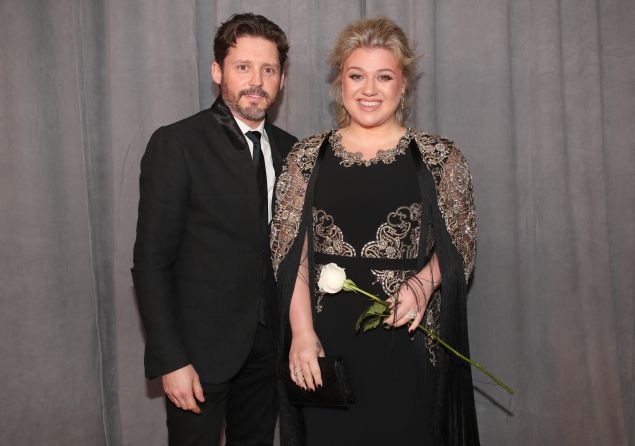 The master suite has pitched ceilings, a fireplace, lounge, private patio and walk-in closet with two built-in islands. Not to be outdone, the kitchen has no less than three islands. It doesn't look like there is any need for extra space, but just to be on the safe side, there's a two-story guesthouse.
There's a double staircase, theater, gym, game room and a temperature-controlled wine cellar. Then there's the outdoor entertaining areas, with a pool, spa, sunken lounge and two separate fire pits. There's also a kitchen complete with a pizza oven and a warming drawer, plus a built-in daybed.
It makes sense Clarkson will be spending more time in Los Angeles, as that's where The Voice films—her fellow coach, Adam Levine, made a few home moves this year too, including selling his longtime bachelor pad to John Mayer.
But don't worry, Clarkson is not leaving Tennessee behind for good—while she did list her massive, 20,121-square-foot Hendersonville lake house for $8.75 million last year, she and Blackstock are currently building a new home on a farm, closer to Nashville.