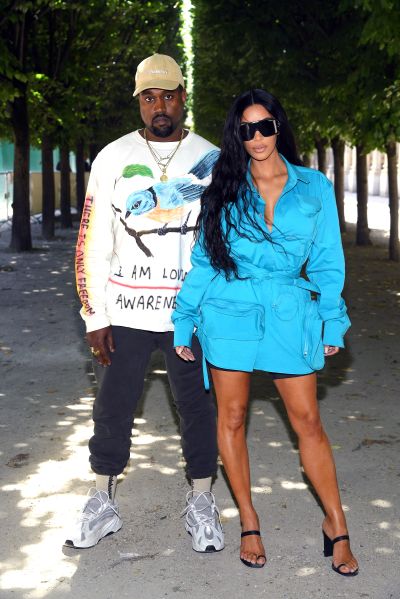 Kim Kardashian is known for her love of face highlighters, beige crop tops and questionable Instagram #spon. Never forget those appetite suppressant lollipops.
But while the reality queen is probably more closely associated with her KKW Beauty and nude lipstick, Kardashian also quietly expanded her expertise earlier this year. Not only did she add furnishings to one of her apps a few months ago, but she also proved her knack for real estate when she and Kanye West set a record in Bel Air last November.
The contour connoisseur and the Yeezy designer sold their extensively renovated six-bedroom, eight-bathroom mansion to Ukrainian billionaire Marina Acton for $11.7 million, which was the highest price ever paid for a home in Bel Air Crest. That was just eight months ago, but now Acton is following in Kardashian and West's footsteps, as she's already decided it's time to sell, per TMZ.
Acton is expecting her first child in the next few months, and is dealing with the conundrum of space. Because sometimes, a 10,000-square-foot modern palace just won't do the trick!
She's not reaching for the stars when it comes to this flip, though—she's reportedly looking for a surprisingly almost reasonable (well, comparatively) $18 million. Still, she's completed few, if any, renovations since buying the home.
Not that she needed to—after Kardashian and West paid $11 million for the house in early 2013, they promptly ripped it down to the studs. Millions of dollars later, the original Tuscan-style home was transformed into an über minimalist, all-neutral situation. It's essentially a marble-bedecked white box.
Alas, like Acton, Taylor Swift's potentially least favorite humans deemed the home less than ideal for their growing family—they now have three children, and all the sharp edges and light carpeting don't scream kid-friendly. Luckily, they found the then-perfect buyer in Acton, who was sold after Kardashian gave her a private tour. She was also thrilled with the possibility of installing a recording studio for her singing career.
There's no update on her singing nor that studio, but she could build herself a personal stage where she's moving next, as she wants double the space in a locale like Miami or West Palm Beach, with a guest house—her parents will likely come with her. In true billionaire fashion, she told TMZ that the "sky is the limit" when it comes to the price point.
As for Kardashian and West? They're safely ensconced within Calabasas, also known as the Keeping Up With the Kardashians motherland. The couple paid $22.68 million for an expectedly over-the-top Hidden Hills mansion, but spent another $20 million in renovations—it was worth it in the end, as the house is now worth a reported $60 million.