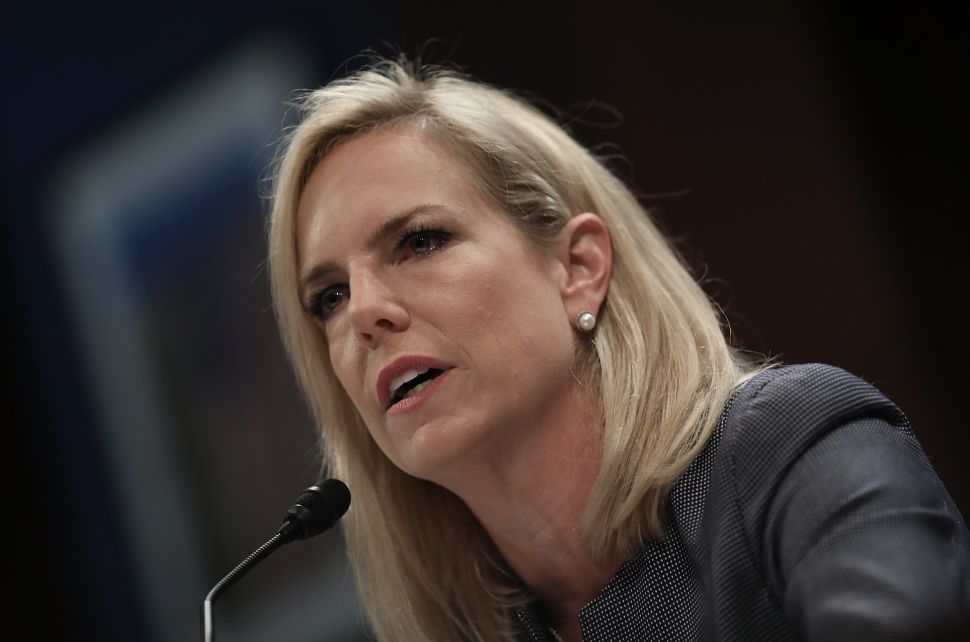 Department of Homeland Security Secretary Kirstjen Nielsen faced journalists following weekend reports describing the separation of immigrant families.
"Our policy at DHS is to do what we're sworn to do, which is to enforce the law," said Nielsen as reporters yelled over one another asking questions.
Borrowing strategy from President Trump, the DHS Secretary called on Congress to introduce bipartisan legislation that would curb immigration while providing a legal framework for those living in the United States illegally.
"What I believe is that we should exercise our rights as Democratic Americans and change the law," explained Nielsen.
When asked by CNN if the White House's "zero tolerance" policy of separating children from their families amounted to child abuse, the secretary pointed to "videos" and "TVs" available throughout detention centers.
"We have high standards. We give them meals and we give them education and we give them medical care. There are videos, there are TVs," responded Nielsen, claiming to have "visited the detention centers" herself.
During questioning, Nielsen said the White House's zero tolerance policy was not approved to deter immigration—contradicting White House chief of staff John Kelly's statements made when serving as the department's head in 2017.
"Yes, I am considering in order to deter more movement along this terribly dangerous network… I am considering exactly that," Kelly told CNN last year.
"The last administration, the Obama administration…separated families," said Nielsen, adding that the president has expressed desire for immigration reform "in tweets."
When pressed whether the White House was using immigrant children as "pawns," the secretary cited a 314 percent increase in adults arriving at the U.S. border with children, despite not being a family unit.
"The children are not being used as a pawn…which is why I'm asking Congress to act," concluded the DHS secretary.