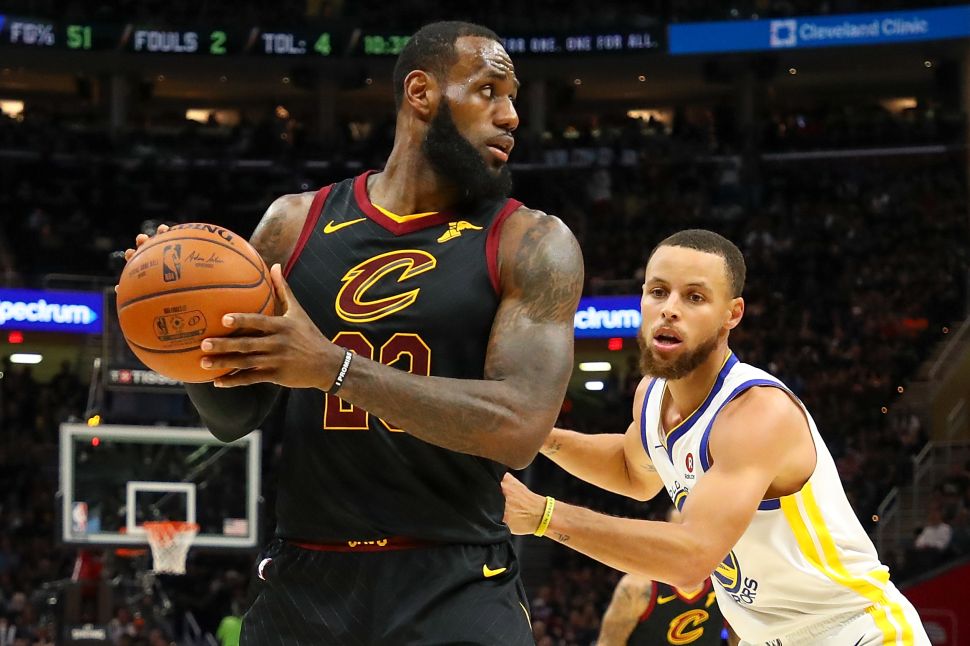 For many pop culture-loving millennials, 1996's Space Jam, which teamed Michael Jordan with Bugs Bunny and the Looney Teams against a group of invading space aliens, is one of the greatest sports movie of all time. The film's low score on Rotten Tomatoes is a full blown crime against humanity as Space Jam provides absolutely everything a young kid might want out of a movie. Ya got slapstick hi-jinx, animated buffoonery, Michael Freaking Jordan, Bugs Bunny one-liners, Michael Freaking Jordan, Bill Murray and Michael Freaking Jordan.
The only thing members of Generation Text could possibly want more is a sequel with LeBron James.
The NBA superstar has actually been linked to a potential follow-up for nearly a decade now, and in 2016, both James and Fast & Furious director Justin Lin were said to be in talks with Warner Bros. for a sequel. Since then, though, there hasn't been much in the way of concrete updates.
So with James about to enter NBA free agency for the third time in his career, now is the perfect opportunity to examine the three teams Vegas believes have the best odds of landing him. But we don't care about championships and stats here. We just want the best possible Space Jam 2 that we can get, so we're looking at which of these teams would best help him prepare to play with the Tune Squad.
(All numbers courtesy of BetDSI Sportsbook.)
Los Angeles Lakers (-250)
The City of Angels would be a great place for James to take his talents in advance of the real test of his career: playing against the Monstars.
L.A. is star-studded, meaning James could recruit any number of his celebrity pals for a cameo (just please don't let Drake anywhere near the Bill Murray role). Being based in L.A. would make the filmmaking logistics easier as well. But the real reason L.A. makes sense is because it would give James an opportunity to play with personalities that will pop up in Space Jam 2.
Small forward Brandon Ingram is a rising star in this league with raw hoops skills that rival Lola Bunny's; Kyle Kuzma was an overlooked afterthought in the draft who has blossomed into an impressive young player à la Tweety Bird; and the entire Ball family are loudmouth fools with puffed up chests who don't realizing we're laughing at them and not with them, just like Daffy Duck.
It's the perfect set-up.
Philadelphia 76ers (+350)
Michael Jordan's basketball skills were obviously quite important in Space Jam—Wired estimated that MJ poured in 44 points during the contest while shooting a perfect 100 percent from the field on 22 attempts—but it was his leadership skills that really put the team over the top. Without his mentorship, the Looney Tunes would have been doomed to a lifetime of slavery on Moron Mountain, and no one wanted that.
James has proven himself a leader during his 15-year NBA career, but he would have to become even more of a mentor to the embryonic 76ers; Philly's best players are all 24 or younger! What better way to get James into the house mother mindset he'll need to coral the big personalities of Bugs Bunny, Tasmanian Devil and Elmer Fudd than having him go to one of the youngest teams in the NBA?
Cleveland Cavaliers (+425)
Nope, not happening. I have two separate $100 bets that James leaves Cleveland this offseason, so I'm throwing journalistic objectivity right the hell out the window.
Sure, there's a lot James has learned from his time with the Cavs that would be directly applicable to Space Jam 2, such as how to carry a motley crew of lesser talented no-names to glory. But after 11 total seasons in Cleveland, James is best served learning some new lessons elsewhere.
At least for the sake of my wallet.
Bonus: Golden State Warriors
Just in case James wanted to turn heel and complete a real life Monstars squad, Golden State is ready and waiting.