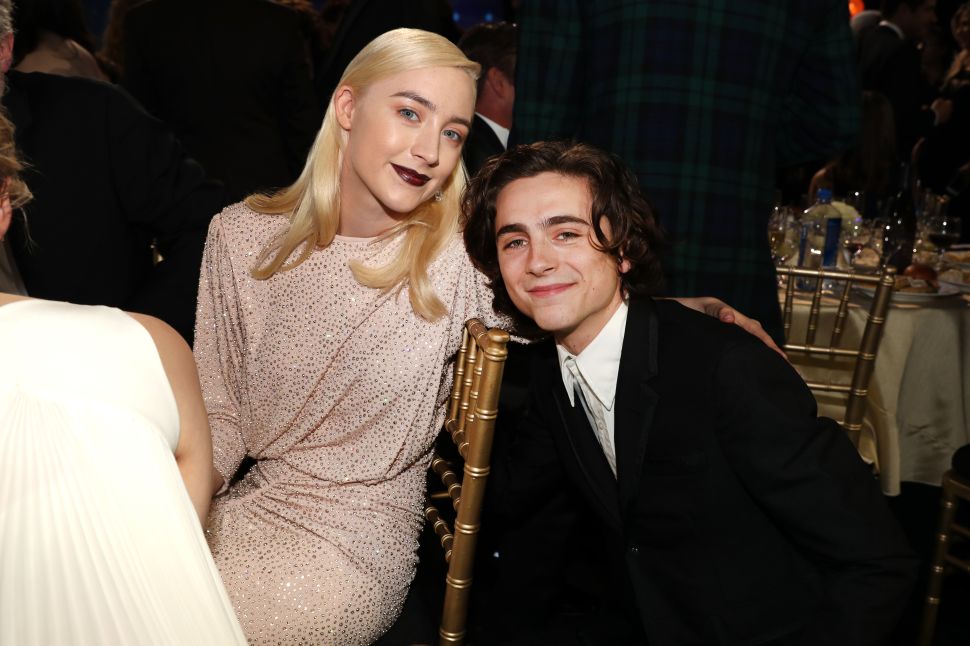 The Louisa May Alcott novel Little Women, about two sisters in post-Civil War America, has been adapted a handful of times for the screen, most notably in 1994 with Winona Ryder and last year's BBC miniseries. But today comes word that Sony is giving it another whirl and they are most decidedly not messing around this time given the ludicrous amount of talent circling the project.
According to Variety, Greta Gerwig is close to signing on to direct following the Oscar-nominated success of her debut behind the camera last year with Lady Bird. She'll likely be reunited with Lady Bird co-stars Saoirse Ronan, 24, and Timothee Chalamet, 22, who already have four combined Academy Award nominations between them. But that's not all—the outlet also reports that Meryl Streep and Emma Stone are expected to be brought into the fold as well, as if this film needed even more star power.
Excuse me while I momentarily hyperventilate.
Moviegoers understandably go bonkers for massive crossovers such as Marvel's Avengers: Infinity War, but with all due respect to the Infinity Stones, this is a true spectacle of A-list talent colliding.
Per the outlet, Ronan would take on the lead role of Jo, with Stone playing Meg, Streep portraying Marmee, Chalamet serving as Laurie Laurence and Florence Pugh potentially playing Amy. Gerwig was initially brought in to touch up the script, but Sony quickly began angling to lock her down behind the camera after Lady Bird broke out to the tune of five Oscar nominations and a healthy $77 million at the box office. The film's success has entrenched her as an exciting filmmaker to watch out for.
Sony has been admirably slow to adapt to the times of franchise filmmaking, opting instead to continue making the kind of mid-budget adult-oriented dramas that have fallen out of favor as Hollywood turns to familiar IP to attract audiences. Although the studio is now revving up its own shared superhero cinematic universe, Little Women is exactly the type of Oscars-friendly talent-driven drama that can allow them to keep a toe in the prestige content realm. Name-power alone should put this film on the fast track and then onto the radars of film fans and critics.
The timing works well for all involved also. Streep is close to finishing production on the second season of HBO's Big Little Lies and will appear in this summer's Mamma Mia! Here We Go Again as well as December's Marry Poppins Returns. Ronan recently appeared in The Seagull and is set to headline Mary Queen of Scots opposite Margot Robbie later this year. Chalamet has several projects in the pipeline, including Oscars hopeful Beautiful Boy with Steve Carell, Woody Allen's A Rainy Day in New York and Netflix (NFLX)'s The King. Stone turned down the main villain role in Wonder Woman 1984 (which eventually went to Kristen Wiig) and recently wrapped filming on The Favourite, arriving in November.
This cast is hot right now (Streep is always blazing no matter what) as is Gerwig. Stay on top of Little Women.