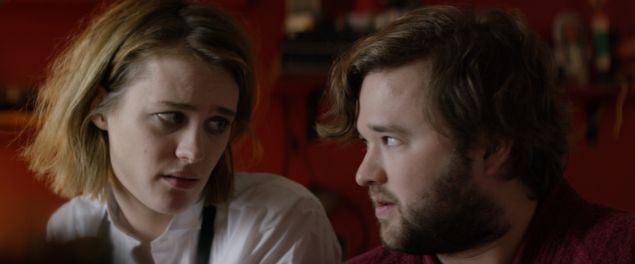 The indie comedy Izzy Gets the F*ck Across Town exists in a world where the positive and negative changes of the last quarter century—in terms of economics, aesthetics, culture and, perhaps most prominently, urban infrastructure—never happened.
The film shares many of the positive qualities—as well as some of the hackneyed clichés—that made the independent cinema and grunge music movements of the early '90s so exciting. Unfortunately, Izzy fritters away much of its early promise and energy on a will-they-or-won't-they romantic plot that the film simultaneously indulges in and treats with contempt.
Izzy Gets the F*ck Across Town follows a single day in the so-called life of the titular screwup (Halt and Catch Fire's Mackenzie Davis, who is also a producer) as she wakes up hungover after a one-night stand in Santa Monica. She has just been fired from her catering gig, is $35 overdrawn on her bank account, and her junker of a car is being fixed by an indifferent neighbor named Dick (Brandon T. Jackson).
Izzy is also reeling from a pair of breakups: one with her sister Virginia (The Leftover's Carrie Coon), who left their Riot Grrrl-style punk band Kissy's Dickens right when they were taking off, and one with her former boyfriend Roger (Unbroken's Alex Russell), who is about to get married. Izzy's questionable and completely half-baked plan is to somehow get across town to his Los Feliz hills engagement party and rekindle their former flame.
The set-up feels like a contemporary riff on themes lifted from Martin Scorsese's 1985 cult comedy After Hours. Like that film, Izzy Gets the F*ck Across Town is buoyed by the oddballs the lead character encounters during her misadventures. Indeed, along with a soundtrack that features tunes from Corin Tucker and Heavens to Betsy, the film's biggest asset is its impressive roster of actors in side roles, including Haley Joel Osment, Alia Shawkat and Annie Potts, all of whom deliver fine comedic moments.
---

IZZY GETS THE F*CK ACROSS TOWN ★★1/2
(2.5/4 stars)
Directed by: Christian Papierniak
Written by: Christian Papierniak
Starring: Mackenzie Davis, Carrie Coon, Haley Joel Osment, Brandon T. Jackson, Alex Russell, Alia Shawkat and Rob Huebel
Running time: 86 mins.

---
Coon is a particular standout; she's able to bring to the fore a deeply complicated history with Izzy with little more than an icy stare. By comparison, Russell's Roger (and by extension, the entire romantic through line on which the film hangs its dirty laundry) is a bit of a dud.
Troublingly, the L.A. the movie presents will be more familiar to people who know the city from the Missing Persons song or misguided New York Times think pieces than the one that actually exists today. As anyone who lives there knows, the city made a massive investment in a rail system, the L.A. Metro, that now rivals those in Chicago, and even New York City (because, you know, this one works). Our hero could have easily biked to the Expo Line in Santa Monica, transferred downtown and been there to ruin the party in Los Feliz with two-and-a-half-hours to spare.
Next time Izzy, get a fucking Tap card.