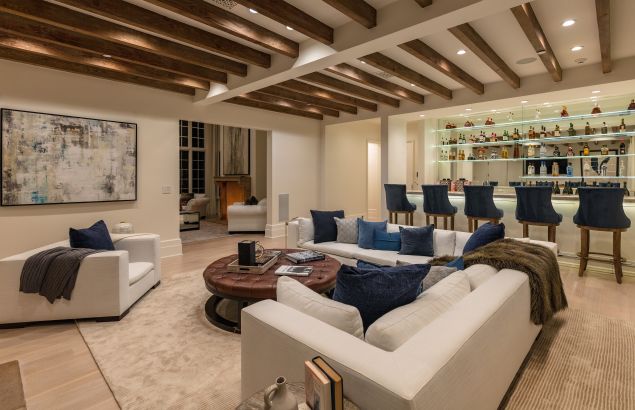 Pop icon and fishnet enthusiast Madonna hasn't slowed down since she and her neon capri leggings first made her grand entrance onto the music scene in the 1980s. But even by Madonna standards, 2003 was a big year. 
In the span of just 12 months in the early aughts, she released a new album, went down in MTV VMA history with her infamous Britney Spears and Christina Aguilera kiss and also decided to write a children's book. Due to her very real and casual British accent, the series began with a tome entitled The English Roses, about schoolgirls across the pond.
And living up to her true Material Girl self, she also scooped up a massive $12 million Beverly Hills mansion from Sela Ward.
The palatial home spans 12,100 square feet, and is situated on 1.14 acres. Madonna held onto the enormous spread for a decade, but by 2013 found a $19.5 million buyer. Sure, it wasn't the $28.5 million she was first hoping for, but she got out at the right time. Indeed, when the new owner sold the home to billionaire Russell Weiner just two years later, they took a $500,000 loss.
Weiner, the founder of Rockstar energy drink (he's also the son of conservative radio host Michael Savage), extensively remodeled the home. He stuck a rather aspirational $45 million price tag on the place in March 2017, before somehow deciding it made sense to increase the price to $49 million that July. Alas, he realized that as lovely as French country aesthetics are, he needed to lower his expectations—first to $39 million in August and then $35 million in November.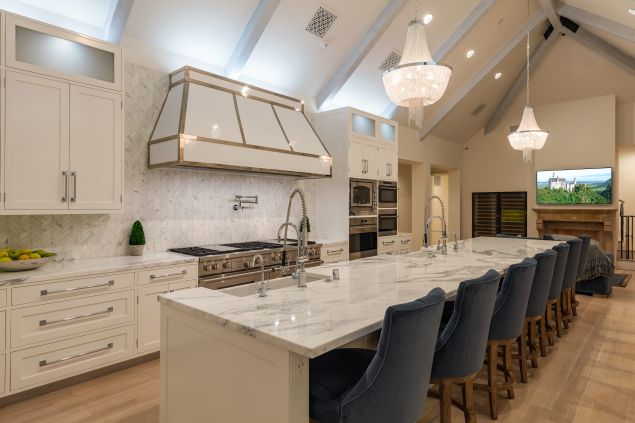 The listing disappeared in March 2018—but don't worry, Madonna fans! Anyone devastated by the thought of missing out on Madge's erstwhile abode can calm down: it's back, with the very same $35 million ask.
There are two designer kitchens with marble countertops (one is not enough), as well as handmade custom milled cabinetry, per the listing held by none other than Kyle Richards' husband, The Agency founder Mauricio Umansky.
"With glamorous grounds that include a beautiful resort-inspired pool and tennis court, you can really envision one of the world's most iconic songstresses soaking up the quintessential California lifestyle during the time she lived on property," Umansky told Observer via email. "And with the home's recent extensive remodel where no detail was spared, it is an entertainer's dream more than ever."
There are seven fireplaces throughout the nine-bedroom, 10.5-bathroom estate. The master suite contains French doors and a marble bathroom with a soaking tub.
There is a formal dining room, and one of the living rooms has beamed ceilings and a fully decked out bar, while another has built-in bookshelves. There are plenty of glitzy details, like shimmering light fixtures and walk-in closets, which are very Vogue and have more than enough room for all the lace gloves and cone bras you could ever dream of.
Elsewhere, there's a 15-seat home theater and an extravagant fitness center—Madonna and her arms would approve.
It doesn't look like Madonna snagged any other West Coast homes in the past few years, though she has a surplus properties around the world. She owns multiple London residences, as well as a 50-acre Bridgehampton estate and her 12,000-square-foot Upper East Side townhouse.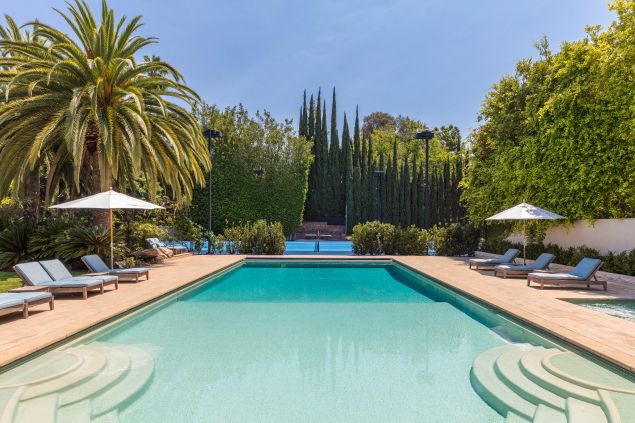 In fact, Madonna took on yet another unexpected role last year, when she declared herself a soccer mom. Yes, she packed up and moved to Lisbon with her children, to support her adopted son David Banda as he joined the youth division of Portuguese soccer club Benfica. And because this is Madonna, she did so in style—she is apparently living in an historic 18th century mansion known as Quinta do Relógio.