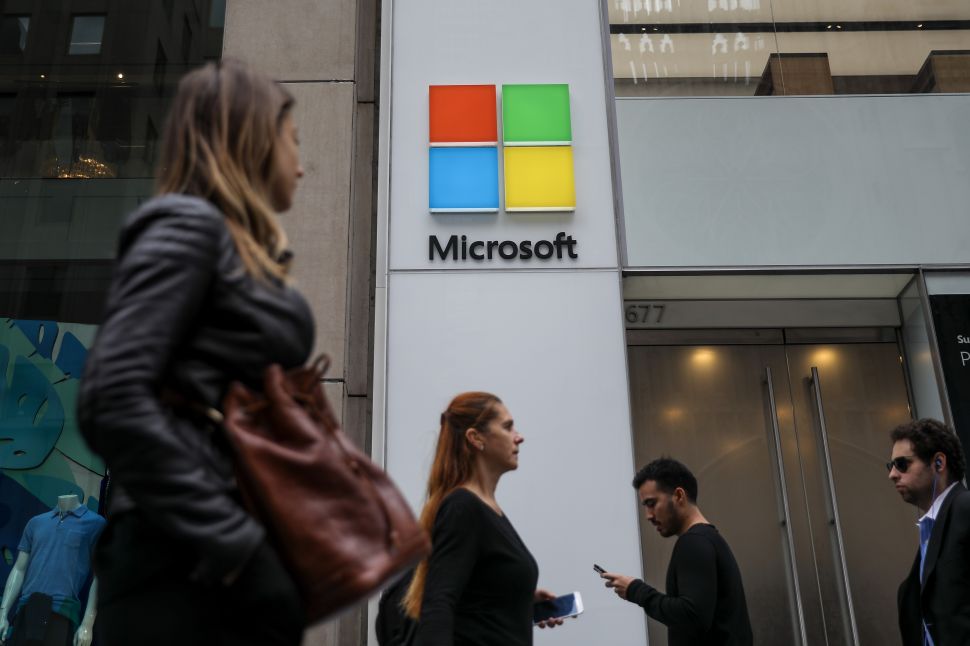 Microsoft is on thin ice.
The tech giant's employees are in open revolt over its contracts with U.S. Immigration and Customs Enforcement (ICE). The agency's "zero tolerance policy" of separating immigrant children and parents at the United States-Mexico border has been heavily criticized in recent days.
More than 100 Microsoft workers sent an open letter to CEO Satya Nadella asking him to "put children and families above profits."
The company wrote in a January blog post that its services enable ICE agents to "utilize deep learning capabilities to accelerate facial recognition and identification."
But the disgruntled employees say that working with an agency that enacts "inhumane and cruel policies" is a "clear abdication of ethical responsibility."
"We are providing the technical undergirding in support of an agency that is actively enforcing this inhumane policy," the letter read. "As the people who build the technologies that Microsoft profits from, we refuse to be complicit."
As such, the workers demand that Microsoft cancel its contracts with ICE and enact a clear policy that it will not work with clients who violate international human rights law.
Thanks to this letter, Microsoft's top brass are all in damage control mode.
Nadella wrote on LinkedIn that Microsoft's work with the U.S. government is not related to border policy or facial recognition. Its only involvement with ICE is on email, calendar and document management systems.
"Any engagement with any government has been and will be guided by our ethics and principles," Nadella wrote. "We will continue to have this dialogue both within our company and with our stakeholders."
But Nadella didn't specify whether Microsoft would continue or suspend its work with ICE.
Microsoft president Brad Smith was similarly cagey in a blog post.  He called the company "the United Nations of software" and said he was "not aware" of Microsoft products or services "being used for the purpose of separating families."
Smith also spotlighted Microsoft's work with Kids in Need of Defense (KIND), which provides pro bono legal support to unaccompanied children.
But he included one strange caveat in his defense of the organization.
"KIND's goal is not to ensure that every child gets to stay in the United States," Smith wrote. "Rather it is to ensure that every child's case is heard by an informed immigration judge, so those who are legally entitled to stay win the right to do so."
That may be true, but it seems like an uncouth distinction to make in an era when 10-year-old girls with Down syndrome are being separated from their mothers at the border.
"All businesses need to have a clear north star and inform their corporate decisions by it—accepting that by doing so you will alienate some of your consumers, but that those you attract will be more loyal for it," Becky Honeyman, managing partner at crisis PR firm SourceCode Communications, told Observer.
Of course, Microsoft has a history of being late to the party when responding to crisis.
In the wake of the #MeToo revelations, Microsoft revealed in March that female workers filed over 200 internal complaints about gender discrimination or sexual harassment between 2010 and 2016.
But the company found that only one of 118 gender discrimination claims was legitimate and just 15 of 108 sexual harassment or assault claims merited disciplinary action. That means the company denied 93 percent of claims..
Ironically, those sobering statistics emerged after Microsoft stopped using forced arbitration agreements in sexual harassment cases and was forced to work them out publicly.
Like many other tech firms, Microsoft has also struggled with gender diversity. Its global workforce is about 26 percent female, but the engineering pool is only 19 percent female.
Microsoft even struggles with simpler issues.
After the Parkland mass shooting, cell phone makers like Apple, Samsung and Google updated their gun emojis to show water pistols instead of conventional firearms.
The only company that didn't make the switch? That's right, Microsoft.
If they have so much trouble with emojis, how can they expect to win the immigration fight?