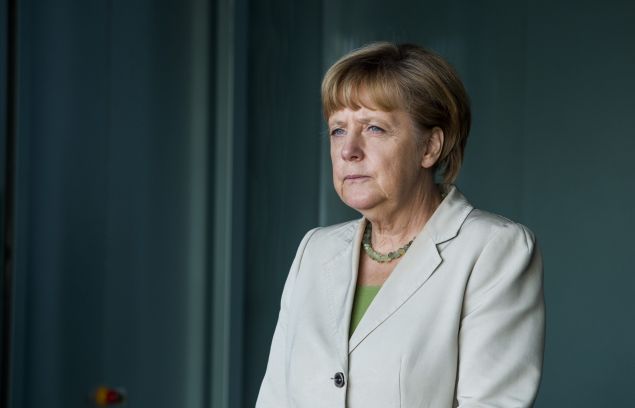 Every so often, a crime occurs that so shocks the public, while perfectly playing to the political zeitgeist, that it radically alters debates—and ultimately politics. For Germans of the baby boom generation, that crime was the murder of Benno Ohnesorg, a student protestor, in West Berlin on June 2, 1967. Ohnesorg was a 26-year-old whose young wife was expecting their first child, and his first demonstration turned out to be his last. For reasons that were never completely clear, a policeman shot Ohnesorg in the head in an unprovoked attack.
The uniformed killer, Karl-Heinz Kurras, was a veteran of Hitler's army, a stand-in for all the things young West Germans loathed about their parents, and his crime outraged a generation. With "the shot that changed Germany," as millions remembered it, Ohnesorg became a martyr, inspiring a left-wing protest movement and eventually even terrorism against the West German state. What made this case truly interesting is that it emerged more than four decades later that Kurras, instead of being the fascist he so ardently seemed to be, was in reality a highly prized spy—a mole—for the East German secret police, the notorious Stasi. But that, like so much else, is another story.
Another momentous murder has now come to pass in Germany, one that seems likely to upend German politics just as the Ohnesorg killing did—albeit in a different direction. The victim here is a 14-year-old girl, Susanna Maria Feldman, who is from Mainz, a regional city on the Rhine in the heart of Germany. She disappeared from her home on May 22 and, although her distraught mother filed a missing person's report the following day, police did not commence any serious search until more than a week later, believing they had just another teenage runaway on their hands. Tipped off by a 13-year-old migrant boy living in an asylum shelter of the kind that dot Germany these days, the police soon had a suspect. Detectives found Susanna's body on June 6, in a wooded area near railroad tracks on the outskirts of Wiesbaden, a few miles from her home. She had been raped and strangled to death.
Her suspected killer is Ali Bashar, a 20-year-old Iraqi Kurd whose story reads like a sinister parody of the migrant crime wave that has swept Germany since Chancellor Angela Merkel opened the country's doors to refugees and asylum-seekers three summers ago. Bashar arrived in Germany in October 2015, as the migrant wave into Central Europe was cresting, along with his parents and five siblings. Like virtually all asylum seekers, the Bashars claimed to be refugees, when in fact they were economic migrants seeking a better life.
As a result, the young man's asylum request was rejected at the end of 2016 and, in a turn of events depressingly commonplace in today's Germany, he should have been deported but was not. Bashar requested an appeal to buy time, so his case fell through the cracks. His three years in Germany amounted to a one-man crime wave, including assaults on police officers, robbery with a knife, and possession of illegal weapons. In March of this year, Bashar was a suspect in the gang rape of an 11-year-old girl at the same refugee shelter where the Bashar family was living.
After Susanna Feldman's murder, Bashar fled the country, headed for his native Iraq. He should have been apprehended at the airport, since his name had been added to police watchlists, but in a bureaucratic screw-up, airport police failed to check that the name on Bashar's air ticket matched his identity papers (they did not). Once the uproar over the Feldman killing went viral, German police upped their game and quickly ascertained their suspect's location. With help from Iraqi police, Bashar was apprehended on June 8 and promptly put on a plane back to Germany. According to Kurdish authorities, the suspect has already confessed to raping and murdering the teenager. Bashar is presently in a high-security facility in Wiesbaden awaiting determination of what charges he will be tried for, and whether he will face them as an adult or juvenile.
With her gruesome end, Susanna Feldman has become a stand-in for all the victims of the wave of migrant crime that has struck Germany since 2015. There is now general consensus that violent crime in Germany rose by at least 10 percent after Merkel opened the country's doors in mid-2015, with over 90 percent of that criminality caused by young male migrants like Ali Bashar. For New Year's 2016, migrants went on an infamous rampage in several German cities, sexually assaulting 1,200 women (half of them in Cologne), a crime that involved some 2,000 men, a fact that German police tried and failed to cover up.
Feldman's murder is the latest outrage in a rash of violent crimes against German women, many of them very young. However, her killing put a face on an issue that German elites would rather not discuss. Susanna's death is the fourth of a German teenage girl at the hands of a migrant over the last 18 months, a fact noted by Alice Weidel, the leader of the right-wing Alternative for Germany (AfD) party, which surged in last fall's federal elections, winning almost 13 percent of the vote and 94 seats in the German parliament. Weidel minced no words in her polemic against the Merkel government: "Susanna is dead. Maria from Freiburg; Mia from Kandel; Mireille from Flensburg; and now Susanna from Mainz."
Weidel, who called for Merkel's resignation over her failures of leadership on the migration issue, went on: "Susanna's death is not a blind stroke of fate. Susanna's death is the result of many years of organized irresponsibility and the scandalous failure of our asylum and immigration policies. Susanna is the victim of an out-of-control left-wing multicultural ideology that stops at nothing to impose its sense of moral superiority."
While Weidel's words please AfD voters, it's now apparent that many politically moderate Germans are deeply concerned by the wave of migrant crime that Berlin seems powerless to mitigate. Only the blind in Germany can fail to see that Merkel's migration policies have made life more difficult for millions of average Germans, some of whom fear for the lives and safety of their children in a way they did not just three years ago. Even the Frankfurter Allgemeine Zeitung, the country's middle-of-the-road paper of record conceded about migrant crime, "These cases seem to be adding up."
Then there's the matter that Susanna Feldman was Jewish. No issue in German life since 1945 has been more fraught with complications and pathos than the country's relations with Jews. In recent years, Germany's Jewish population has made an impressive comeback, marred by the reappearance of anti-Semitism, including violent attacks on Jews. That many of these crimes are associated with migrants, not Germans, is something that the mainstream media prefers not to discuss, but that German security officials know all too well.
Now a Jewish girl is dead at the hands of a migrant. The rabbi of the thousand-strong Jewish community in Mainz stated, "Our community is in shock," adding, "I have come to comfort the family, and I have found that it is destroyed." Murders of Jews, especially Jewish children, because German officials are failing to protect innocents from killers is just about the worst visual imaginable for Berlin, but three years after Chancellor Merkel opened her country's doors to mass migration from outside Europe, that is Germany's present situation. How much more of this painful reality Germany's politics can take is the question looming before that pivotal country, the economic and political heart of Europe, right now.
John Schindler is a security expert and former National Security Agency analyst.