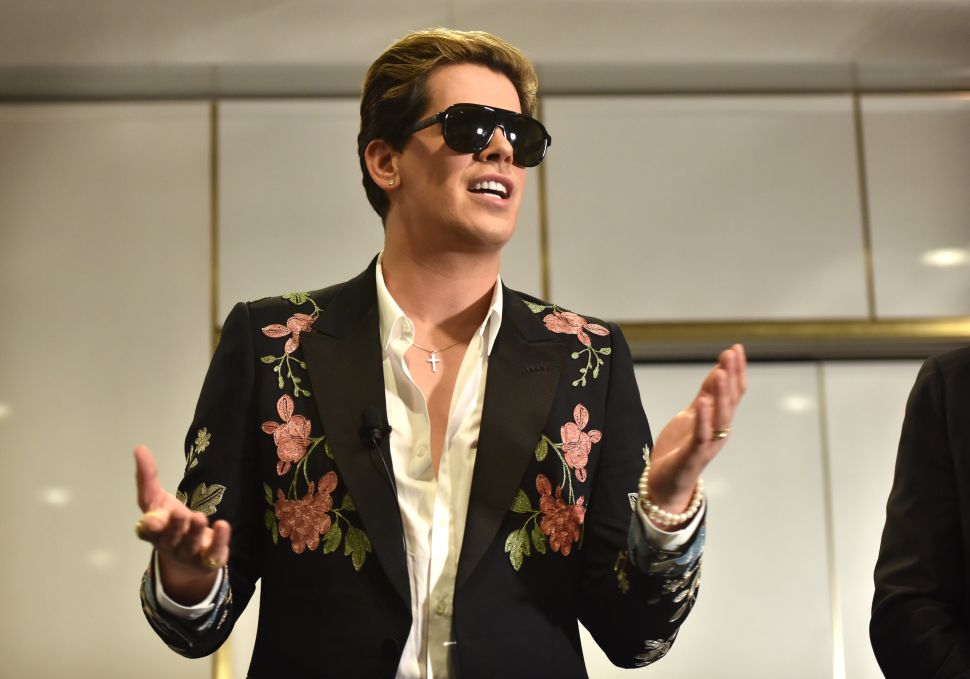 Milo Yiannopoulos has started issuing reporters threatening messages when asked to comment for stories.
"I can't wait for the vigilante squads to start gunning journalists down on sight," the right-wing nationalist told Observer over text message, in response to a longer feature in development about an Upper East Side restaurant he is said to frequent.
When asked to elaborate on who specifically had upset him, Yiannopoulos explained that the statement was his "standard response to a request for comment."
Yiannopoulos also sent the message to The Daily Beast's Will Sommer in an article examining the struggling U.K. Independence Party, which the conservative commentator is reportedly seeking to join as part of, what an Info Wars host describes as, a "soft coup" lead by nationalist figures.
Yiannopoulos posted a picture on Instagram of the veiled threat issued to Sommer, captioning it "where is the lie."
https://www.instagram.com/p/BkfXcGhgRYO/?taken-by=milo.yiannopoulos
Over the past 18 months, the provocative nationalist has seen his career implode following a Buzzfeed report linking his tenure at Breitbart to known white supremacists and neo-Nazis. After the piece's publication, Yiannopoulos lost funding from the Mercer family, known in the political world as prominent pro-Trump megadonors, and subsequently elevated his racist rhetoric.
This past weekend, the nationalist bragged on Facebook and Instagram that he'd sent $14.88 to The New Yorker's former fact checker Talia Lavin. According to the Southern Poverty Law Center, "The number 1488 is a combination of digits popularly used by white supremacists and neo-Nazis—14 to represent the infamous "14 Words" (a mantra about securing "a future for white children") and 88 to represent "Heil Hitler."
Lavin is Jewish.