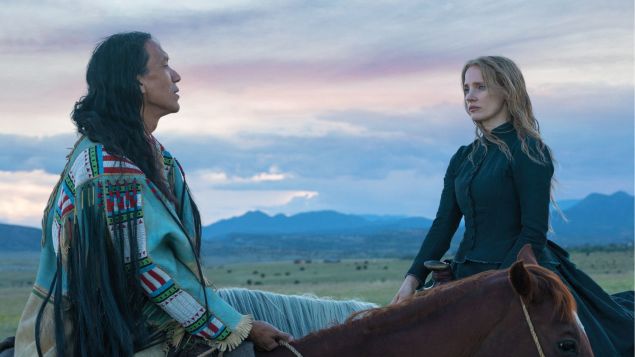 Strongly acted, beautifully shot and sincerely aimed at clearing up some of the misconceptions about the Old West that have been passed off as history by Hollywood movies, Woman Walks Ahead is an offbeat eye-opener about the real-life friendship between two forceful yet disparate figures from the past—artist and human-rights activist Catherine Weldon (Jessica Chastain) and ferocious Sioux chief Sitting Bull (a compelling Michael Greyeyes).
She was a widowed white woman from Brooklyn. He was a notorious savage forced to knuckle under by aggressive U.S. government mandates and obey unfair laws in order to protect his fellow American Indians from extinction by revenge-seeking, so-called "patriots". It's a history lesson that has never been taught before, and it leaves you informed and galvanized.
In 1890, more than a decade after the violent clash between Sitting Bull and General Custer in the Battle of Big Horn, brave and headstrong New York artist Catherine Weldon made an arduous journey, alone and through hostile territory, from Brooklyn to Standing Rock, North Dakota with one goal in mind: to paint a portrait of the famous and feared Sioux chief for posterity. What she found when she got there was a far cry from what she expected: a noble, sensitive warrior reduced to the status of a potato farmer, living on original native land confiscated by bitter white men and turned into a government reservation.
For those of us who know only what we've seen of a docile, domesticated Sitting Bull as the adoptive father of Annie Oakley and a performer in Buffalo Bill's Wild West Show in Irving Berlin's Annie Get Your Gun, the friendly but wary pragmatist Weldon befriends is handsome and dignified, with a surprising sense of humor. In their first encounter, she tries to break the ice by describing her long, exhausting trip and he responds with, "You mean you took the train from New York? Did you have a pullman car?" He may have been a shadow of his former self, but he was already a crafty businessman and shrewd negotiator who refused to pose for her portrait until she agreed to fork over $1,000 to preserve his likeness in oil.
---

WOMAN WALKS AHEAD ★★★
(3/4 stars)
Directed by: Susanna White
Written by: Steven Knight
Starring: Jessica Chastain, Sam Rockwell, Michael Greyeyes, Chaske Spencer and Ciarán Hinds
Running time: 101 mins.

---
The rest of the film chronicles the details that drew two strong figures from different worlds together through mutual respect. Contrasting Catherine's naiveté with the cruel military manipulation of American Indians, forcing them into poverty and depriving them of their pride and dignity, the screenplay by British writer Steven Knight (Very Pretty Things) shows how and why Weldon grew into a defender of the impoverished Indian nation.
It's a perfect role for Chastain, who specializes in bringing pervasive female personalities to life, but I wish director Susanna White had resisted the temptation to flirt with the idea that the two central characters might have entertained an unconsummated sexual attraction.
Still, I like the inference that both Weldon and Chief Sitting Bull, despite their differences, shared common ground in the way they were both compromised in life—he by race, she by gender. Sturdy support by Sam Rockwell as an Army officer whose orders to return to the East where she belongs fall on deaf ears, and the rugged grandeur of the Old West captured in Mike Eley's gorgeous cinematography are additionally sound reasons why Woman Walks Ahead is a rewarding period piece, as absorbing as it is educational.