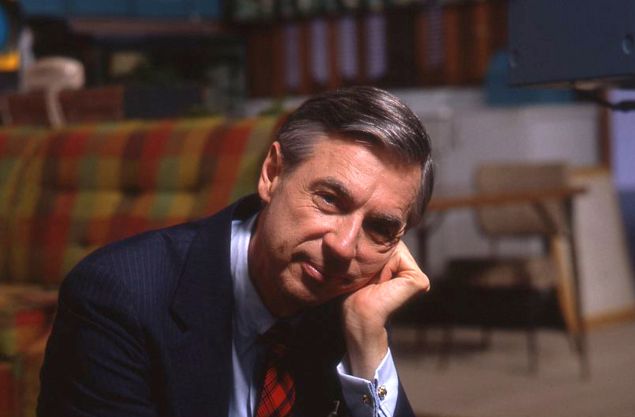 When Mister Rogers' Neighborhood made its U.S. national debut in February of 1968, the initial plot line involved a scared, confused, but ultimately benevolent dictator deciding, rather irrationally, to build a wall around his kingdom. King Friday XIII—who, like the other puppet denizens of the Neighborhood of Make-Believe, was voiced by Fred Rogers—is not afraid of his neighbors as much as he is an idea: change. He doesn't like it. 
That currently topical storyline is one of the many elements that lend this stunning documentary about a man who died 15 years ago an unexpected urgency. It also underlines why both this masterful film and the work of the person it celebrates are so singular. Mister Rogers, both man and show, promoted the expression of ideas and emotions, two things society likes to exploit for profit but rarely explore, especially when they belong to children. By structuring this deeply thoughtful and strikingly emotional portrait around concepts—the central ones being how we express self-doubt and anger—director Morgan Neville, an Academy Award winner for 20 Feet from Stardom, has crafted a film that so deeply embodies its subject that it almost transcends it.
Of course, telling this story required Morgan to devise an innovative way to organize his collection of interviews with those who knew Mister Rogers intimately. He also had an enormous amount of archival footage he culled from boxes of undigitized film reels unearthed at The Fred Rogers Company to contend with.
A straight-ahead biopic wouldn't have worked: there were no surprises to reveal. Perhaps more than any major media figure of the previous century, Mister Rogers was an open book, letting the whole world in on his faults and frailties, both by directly explaining them to us and acting them out through puppets. (Daniel Striped Tiger, the character with whom Mister Rogers had his most symbiotic relationship, embodied Rogers' fears; King Friday XIII, his imperious side; while Lady Elaine Fairchild was the part of him that liked to turn things on their head and was the voice he used to scold his two sons.)
Instead of some shocking revelation, the film offers brightly defined details grouped around feelings and concepts. As a child, a sickly Fred Rogers had only two outlets for his feelings: the make-believe games that he played in his bedroom and the music that he constantly plunked out on the piano. That, combined with his interest in the ministry and his involvement in the work being done at the time in early childhood development at the University of Pittsburgh, lead him to the world of television, a device he had hardly ever seen before he started making programing for it.
---

WON'T YOU BE MY NEIGHBOR? ★★★★
(4/4 stars)
Directed by: Morgan Neville
Running time: 93 mins.

---
For over 900 episodes and 31 seasons, Mister Rogers would practice listening, curiosity, compassion, and perhaps most singularly, stillness, for the nation's grateful preschoolers. It is surprising what a profoundly emotional experience it is to see our better angels practiced with such open-hearted sincerity, as Mister Rogers does in his famous testimony defending public broadcasting from Nixon-era cutbacks; his interview with Jeff Erlanger, the little boy who used a wheelchair and who would go on to become a politician and activist; or when he let Coco the Gorilla tie his shoe.
There is an important, not entirely answerable question dangling over Won't You Be My Neighbor? It is first posed by his friend and biographer Tom Junod, whose Esquire profile of Rogers was a touchstone for magazine writers of a certain age: Did any of it mean anything? How is the legacy of a man who worked so hard to get us started on the good foot marred by the fact that we are all such a mess in all the ways he was trying to help us to prevent?
We are at an age where everyone from the leader of the free world to "friends" in our social media feeds actively demonstrate dishonesty, cruelty and vanity. While there has been a cottage industry of thought pieces written about how Mister Rogers led us astray by turning a young generation into TV addicts (including one we published at Observer), I don't think anyone really blames him for that. But, man, we sure could use his help right now. And despite sometimes coming off as a kind of 20th century Jesus in a cardigan, Mister Rogers is not coming back. But it looks like, as demonstrated in this remarkable film, he left a few things behind that just might be able to help.