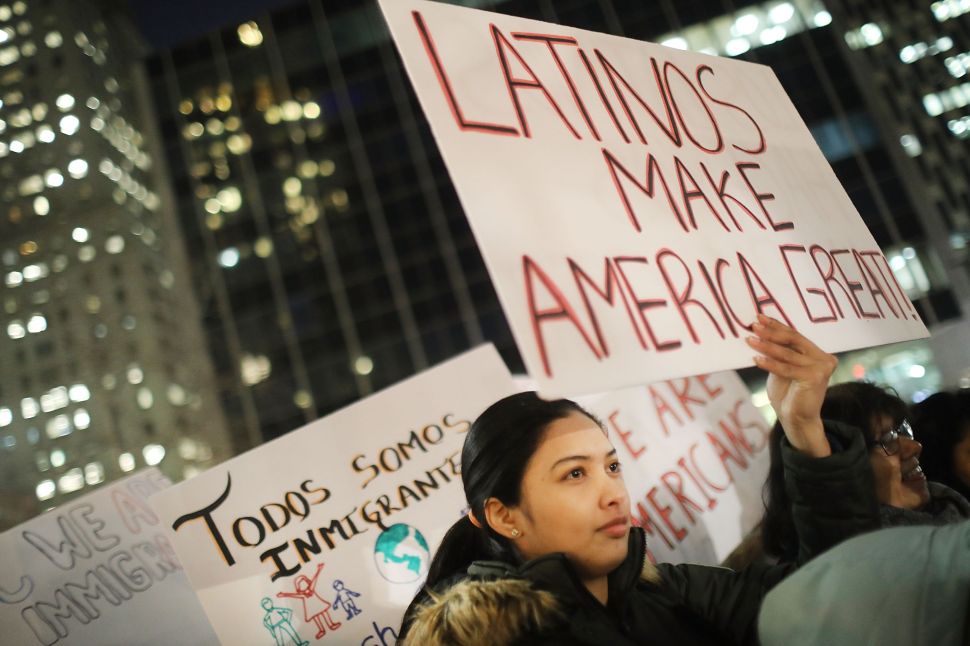 New York could prohibit federal immigration authorities from making arrests at courthouses without a warrant or court order—and subsequently offer the most protective regulations on ICE courthouse arrests in the United States.
The Protect Our Courts Act, sponsored by state Assemblywoman Michaelle Solages, would prohibit U.S. Immigration and Customs Enforcement (ICE) from making civil arrests at state courthouses without a judicial warrant or court order. The protection would also apply to individuals going to or leaving court.
In April, Gov. Andrew Cuomo issued a cease and desist letter to ICE in which he said he would take legal action against the agency if it does not put an end to its "reckless and unconstitutional practices" in immigrant communities.
He also signed an executive order to change executive order #170, which bars state agencies and officers from asking about an individual's immigration status unless it is required by law. That executive order now bans ICE arrests in state facilities without a warrant.
Solages—the first person of Haitian descent to be elected into the state legislature—said state residents rely on the court system to tackle "important legal issues that affect our communities."
"All New Yorkers—regardless of income, race, religion or immigration status—should have the opportunity to use the court system to advocate for themselves and their interests," she said in a statement. "Federal immigration agents searching and detaining immigrants inside our courts deters individuals from interacting with the court system, which in turns has a chilling effect on our rights."
In May, California Gov. Jerry Brown signed legislation that prohibits judges and lawyers from revealing alleged crime victims and witnesses' immigration status in open court unless it is pertinent to the case.
Anu Joshi, the immigration policy director for the New York Immigration Coalition (NYIC), which is part of the "ICE Out of Courts" coalition that includes nearly 100 organizations, told Observer that New York's legislation goes further.
"As far as we know, this would be the most far-reaching in terms of protecting New Yorkers accessing the court system from outside federal agency interference," Joshi said.
She said such a bill would ensure New Yorkers can access the court system without fear of interacting with ICE.
"It would mean that every New Yorker would be able to access the court system and their right to have their day in court free from fear of being snatched away from their family and separated from their family by ICE and that includes those who are part of a court proceeding, witnesses, victims," Joshi continued.
Joshi noted that there are only a few weeks left in the state legislature's session but that there has been "a lot of support" from state lawmakers. She also anticipates support from Cuomo.
"Our understanding is that the governor is supportive of keeping ICE out of courts," she added. "I don't think he said anything publicly specifically about this bill, but we would expect him as [a] progressive governor in New York to want to protect immigrant New Yorkers and therefore be in support of this bill."
The Republican-led state Senate, she argued, might be more of a challenge to sway in the direction of supporting protections for undocumented immigrants in courthouses.
"The Senate is difficult, but we think that this is an issue that crosses party lines," Joshi said. "Everyone can agree that everything works smoother when all New Yorkers have access to exercise their rights in court."
Tyrone Stevens, a spokesman for Cuomo, pointed to the executive order the governor signed barring ICE agents from state facilities and said the governor's office will review the legislation.
"Earlier this year, Governor Cuomo issued an executive order banning ICE agents from state facilities, because he is committed to doing everything in his power to protect the rights of all New Yorkers and standing up to ICE's reckless enforcement tactics," Stevens said in a statement. "We would of course review any bill that seeks to adopt what we've already put in place for other government entities."
The push comes amid an uptick in immigration enforcement by ICE throughout the state.
Since the beginning of 2017, there has been an a 1,200 percent increase in ICE courthouse arrests across the state, according to the Immigrant Defense Project (IDP), which is also part of the "ICE Out of Courts" coalition.
A statewide survey conducted by IDP found that more than two-thirds of advocates working with survivors of violence said they have clients who opted not to seek help from the courts because they were afraid of ICE. And a report by the American Civil Liberties Union (ACLU) found that immigrants were less willing to report crimes due to courthouse arrests.
"We've seen over the last year and a half that ICE has shamelessly targeted immigrant New Yorkers when they are exercising their due process rights attending state courts, whether that's as a witness or as a defendant or even as a friend or a victim," Joshi continued. "ICE has been targeting individuals in courts, which undermines our whole court system. And equal access to our courts is vital to our democracy and central to everything that New York should stand for, and we've seen the impacts that this has had on community."
Over in New York City, the Mayor's Office of Immigrant Affairs (MOIA) found that ICE increased its total number of arrests by more than 65 percent in the New York City area of responsibility (AOR) in the months since President Donald Trump's inauguration.
The NYC AOR is defined as the five boroughs, as well as Duchess, Nassau, Putnam, Suffolk, Sullivan, Orange, Rockland, Ulster and Westchester counties.
MOIA also found that ICE increased the number of arrests of individuals who do not have any criminal convictions by more than 200 percent.
This story has been updated to include a comment from the governor's office.