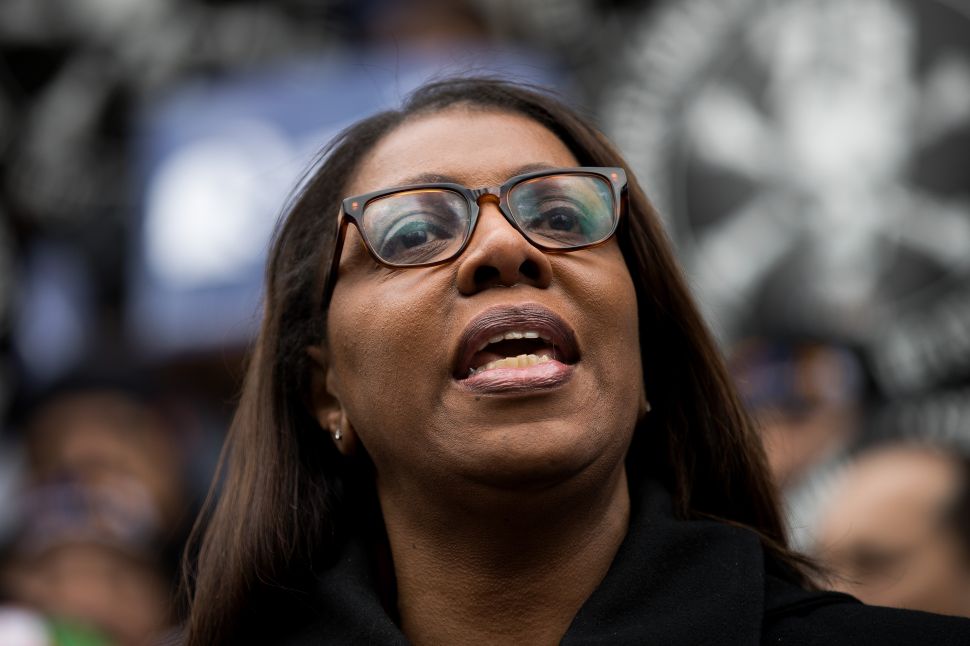 Public Advocate Letitia James, a New York Attorney General candidate widely perceived as the frontrunner in the race, has announced her support for legislation that would permit prosecutors to bring state charges against individuals who have received a presidential pardon—a sign that efforts to get around President Donald Trump's pardon power are gaining more support.
In April, state Senator Todd Kaminsky (D-Nassau County) and state Assemblyman Joseph Lentol (D-Brooklyn) introduced the legislation after disgraced former Attorney General Eric Schneiderman wrote a letter to Gov. Andrew Cuomo and state lawmakers requesting they they close the loophole.
The double jeopardy clause states that an individual cannot be tried for the same crime twice. If individuals receives pardons for crimes at the federal level, they cannot be tried at the state level.
Last week, Trump pardoned conservative author and activist Dinesh D'Souza, who pleaded guilty to flouting campaign finance laws in 2014. At the time, New York Attorney General Barbara Underwood called on lawmakers to close the loophole. And Trump recently claimed that he has the "absolute right" to pardon himself.
"After careful deliberation, I am urging the state legislature to swiftly pass legislation which safeguards against President Trump's attacks on the rule of law in our country," James said in a statement released on Tuesday morning. "The pending legislation closes a loophole in our state law that effectively allows the president to pardon individuals for crimes committed in New York State."
James argued that Trump's pardon of D'Souza and his recent claim that he can pardon himself are even more reason to close the loophole.
"Given President Trump's recent use of the presidential pardon in a case adjudicated in New York State and his claim that he can pardon himself as he pleases, it's clear that we must act now," James continued. "We can protect New Yorkers from double jeopardy prosecutions without giving away our state's ability to deliver justice for all."
The double jeopardy clause in the Fifth Amendment of the U.S. Constitution states that no individual can be tried for the same crime twice. The New York State Constitution has a similar protection.
Jed Shugerman, a professor of law at Fordham University's School of Law, told Observer that the values of double jeopardy "are very important" in order to curb against "abusive multiple prosecutions," particularly for people with limited resources.
He said the proposed change keeps the core values and principles of double jeopardy and addresses the "very narrow question" of people who are pardoned "before they are held accountable" as opposed to "regular kinds of defendants."
Shugerman said that under the federal rule, individuals can be prosecuted for a crime at the federal level once, as well as once at the state level. New York and a couple of states, he explained, have added to the federal rule to increase double jeopardy protections—a move he called "sensible."
"It's just that those provisions didn't take into account that there might be a president who abuses the pardon power to take advantage of the double jeopardy statutes," Shugerman said. "So that if a co-conspirator pleads guilty on the federal level and then gets pardoned, under current law, a New York prosecutor would be violating the state double jeopardy statute by starting a prosecution on those same underlying facts."
He noted that D'Souza violated federal campaign finance law, but that it's "not clear that he broke any state law." He also said the same principle applies if Trump were to pardon Martha Stewart, who was convicted of several felony charges in 2004.
"We're not even talking about Dinesh D'Souza," Shugerman continued. "We're not really talking about Martha Stewart, I don't think. If he were to pardon Martha Stewart, there has to be a state law that she broke. So this really only applies to a set of defendants who violated both federal and state law."
But he noted, however, that Trump's personal lawyer Michael Cohen—who is currently being probed by Manhattan federal prosecutors as to his role in paying off porn star Stormy Daniels ahead of the 2016 presidential election and potential bank fraud and campaign finance violations—likely cannot benefit from the pardon loophole "because he has committed so many federal and state crimes."
And he anticipates that associates one step lower than Cohen, for example, will have a problem.
"This is not a crisis," Shugerman added. "We're not in a crisis point with this yet because the prosecution hasn't seemed to have moved on those defendants, but it will soon. So it's not like it's a disaster if it isn't passed this summer, but it will become a problem as the investigation moves on to middle figures, lesser figures."
At the end of May, Underwood—who was recently sworn in as New York Attorney General—urged lawmakers to take action.
"President Trump's latest pardon makes crystal clear his willingness to use his pardon power to thwart the cause of justice, rather than advance it,"  she said in a statement. "By pardoning Dinesh D'Souza, President Trump is undermining the rule of law by pardoning a political supporter who is an unapologetic convicted felon. First it was Sheriff Arpaio. Then it was Scooter Libby. Now it's Dinesh D'Souza."
Underwood said the state "can't afford to wait to see who will be next."
"Lawmakers must act now to close New York's double jeopardy loophole and ensure that anyone who evades federal justice by virtue of a politically expedient pardon can be held accountable if they violate New York law," she continued.
Rep. Jerrold Nadler (D-Manhattan), who won the top Democratic position in the House Judiciary Committee in December 2017, said that Trump's assertion that he can pardon himself as well as his argument that the appointment of Special Counsel Robert Mueller is "unconstitutional" are both inaccurate—and that he cannot ignore a subpoena from a federal grand jury.
"No president has ever attempted to pardon himself," Nadler said in a statement. "The Framers of the Constitution understood the idea. James Madison told Edmond Randolph that the notion of a self-pardon was inherently corrupt, and argued that the Congress would surely act to remove such as president. These men had just fought a war against a king and had no intention of turning their new nation over to another."