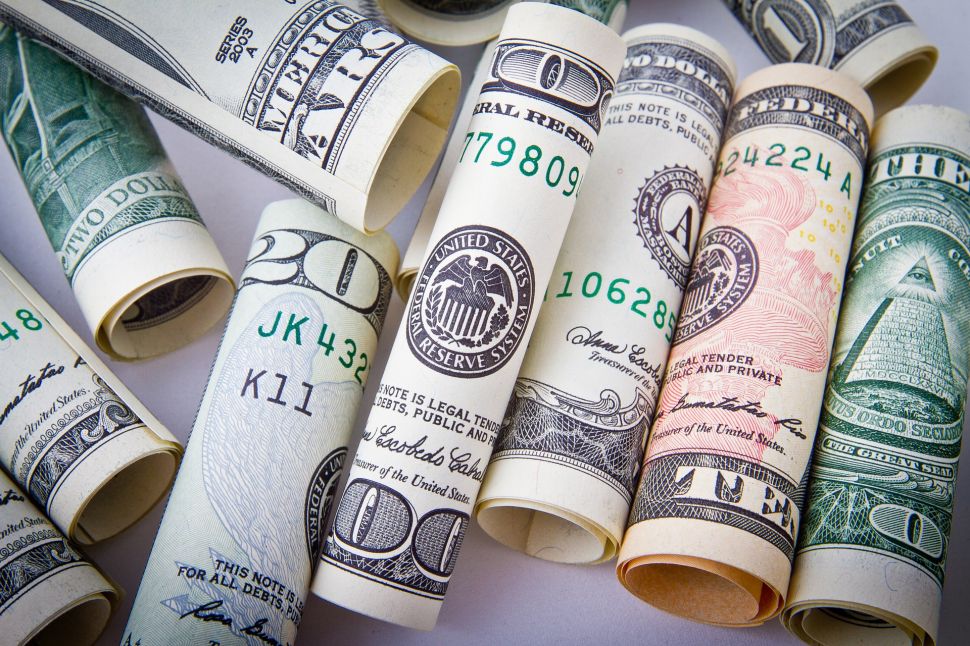 Democratic legislative leaders on Tuesday began advancing their plan for a state budget that, among other things, would temporarily raise taxes on corporations instead of hiking the state sales tax or instituting a new "millionaires tax."
Senate President Steve Sweeney said the corporate tax increase makes sense, since corporations were big beneficiaries from the recently approved Republican federal tax hike. He said individuals, including the state's wealthiest, were hard hit by provisions in the federal plan that limits the deductions for state and local taxes and warned that high wage earners will flee the already highly taxed state if required to pay even more.
But as ROI-NJ reports, the plan pushed by Sweeney and Democratic Assembly Speaker Craig Coughlin could also give New Jersey another unwanted distinction—that of having the highest corporate tax in the country.
According to the report, the Democrat's plan would boost the corporate business tax rate on C-Corps from its current nine percent to 11.5 percent for companies with revenues from $1 million to $25 million, and to 13 percent for companies earning more than $25 million. New Jersey, which currently has the sixth-highest corporate tax rate in the country, would fall only behind Iowa, which taxes large companies at 12 percent, but wants to lower that rate to 9.8 percent.
Sweeney, however, defended his plan, saying the GOP tax plan was a windfall for companies and that Democrats are merely trying to "go where the money is at," according to the report.
Murphy, however, isn't buying the legislature's plan, saying its two-year sunset provision doesn't provide a stable source of funding, while the higher rate will drive businesses—and the jobs they provide—away.
The governor, a millionaire who campaigned on a promise to protect the state's middle class, contends residents won't notice a hike in the sales tax back to its 2016 levels. The legislature had cut the sales tax that year as a way of placating residents following a 23-cent per gallon hike in the state's gasoline tax. Murphy has said the gas tax will need to go up again this fall.
Murphy also says residents—who consistently rate the state's high tax burden as a top problem facing New Jersey—won't mind paying more if they feel they are getting their money's worth in state services. His budget calls for more money for NJ Transit, school funding, free community college for low-income students and expansion of state pre-k programs. Critics, however, say Murphy's plan to expand community college aid and pre-k programs are expenses that will only grow in coming years, putting the cash-strapped state in an even worse financial position.
The governor and legislature must agree on a budget by June 30 or face the prospect of a shutdown of state government.
Quote of the Day: "Who is that guy?" — A passerby, after spotting Gov. Phil Murphy posing for pictures with fans on the Asbury Park boardwalk.
Is NJ Headed for Highest Corporate Tax Rate in Country?
After Gov. Phil Murphy doubled down on the millionaire's tax Monday morning, state Senate President Stephen Sweeney and Assembly Speaker Craig Coughlin doubled down on a corporate business tax hike—suggesting an increase that would give New Jersey the highest corporate tax rate in the country.
ROI-NJ Read more
NJ Democrats Advance Their Own Budget That Tells Phil Murphy: We Don't Answer to You
New Jersey lawmakers on Tuesday flexed their muscles in advancing a spending blueprint that eschews Gov. Phil Murphy's call for income and sales tax increases in favor of higher taxes on the state's largest corporations.
NJ.com Read more
A Budget Showdown Looms, and a New Governor Is Tested
For the first months of his tenure, Gov. Philip D. Murphy enjoyed the fruits of Democratic control in New Jersey, easily winning the Legislature's approval on a laundry list of progressive initiatives, including a package of stringent gun laws, equal pay for women and a significant expansion of automatic voter registration.
New York Times Read more
Compromise Still on Sweeney's Mind
State Senate President Steve Sweeney seemed heartened on Tuesday after he was told that Gov. Phil Murphy indicated he was open to compromise at a press conference earlier in the day.
New Jersey Globe Read more
Weinberg: Votes for Budget Not a Worry
Senate Majority Leader Loretta Weinberg (D-Teaneck) isn't afraid that defections from members of her caucus could derail legislative leadership's plans to push their version of the budget through to the governor's desk later this week.
New Jersey Globe Read more
Lawmakers Advance School Funding Plan
The state Senate's Budget Committee gave its nod of approval to Senate President Stephen Sweeney's school funding plan, putting him into a budget showdown with Gov. Phil Murphy.
NJBiz Read more
Murphy Denies GOP Claims of Silence
Assembly Minority Leader Jon Bramnick waded into Democrats' fight over the budget yesterday, aiming his shots at Gov. Phil Murphy.
New Jersey Globe Read more
Deja Vu All Over Again, Gov. Corzine and the 2006 Shutdown
It's June and members of the New Jersey Legislature are balking at the state budget proposed by the governor, a former executive with Goldman Sachs. Particularly unhappy with the budget's reliance on higher taxes, the lawmakers put forth their own plan.
NJSpotlight Read more
New Jersey Shutdown: What You Need to Know Now as Phil Murphy, Democrats Fight Over Taxes
New Jersey appears once again headed for a state government shutdown, and once again it's a fight over spending and taxes that has the governor and legislative leaders at odds. The twist this time is that they're all Democrats.
The Record Read more
Phil Murphy: My Budget Plan Helps NJ Transit Commuters; The Legislature's Plan Doesn't
Locked in a heated battle over the state budget with members of his own party, Gov. Phil Murphy on Tuesday pitched his plan to some of New Jersey's most beleaguered residents.
NJ.com Read more
Phil Murphy Talks NJ Government Shutdown, Legal Weed on Asbury Park Boardwalk
"Who is that guy," one passerby asked.
Asbury Park Press Read more
Mulshine: You Can't Always Get What You Want—The Guv Needs to Listen to Trump's Favorite Song
One of the most amusing aspects of Donald Trump's endlessly amusing 2016 presidential campaign was his penchant for ending his speeches to the tune of the Rolling Stone's song "You Can't Always Get What you Want."
NJ.com Read more
Anti-Gay Teacher Loses NJ Credentials, Gets $133K Settlement
A high school teacher who made headlines years ago for posting anti-gay comments on her Facebook page has obtained $132,500 for ending a federal lawsuit against this township's school district.
NJ101.5 Read more
Paramus Bus Crash: School District Requires Seatbelts With Shoulder Restraints
The Paramus school board will require its buses to be equipped with seatbelts that have shoulder restraints in response to a deadly accident involving one of its buses on Route 80 in western Morris County that killed two people and injured 43 others.
The Record Read more
Here's How Stolen Metals Are Fueling New Jersey's Opioid Crisis
Tens of millions of dollars worth of metals ripped from cellphone towers, power stations and even graveyards are being fenced at secondhand shops and scrap yards by drug addicts looking to pay for their next fix, a state watchdog agency has found.
The Record Read more
Report Says NJ Should Spend More Public Funds Fighting Deportation
New Jersey Policy Perspective, a progressive think tank, has issued a report calling for increased legal funding to assist people fighting deportation.
NJ101.5 Read more
NJ Attorney General Demands End to Immigration Policy of Separating Families at Border
New Jersey's attorney general, Gurbir S. Grewal, on Tuesday demanded that federal officials end the practice of separating migrant families from their children at the southwestern border, saying the policy is undermining community trust and hurting law enforcement efforts.
The Record Read more
Murphy Order Won't Let NJ Aid in Separating Families At Border
Gov. Phil Murphy has signed an executive order barring state resources from being used to carry out a federal policy of separating children from their parents after illegal border crossings.
NJ101.5 Read more
After Criticism, GOP Senate Candidate Hugin Calls for End to Separating Children at Border
A day after a Hackensack minister issued a public letter disparaging his "silence," Republican U.S. Senate candidate Bob Hugin said Tuesday that the Trump administration should "stop immediately" separating children from parents entering the country.
The Record Read more
GOP Candidate in NJ Says Diversity Will Turn State Into Afghanistan
The U.S. House candidate who drew criticism for calling diversity "a bunch of crap" is also critical of a new diversity initiative for state troopers and state and county prosecutors.
NJ101.5 Read more
Every NJ House Republican Has Broken With Trump Over Taking Kids From Their Refugee Parents
All five New Jersey House Republicans have lined up against President Donald Trump's policy separating children from their parents who try to enter the U.S.
NJ.com Read more
Rutgers to Provide Medical Examiners to Bergen County, New Contract Says
The Rutgers New Jersey Medical School will soon provide doctors to serve as medical examiners for Bergen County, ending the county's longtime practice of directly employing the physicians that investigate suspicious deaths within its borders.
The Record Read more
After Festival Shooting, Trenton Mayor Vows Safety
As the investigation continues into the Art All Night shooting a few days ago, leaders are vowing to stop gun violence and keep residents and visitors safe in New Jersey's capital city.
NJ101.5 Read more
NJ Doesn't Pay Water Bill; Asbury Park Child Protection Office Closed
Apparently, even the state fails to pay its water bill.
Asbury Park Press Read more
Lakewood Private School Bus Fleet Hauls 32,000 Kids Over 13,600 Miles Each Day
Within a minute, three school buses, their amber lights flashing, growl down Chateau Drive, a residential block lined with multi-family homes.
Asbury Park Press Read more
New Approaches Give NJ Hospital Ammunition in Fighting Most Pain—and Opioid Addiction
When Nicole Hayes went home from the hospital with her first baby in 2015 after an emergency C-section, the obstetrician gave her a prescription for a bottleful of painkillers.
The Record Read more
Asbury Park GoFundMe Buys Beach Badges for Residents Who Can't Afford the Beach
For some local families, the day at the beach doesn't start until the lifeguards leave their towers for the day.
Asbury Park Press Read more
Palisades Park Mayor Accepts Primary Loss After Contentious Election
After a hotly contested election, it seems as though Palisades Park Mayor James Rotundo has put the election behind him. He's opted not to challenge the eight-vote victory by Councilman Christopher Chung in the town's first mayoral primary in decades.
The Record Read more
Pedro Rodriquez Doesn't Regret Spending $220K on Failed Paterson Mayoral Bid
Pedro Rodriguez lost more than an election when he finished third in last month's Paterson mayoral race.
Paterson Press Read more
Ex-Corrections Officer, Ocean County Sheriff Candidate Gets Probation
A former corrections officer who once ran for Ocean County Sheriff while under investigation for theft from his own union will serve two years' probation for his part in a Lodi driver's license scam involving hundreds of people, including an owner of a school bus company.
Asbury Park Press Read more
Proposed Mane USA Morris Plains Fragrance Plant Nears Planning Board Vote
Some residents wore white surgical masks. One woman carried a sign to the borough planning board meeting that bore the message "Say No To Mane."
Daily Record Read more
Bayonne, Jersey Journal Back in Court Over Year-Long Police Brutality Settlement Case
Bayonne and The Jersey Journal are back in court. After the year-long fight over access to a settlement agreement in a police brutality lawsuit, the newspaper is asking that $112,000 in legal fees be awarded and that a civil penalty be imposed because of the city's "intentional violation" of the state Open Public Records Act.
NJ.com Read more
Editorial: NJ GOPers: Why Are We Still Warehousing Children?
President Trump is trying to use little kids snatched from their parents at the border as negotiating chips, to push his hard-line demands on immigration.
NJ.com Read more