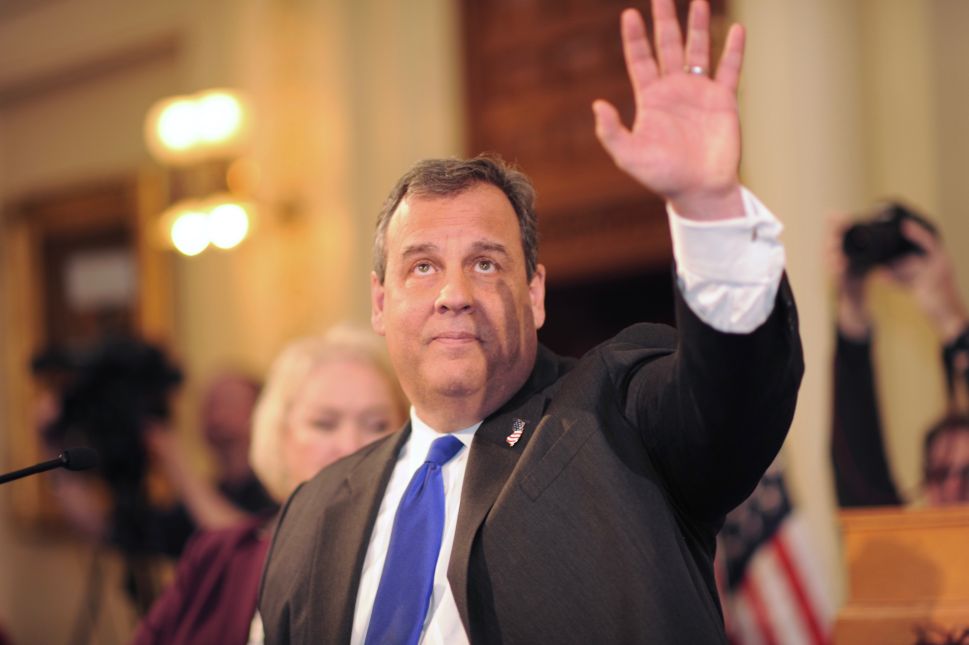 Former Gov. Chris Christie made no secret of his desire to earn serious money once he left office, and now the former U.S. attorney has opened his own law firm in Morris County, according to The Record.
While it's not clear what type of law Christie is practicing, former New York Mayor Rudy Giuliani—now a member of President Donald Trump's legal team—told the newspaper he has referred two clients to the former governor. A Christie representative, however, denied receiving any referrals from Giuliani, according to the report.
Christie's decision to open a firm would seem to put to rest any possibility that he might soon accept a position in the Trump administration. Christie had been an early supporter of Trump's candidacy and was once a top contender for the vice presidential slot on the Trump ticket. He headed Trump's commission to investigate the nation's opioid crisis and recommend steps to combat it.
Since leaving office, Christie has worked as a legal and political commentator for ABC news.
Last week, Christie went on Twitter to say a Washington Post story that stated he had agreed to help prepare Trump for an interview with special counsel Robert Mueller "is dead wrong."
Quote of the Day: "I don't see it that way. If it were June 30, I might agree with you, but it's June 8." — Gov. Phil Murphy, on speculation that the state is heading toward a government shutdown because he and Democratic leaders cannot agree on a budget.
Chris Christie Sets up Law Firm, Rudy Giuliani Says He's Sent Him Clients
Chris Christie has opened a law firm and Rudy Giuliani, a long-time mentor and attorney for President Donald Trump, says he's sent New Jersey's former governor clients, The Record and NorthJersey.com has learned.
The Record Read more
NJ Election 2018: Competition Drove Voters to Turn Out in Big Numbers
Congressional primaries are traditionally sleepy affairs in New Jersey, with at most one or two real battles getting attention statewide. On Tuesday, however, competitive races from High Point to Cape May drove voters to turn out in much greater numbers than normal for a midterm primary.
The Record Read more
What Phil Murphy Said About a Possible Government Shutdown as He Holds Talks With Top Dems
There are only three weeks left until a state budget must be signed and tensions are still running high.
NJ.com Read more
Murphy Raises Concerns About Plan to Temporarily Tax Corporations
Gov. Phil Murphy said Friday he is concerned that an idea being floated by state lawmakers to raise taxes on corporations by $700 million annually would not provide a stable funding source because it would sunset after two years.
Politico Read more
Cook Political Report: Van Drew Likely Winner, Sherrill vs. Webber Leans Democrat
The Cook Political Report has moved Republican Frank LoBiondo's 2nd district House seat from Lean Democratic to Likely Democratic and Republican Rodney Frelinghuysen's 11th district seat from Toss Up to Lean Democratic.
New Jersey Globe Read more
Shame on 'Nazi New Jersey'—Wildwood Mayor Inundated With Hate Mail
In the days after millions watched video of a police officer punching a woman in the head, Mayor Ernie Troiano received dozens of emails. Just five expressed support for him or the cops.
NJ101.5 Read more
New Police Video Shows What Happened After Wildwood Arrest
New video footage of Emily Weinman's Memorial Day weekend arrest on the beach doesn't appear to shed new light on what happened.
NJ.com Read more
NJ Beach Smoking Ban: $250 Fine for Lighting up Now in Murphy's Hands
For those tired of cigarette butts lodged beneath their beach towels and dotting the shoreline of the Jersey Shore, you're in luck.
Asbury Park Press Read more
NJ Sports Betting: Legally, Monmouth Park Sports Book Should Be Open
It's a simple question. Could Monmouth Park legally open the $2.5-million William Hill Sports Book this weekend and begin accepting wagers on games, in spite of a letter from the New Jersey Racing Commission Thursday night threatening penalties for any racetrack that starts sports betting before Gov. Phil Murphy signs the bill regulating the new industry into law?
Asbury Park Press Read more
Mulshine: Horsing Around With Sports-Betting, Murphy Swallows His Own Poison Pill
It's almost as if Phil Murphy were trying to write the textbook on how not to be a first-year governor.
NJ.com Read more
Meadowlands Racetrack Signs Deal, Moves Closer to Sports Betting
The sports betting legislation that passed both houses of the state Legislature and is awaiting Gov. Phil Murphy's signature is creating a buzz for the horse racing industry, especially in the Meadowlands, where other entertainment factors are creating synergy.
ROI-NJ Read more
Look What's Coming! Phil Murphy Will Soon Decide on These Big Bills That Can Change Jersey Life
It was a frenetic day at the Statehouse in Trenton on Thursday as state lawmakers pushed to get a bill legalizing sports betting in New Jersey to Gov. Phil Murphy.
NJ.com Read more
This Powerful NJ Republican Could Have Voted to Block Drilling Off the Jersey Shore… He Didn't
Efforts to keep the Atlantic Coast closed to offshore oil drilling—something pushed by advocates of the Jersey Shore—came up for a vote this week.
NJ.com Read more
In Newark, Police Cameras, and the Internet, Watch You
The camera perched above the bus stop sends back a continuous feed from the corner of 16th Avenue and South 18th Street in Newark's West Ward.
New York Times Read more
Suicide Prevention: Mental Health Care Access, Stigma Still Problems in NJ
Friday morning alone, the New Jersey Hopeline—one of the state's suicide hotlines—saw a 70 percent increase call volume.
Asbury Park Press Read more
Most NJ School Districts Are Getting Screwed by the State—Is Yours One of Them?
If you live in New Jersey, there's a good chance your school district is getting cheated.
NJ.com Read more
Local Districts Under Financial Pressure as Vocational Schools Expand
When Greater Egg Harbor Regional school officials began planning their budget for next year, there was one expense they couldn't discount: $4.5 million in tuition and busing for the county vocational school.
Press of Atlantic City Read more
Working to Close Security Funding Gap Between Public, Private Schools
With hate crimes on the rise across the country, religious and parochial school advocates statewide are pushing for more state funding for security at their schools.
NJSpotlight Read more
Disaster Declaration Approved for March Storm in New Jersey
President Trump has granted a major disaster declaration for the state of New Jersey for damage stemming from the severe winter storm and snowstorm March 6-7.
Associated Press Read more
Medical Marijuana Dispensary Expands in South Jersey, Eyes New Locations in Cherry Hill and Moorestown
The scramble to open new medical marijuana dispensaries and cultivation centers across New Jersey has begun.
Inquirer Read more
Where Murphy Stands on Weed Bill Trump Says He Might Support
Gov. Phil Murphy on Saturday quickly endorsed legislation that would stop the federal government from enforcing anti-marijuana laws in states that have legalized the drug.
NJ.com Read more
This NJ Democrat Just Opened Up a New Front Against Trump
Rep. Bill Pascrell Jr., who spent the last 18 months trying to force Donald Trump to release his tax returns, now wants to go after the president's power to pardon.
NJ.com Read more
NJ Driver's Licenses for Unauthorized Immigrants: Activists Trek Through Monmouth
A group of nearly a dozen activists campaigning for driver's licenses for immigrants, regardless of their legal status, made their way through the Bayshore area Thursday as part of their 300-mile trek across the Garden State.
Asbury Park Press Read more
Dozens Rally in Highland Park in Support of Detained Green Card Holder
Dozens rallied outside a church in Highland Park on Friday afternoon in support of a legal U.S. resident who was detained by immigration authorities over an 11-year-old weapons conviction as he left for work earlier this week.
Asbury Park Press Read more
Chris Daggett Leaves Dodge Foundation, Eyes Possible Future in Politics
Eight years ago, fresh off an unsuccessful independent campaign for the New Jersey governor's office, Chris Daggett took the reins of the Geraldine R. Dodge Foundation. This week he announced he is moving on.
Daily Record Read more
Top Job in NJ's Capital City Is Headed to a Runoff: Meet the 2 Guys Vying for It
Reed Gusciora and Paul Perez are in the home stretch of the battle to determine who will be the capital city's next mayor.
NJ.com Read more
Trump State Department Official Loses Party Post in Landslide
Former Assemblywoman Caroline Casagrande, who joined the Trump administration in April, lost her race for Republican County Committee in Colts Neck on Tuesday.
New Jersey Globe Read more
Mgsr. William J. Linder, a Force for Transformation in Newark, Is Dead at 82
Asked once how he saw his role in a place that many had abandoned, Monsignor William J. Linder was blunt.
NJ.com Read more
Hudson Dems Inviting 'Chaos, Mischief' for Upcoming Chair Fight, Lawsuit Says
The Hudson County Democratic chair fight has landed in court, with allies of Jersey City Mayor Steve Fulop and state Sen. Brian Stack suing the county Democratic organization to get a set of rules in place for next week's chair election.
Jersey Journal Read more
Armed Officers Will Guard Hasbrouck Heights Schools Full-Time Starting in September
Armed officers will be assigned to guard students at four schools when the school year starts in September.
The Record Read more
Dog Breeder Records Kept Secret by Feds, Thwarting NJ Pet Shop Law
Nancy Sasso discovered too late that the adorable Chihuahua puppy her family purchased from a pet shop six years ago came from a breeder with a history of animal welfare violations.
Asbury Park Press Read more
Editorial: A String of Losses for the NJ Environment
Gov. Phil Murphy has compared DuPont's cancer-causing contamination under a Pompton Lakes neighborhood to Love Canal, one of the most infamous pollution cases in U.S. history. Turns out that perceived sense of alarm was just talk.
The Record Read more
Editorial: Hey NRA, People Don't Need to Own an Uzi, AK-47 or AR-15
"Nobody needs an Uzi. Nobody needs an AK-47." With those words to the media nearly 30 years ago, former Gov. James Florio set New Jersey on course to adopt the country's strongest gun-safety laws, including a ban on a wide range of semi-automatic weapons.
Times of Trenton Read more