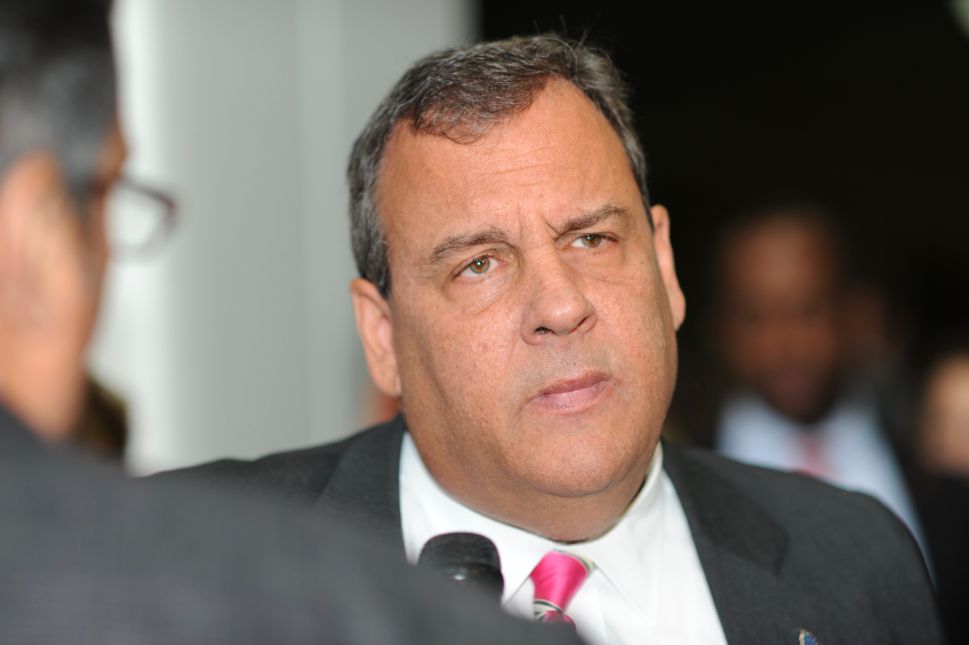 He's got a career as a TV commentator and attorney, but former Gov. Chris Christie seems to be having a hard time letting go of the past, at least when it comes to Twitter.
The Record reports that Christie's preferred social media profile is the "official Twitter account of the 55th Governor of New Jersey."
The problem is that the state doesn't have access to Christie's Twitter or Facebook accounts, according to the report. And none of Christie's social media posts or messages have been archived, according to the report. That's important, since the posts may be government records, since Christie used social media as an official way to promote policies and communicate with the public. However, this is a grey area, since the state doesn't have a social media policy for government accounts. There is also no policy on archiving social media material.
Open policy advocates told the newspaper that the lack of a policy shows just how far behind New Jersey is in ensuring its records policies keep pace with changes in technology.
Quote of the Day: "I haven't heard any compromise from the governor. We're not negotiating right now. I'm negotiating against myself right now, and I know better." — Senate President Steve Sweeney, on the impasse over Gov. Phil Murphy's budget plan.
New Jersey Gov. Phil Murphy Signs 6 Gun Control Bills Into Law
New Jersey's already-strict gun laws got even tougher on Wednesday after Gov. Phil Murphy signed six bills that were advanced in the wake of a Florida school shooting that killed 17 people in February.
Christian Hetrick, Observer Read more
NJ Approves Sports Betting Regulations
Clearing the state's final hurdle to sports betting, the New Jersey Racing Commission adopted on Wednesday regulations for wagering at the racetracks set to begin Thursday morning at Monmouth Park.
The Record Read more
Phil Murphy Responds to WFAN's Mike Francesa, Talks Sports Betting
Phil Murphy has received his first audience with Mike Francesa.
The New Jersey governor hopped on WFAN on Tuesday, hours after the big guy blasted him for his announcement he had signed legislation to officially bring legal sports betting to the Garden State, and… well, let's just say Murphy didn't need his hard hat if he brought one.
NJ.com Read more
Floating a $600 Million Bond Issue to Build New Portal Bridge
Gov. Phil Murphy's administration is preparing to provide a major financial boost to a long-planned replacement of the Portal Bridge, a key north Jersey rail crossing that is a frequent source of Northeast Corridor commuting headaches.
NJSpotlight Read more
America's Most Crowded Place: Hudson County's Town of Guttenberg
Consider a place where every person, big and small, is confined to the space of a studio apartment. And a little one at that.
The Record Read more
Chris Christie Is Still Using His 'Official' Twitter Account… Lawyers Say It's a Problem
Five months after leaving office and becoming a professional talking head for ABC News, Chris Christie still lists his preferred social media profile as the 'official Twitter account of the 55th Governor of New Jersey.'
The Record Read more
Democrats Have One-Party Rule in Trenton… Why Can't They Agree on Taxes?
Chris Christie used to say that when he was elected governor in 2009, his old mentor, former Gov. Tom Kean, offered some advice. "Who's your best friend?" Kean asked. "My wife," Christie replied.
Inquirer Read more
Phil Murphy Stands by His Tax Hike Plan as Possible Shutdown Looms
Gov. Phil Murphy said Wednesday he's still hopeful New Jersey will avoid another government shutdown in 17 days—but he's standing his ground on the tax hike plans at the center of his first state budget proposal.
NJ.com Read more
State Freezes Charity Care for Hospitals, Revenue Crunch, Budget Impasse Blamed
A state revenue crunch that forced Treasury officials earlier this month to announce a spending and hiring freeze is now forcing Gov. Phil Murphy's administration to hold back aid that New Jersey hospitals receive from the state for services they must provide to uninsured residents and to help train the next generation of healthcare providers.
NJSpotlight Read more
Housing Advocates Hope Lawmakers Block Murphy From Raiding Funds
As legislators search for ways to avoid the tax hikes Gov. Phil Murphy is seeking for the budget while also adding some of their own spending priorities, housing advocates are pressing for them to undo a budget-balancing maneuver that redirects affordable housing funds to other purposes.
NJ101.5 Read more
Where Can You Get Paid $466K a Year to Wash Trucks? Special Deals, Union Clout at NJ Port
On the waterfront, there's a longshoreman on the books who washes trucks.
He gets paid $465,981 a year. To wash trucks.
NJ.com Read more
NJ Hospital Association Funds New Patient Opioid Prescription Tracking Tool
Officials from the New Jersey Hospital Association announced Wednesday that they are investing $1.5 million into a statewide tracking tool for hospitals that will better monitor opioid prescriptions.
Press of Atlantic City Read more
NJ Could Loosen Birth Certificate Rules
It may soon be easier for New Jersey residents to change the gender listed on their birth certificate—an important issue for a segment of New Jersey's 30,000-plus transgender individuals, and those advocating for them.
NJ101.5 Read more
Can $51 Billion Upgrade to Airports Get Off Ground?
Continuing growth and demand, as well as environmental changes, are driving the need for $51 billion in upgrades to the region's airports, including a completely revamped Newark Airport with an additional runway and the closure of Teterboro Airport, a new study urges.
NJSpotlight Read more
Ocean Resort Gets 11th-Hour Special Hearing for Casino License in Atlantic City
Ocean Resort Casino has been granted a special hearing just eight days before its scheduled opening in Atlantic City to seek approval for a state casino license that will allow the sprawling complex to offer gaming.
NJ.com Read more
Lawmakers Seek More Environmental Scrutiny of Oil Trains
Lawmakers are looking to increase oversight and safety requirements for trains carrying high-hazard flammable liquids, which are often transported through densely populated communities through New Jersey.
NJBiz Read more
Defending the Superintendent Accused of Pooping—We Talk to Lawyers
While the superintendent accused of defecating on a high school track said nothing in his Tuesday court appearance, some lawyers from around the state have offered insight on what might come next for the man the internet has dubbed the "Pooperintendent."
NJ.com Read more
Second Fatal Police-Involved Shooting Reported in Hardwick in Six Days
A fatal officer-involved shooting was reported in Hardwick on Tuesday night. This was the second trooper-related fatal shooting in the small rural Warren County township in a span of six days.
The Record Read more
NJ Won't Let Public See Bus Crash Video
The objections of the family of a fifth-grader killed when a school bus was struck by a dump truck on Route 80 and torn apart have led the state Department of Transportation to deny media requests to release highway video of the incident.
NJ101.5 Read more
After Paramus Bus Crash, Parents Take Closer Look at Field Trips
In the wake of the Paramus middle school bus accident, parents are asking more questions and taking a closer look at safety protocols surrounding field trips.
The Record Read more
Fatal School Bus Crash: Hospitalized Student's Family Sues Trucking Company
The parents of one of 43 Paramus middle school students injured in a school bus crash that claimed the lives of a student and a teacher last month are suing the Belleville-based owners of a dump truck that collided with the bus, claiming negligent actions by the truck driver contributed to the crash.
NJ.com Read more
NJ Counties Where People Spend More of Incomes on Gas
Those higher gas prices are putting a dent in a lot of New Jersey wallets this year. And some may even change vacation and travel plans.
NJ101.5 Read more
AFL-CIO Backs Van Drew
The New Jersey AFL-CIO has endorsed State Sen. Jeff Van Drew (D-Dennis) for Congress in New Jersey's 2nd district.
New Jersey Globe Read more
Fulop on Stack's Loss to DeGise in Fight to Become Hudson County Democratic Chair: It Is What It Is
Jersey City Mayor Steve Fulop said he was sorry Union City Mayor Brian Stack did not win the election to become the Hudson County Democratic chair Tuesday night, because he felt the county would have been in a better position with Stack over winner Amy DeGise.
ROI-NJ Read more
Town Used Zoning Tricks to Target Orthodox Jews, Feds Say in Suit
The U.S. Attorney's Office filed a federal civil rights lawsuit Wednesday against Woodcliff Lake for denying zoning approval to an Orthodox Jewish congregation who wanted to build a new house of worship.
NJ.com Read more
Toms River Takes Different Approach to Orthodox Jewish Eruv Construction
While some towns have tried to block Orthodox Jews from constructing eruvin in neighborhoods, Toms River has taken a much different approach.
Asbury Park Press Read more
Corruption Jersey Style: Councilman May Join Long List of Crooked Officials
When the Essex County Prosecutor's Office charged a Roseland councilman last month with conspiring to commit official misconduct, he joined a long line of municipal officials in the Garden State called to account in court for their alleged misuse of power.
NJ.com Read more
Four-Vote Victory: Ron DeFilippis Wins Battle for Morris County GOP Chairmanship
Accountant Ron DeFilippis squeaked to a four-vote victory over financial planner Rob Zwigard for chairmanship of the Morris County Republican Committee at a packed reorganization of the party.
Daily Record Read more
Brothers Who Ran 7-Year Health Fraud Scam Sentenced to Prison
Two brothers who admitting bribing doctors in a $100 million health care scheme were sentenced to prison Wednesday, closing a case that featured accounts of cash bribes, prostitutes and $300,000 luxury cars.
The Record Read more
Landlords: Brick Plan to Background Check Renters May Not Be Legal
Landlords and tenant advocates are pushing back against a proposal that would mandate criminal background checks of prospective renters in Brick.
Asbury Park Press Read more