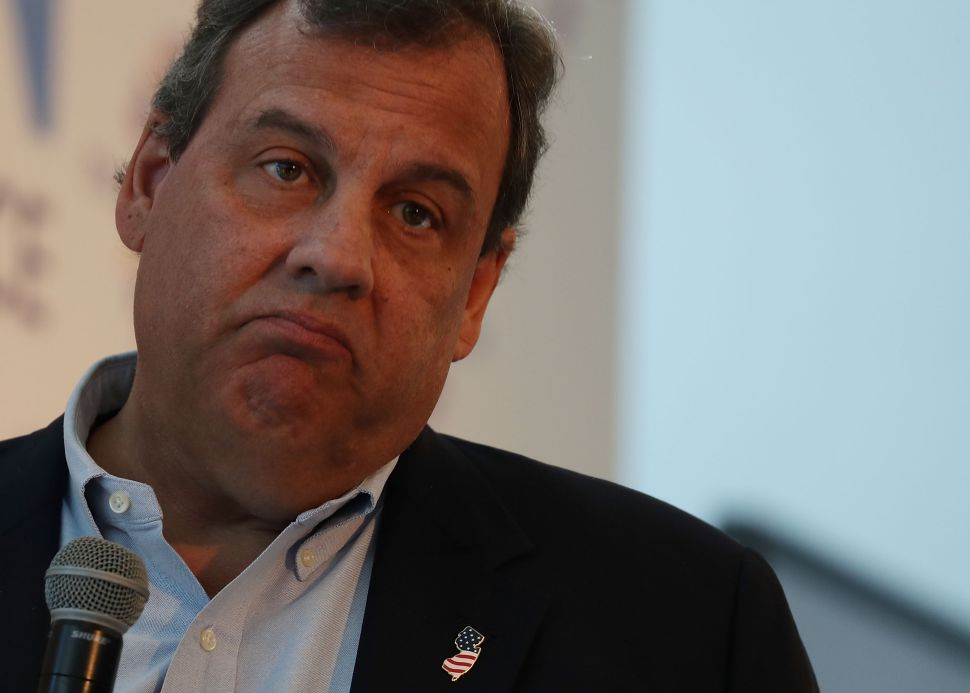 He can't get legislative leaders in his own party to go along with his budget plan, and now Gov. Phil Murphy has to put up with his predecessor chiding him for his poor sports picks.
Murphy, the former U.S. ambassador to Germany, picked that country's team to win the World Cup soccer tournament when he stepped up to the window at Monmouth Park Race Track to be the first person to place a legal sports bet in New Jersey.
But Murphy lost his $20 bet when South Korea defeated the Germans in a match Wednesday.
Christie, a sports fan who once tried out for a spot as an announcer on sports radio station WFAN, tweeted out congratulations to South Korea for defeating "an overrated" German team. The former governor, who had his own budget problems with the legislature, went on to say—when speaking about soccer, of course—that the game shows "who can really compete and who is just talk."
Murphy, when talking about the ongoing budget stalemate that could result in a shutdown of state government this weekend, said he hadn't consulted with "the South Korea soccer team's biggest fan," according to NJ.com.
Murphy on Thursday began preparing for a shutdown. Murphy is pushing a budget plan that raises more than $1.5 billion in new taxes, including a tax hike for millionaires, raising the state's sales tax and taxing home- and ride-sharing services. The legislature, led by Senate President Steve Sweeney and Assembly Speaker Craig Coughlin, is opposed to the millionaires tax, which they say will drive high wage earners from the state, and hiking the sales tax, which had been cut in a 2016 deal that raised the gas tax by 23-cents per gallon.
Both sides have offered compromises that in both cases the other side has not embraced.
Murphy ha said he'd accept a graduated hiking of the sales tax hike as well as smaller hikes in both the corporate and millionaires tax, along with the other hikes he's proposing. He's threatened to cut close to $900 million from the legislature's budget if they won't accept his plan. The legislature has stuck with the corporate tax and offered a plan to tax short-term rentals and other real estate transactions—which Murphy has said he won't go along with.
Republicans, meanwhile, have advocated for cuts that would alleviate the need for tax hikes.
New Jersey residents bear one of the highest tax burdens in the country, and the state is among the top in the nation seeing more people leaving than moving in. Residents have consistently said the state's tax burden is among its biggest problems.
Murphy maintains residents won't mind paying more if they feel they are getting good value for their money.
The governor hasn't said whether or not he'll sign a 5-cent per paper or plastic shopping bag tax recently approved by the legislature. He has indicated an interest in taking advantage of the U.S. Supreme Court's recent decision allowing states to collect online sales taxes. He's also said the gas tax will likely climb an additional 3-cents per gallon this fall.
Quote of the Day: "What you truly learn about when the game starts is who can really compete and who is just talk." — Former Gov. Chris Christie, in a dig at Gov. Phil Murphy, who bet on Germany's World Cup soccer team only to see it knocked out of the competition.
NJ government shutdown: Phil Murphy preparing to close state 'if logic doesn't prevail'
Gov. Phil Murphy seems unwilling to accept the revenue suggestions of fellow Democrats in the Legislature to end a budget dispute and said he is preparing contingency plans that include a government shutdown if the impasse persists.
The Record Read more
Stile: In this budget drama, Phil Murphy both vilifies and imitates Chris Christie
Gov. Phil Murphy vilifies his predecessor, Republican Chris Christie, at virtually every twist in the budget drama that threatens to shutter state government.
The Record Read more
Budget battle: State chamber suggests cap on dividend tax
Not only are legislators and the governor showing signs of coming together on the state budget, but the business community, which is still opposing all taxes, is starting to budge.
ROI-NJ Read more
Mulshine: Hey, Governor Norma Rae; worry about the taxpayers not the unions
Could somebody please tell our governor that he represents management, not labor?
NJ.com Read more
Moran: Sweeney gets desperate, swipes at Shore rentals
In his infinite wisdom and glory, God granted New Jersey two great gifts: We don't have to pump our own gas, and we have the Shore.
NJ.com Read more
NJ government shutdown: Chelsea Handler has her say on Phil Murphy tax plan
New Jersey's budget battle is drawing some celebrity attention.
The Record Read more
Murphy nonplussed by increasingly public nature of budget fight
Gov. Murphy first learned about legislative leaders' proposal to tax short-term rental homes during Senate President Steve Sweeney's press conference on Wednesday.
New Jersey Globe Read more
Chris Christie trolls Phil Murphy over Germany World Cup loss
Former Gov. Chris Christie is a sports fan. As governor, we knew he liked baseball and the Mets and football and the hated-in-Jersey Dallas Cowboys.
NJ.com Read more
Watchdog agency to review how federal government is tracking children separated at border
At the request of Rep. Frank Pallone, the Government Accountability Office will conduct a review of the way a pair of federal agencies are tracking children and adults who have been separated after crossing the southwestern border.
The Record Read more
ICE Goes to Home, Finds Kids, Baby Home Alone All Night
Parents who left their three children alone overnight, the oldest being just 6 years old, are in custody after trying to elude police serving an immigration warrant.
NJ101.5 Read more
7 big ways N.J. will feel the U.S. Supreme Court ruling on public worker unions
Supreme Court to public employees unions: Drop dead.
The five Republican-appointed members of the U.S. Supreme Court voted Wednesday to overturn 40 years of established law in a decision considered crippling to the public unions, who by and large support Democratic candidates.
NJ.com Read more
Booker asks how Trump can pick Supreme Court justice while Russia probe continues
U.S. Sen. Cory Booker said it would be a "potential conflict of interest" for President Donald Trump to nominate anyone to the U.S. Supreme Court while members of his administration and presidential campaign remain under federal investigation over possible ties to Russia.
NJ.com Read more
East Rutherford councilman George Perry dies during reelection bid
Councilman George Perry died early Wednesday morning, causing a vacancy on the dais and on the Republican slate in November's council election.
The Record Read more
Atlantic Health System, MedExpress partner in 11 urgent care centers
Atlantic Health System and MedExpress are collaborating to coordinate care between MedExpress' 11 neighborhood medical centers in North and Central Jersey and Atlantic Health System's network of physicians, hospitals and other care sites.
The Record Read more
Editorial: Budget scramble again going down to the wire
During a part of Gov. Phil Murphy's press conference at a Trenton elementary school Thursday regarding the budget impasse with the Legislature, the city's mayor-elect, current Assemblyman Reed Gusciora, offered some thoughtful insight:
The Record Read more
Editorial: U.S. Supreme Court bolsters defiant N.J. teacher's case
In just three days since our editorial, "Can one teacher take down mighty NJEA?" was published, there have been significant developments that could impact a Gloucester County teacher's recent lawsuit to escape paying mandatory union fees.
South Jersey Times Read more