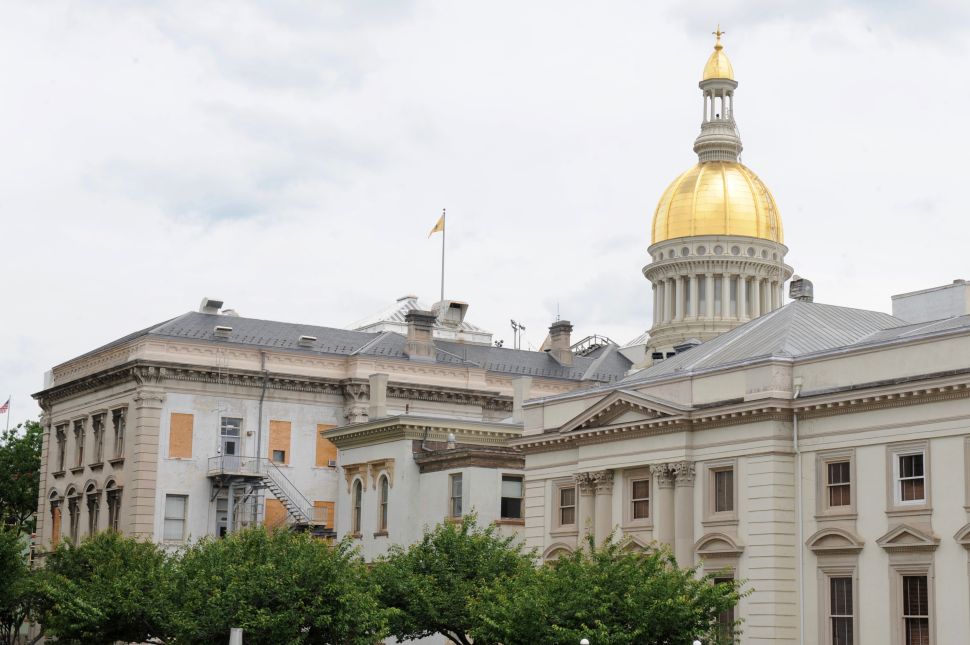 Democratic leaders in the legislature won't lay claim to it, but NJ Advance Media says it has obtained "a possible legislative counter-proposal" to Gov. Phil Murphy's proposed budget.
There is less than three weeks for state leaders to agree on a budget, and many Trenton-watchers are already seriously discussing the possibility of state government shutdown, as Murphy and legislative leaders in his own party still appear far apart on spending priorities and Murphy's plan to raise more than $1.5 billion in taxes.
The report on NJ.com says the one-page document includes calls for a temporary three-percentage point hike in the Corporation Business Tax, a tax amnesty program projected to bring in $150 million and increases in funding for the Homestead Rebate program, school funding and other spending priorities.
It scraps Murphy's call for an increase in the state sales tax and a millionaires tax, while also cutting spending for his priorities, including additional aid for low-income students attending community college, according to the report.
The report notes that it's not clear if the plan is an initial proposal to be used in bargaining or a firm statement of legislative priorities. Both Senate President Steve Sweeney and Assembly Speaker Craig Coughlin distanced themselves from the plan, according to NJ.com.
Murphy has made it clear he doesn't favor hiking the corporate tax, saying it will drive businesses—and the jobs they create—from the state, while plans for it to sunset after two years means it doesn't provide the stable source of income he says the state needs.
The state must adopt a budget by July 1 or face a shutdown of nonessential services—similar to what happened last year over three days of the Independence Day weekend, when the Democratic-controlled legislature clashed with Republican Gov. Chris Christie.
Quote of the Day: "Until a final budget is introduced, anything else floating out in the ether is just idle speculation." — Assembly Speaker Craig Coughlin
Phil Murphy Signs Law Legalizing Sports Betting in New Jersey
New Jersey Gov. Phil Murphy signed a bill into law on Monday to allow legalized sports betting online and at the state's casinos and racetracks—a month after the U.S. Supreme Court sided with the state in its landmark sports wagering case.
Christian Hetrick, Observer Read more
Sports Betting Bill Written to Include Site That Won't Host Horse Racing
Legislation Gov. Phil Murphy signed into law Monday afternoon to allow sports betting in New Jersey includes a provision for a sports book at the site of a former racetrack in Cherry Hill where there are no plans to ever host horse racing again.
Politico Read more
PSE&G's Next Big Ask: $2.5B to Upgrade Electric and Gas Distribution Networks
Public Service Electric & Gas is seeking approval to spend $2.5 billion over the next five years to replace and upgrade aging parts of its electric and gas distribution systems.
NJSpotlight Read more
Many NJ Towns Ban Airbnb, but Will That Help or Hurt Residents?
George Albert said his neighbor's house, rented through Airbnb, has become like a fraternity house.
The Record Read more
Phil Murphy May Not Like This Possible Counter-Offer to His Tax and Budget Plans
A framework for a possible legislative counterproposal to Gov. Phil Murphy's state budget obtained by NJ Advance Media shows just how far apart New Jersey's top elected officials are with just 19 days to the deadline for a spending plan.
NJ.com Read more
Fight Over Taxes, Spending Could Force Government Shutdown in NJ
It's a game of high-stakes poker, and in the view of Gov. Phil Murphy's administration, the other side won't show its hand.
The Record Read more
Rooney: 3 Weeks Away From Budget Deadline, Murphy's Not in Tune With Taxpayers
Will somebody please get serious about lowering taxes?
NJ.com Read more
Hart Insists Murphy Must Balance Tax Hikes, Desire for Innovative Businesses
Gov. Phil Murphy's push for increasing taxes on millionaires in the state has been a subject of concern for the business community, but it may also harm the very same industries that Murphy is eager to promote.
ROI-NJ Read more
Mega Strip Club Readies First Dance Inside Reluctant Hard Rock Hotel in Atlantic City
A mega gentlemen's club that once operated out of the Trump Taj Mahal is set to reopen in the rebranded resort, after a suit by the family-friendly Hard Rock Hotel & Casino that aimed to stop it was dismissed in federal court.
NJ.com Read more
New Jersey's Most Endangered Republican Just Got a Huge Wad of Cash From Paul Ryan
House Speaker Paul Ryan's super political action committee said Monday it would spend $2.1 million on behalf of Rep. Leonard Lance, who is given just a 50-50 chance for re-election.
NJ.com Read more
'Diversity Is a Bunch of Crap and Un-American,' South Jersey Congressional Candidate Seth Grossman Says
Seth Grossman's surprise victory in the Republican primary in New Jersey's Second Congressional District has brought immediate national scrutiny of the Trump purist from Democrats who see a November victory by Democrat Jeff Van Drew as essential to their plans to seize control of the U.S. House of Representatives.
Inquirer Read more
For South Jersey Democrats, All Is Going as Planned Heading Into General Election
Atlantic County attorney Seth Grossman turned local Republican committees on their heads when he won the primary in an upset over Hirsh Singh last week.
Press of Atlantic City Read more
Group Will Spend $350K to Turnout Voters for Sherrill
A political action committee says it will spend $350,000 to turn out voters for Mike Sherrill in the general election.
New Jersey Globe Read more
MacArthur Opposes DOJ Obamacare Policy
Rep. Tom MacArthur is joining a group of Republican legislators refusing to back the Department of Justice's decision to not defend the constitutionality of the Affordable Care Act.
New Jersey Globe Read more
He Said He'd Impeach Trump, Her Husband Is a Key Trump Aide—Now They're Running Against Each Other
Following a legal review, the matchup is set in what may be New Jersey's most unconventional race for mayor this fall.
NJ.com Read more
On Key Votes, School Boards Bypass Conflicts of Interest… Is This in the Public Interest?
Four of the Wayne Board of Education's nine members have accepted donations from the local teachers' union. They still voted to ratify the teachers' union contract and approve raises, thanks to a practice that allows school boards to legally bypass conflicts of interest.
The Record Read more
These NJ School Districts Are Hemorrhaging Students and It Could Spell Big Trouble
New Jersey public schools have far fewer students coming into the system than in years past, a trend that, should it continue, could threaten the viability of some rural districts as enrollment plunges.
NJ.com Read more
School Taxes Are Hammering People in These NJ Towns… See How Yours Stacks Up
Some homeowners in New Jersey pay more than 1 out of every 10 dollars they earn annually in their paychecks to their local school system, an NJ Advance Media Analysis finds, but the burden of education spending is not evenly distributed across the state—also also not what you might expect.
NJ.com Read more
NJ Substitute Aims Stun Gun At 'Gang Member' Student, Loses Credentials
A substitute teacher who said she pointed a stun gun at a student because she felt threatened will lose her credentials after a decision by the state board of examiners.
NJ101.5 Read more
Not Again! Computer Crash at Motor Vehicle Agencies Shuts Down Business
A second massive computer crash in a week shut down state computer systems, once again halting business at al Motor Vehicle agencies.
NJ.com Read more
Despite High-Profile Deaths, NJ Figures Show Decline in Suicides
Notwithstanding several, recent high-profile suicides—including Garden State native and internationally known chef Anthony Bourdain and fashion designer Kate Spade—as well as a federal study showing the rate of self-inflicted death has soared nearly 30 percent in less than a decade, the news is not all bad for New Jersey.
NJSpotlight Read more
NJ Moving Toward Stricter Rules for New Young Drivers
Stricter rules for new drivers in New Jersey could be in effect by the end of next year, if a bill that a Senate panel endorsed Monday that's due for similar approval Thursday by an Assembly committee makes it into law.
NJ101.5 Read more
Showdown in Hudson County Dem Chair Fight Set for Tuesday
In the two-person race that will determine who becomes the next Hudson County Democratic chair, local Democrats have the choice of a fresh face who will energize the party by tapping into its grassroots political energy, or a political boss who wants to use the position to wield political power.
Jersey Journal Read more
Former State Senator Starts PAC to Help Women Get Started in Politics
Just months after stepping aside after serving two decades as a state lawmaker, former Sen. Diane Allen is launching a political fundraising effort whose primary goal is to help other women, regardless of party, become members of the legislature.
NJSpotlight Read more
With Anti-Semitic Incidents on Rise, Synagogue Leaders Get Security Tips
Prompted by a recent spike in anti-Semitic incidents nationwide, Rep. Josh Gottheimer held a "synagogue security summit" with FBI and Homeland Security officials on Monday.
The Record Read more
In Palisades Park, Guarded Optimism for Trump-Kim Summit
Hours before President Donald Trump and the North Korean leader, Kim Jong-un, were to meet in Singapore, Korean-Americans in North Jersey on Monday expressed guarded optimism over what the two leaders could achieve.
The Record Read more
NJ Doctors Say They're Helping Beat Opioid Abuse
The American Medical Association and The Medical Society of New Jersey say their member doctors have been making consistent progress in helping to address—and hopefully reverse—the current opioid epidemic.
NJ101.5 Read more
Drug-Laced Cartridges, Another Vaping Concern in NJ
If the aroma of mango or pineapple is strong enough, cops may have no idea when an individual is smoking an illegal substance right in front of them.
NJ101.5 Read more
Close Teterboro Airport and Expand Newark, JFK to Absorb the Traffic, Planning Group Says
An influential planning group recommends phasing out general aviation operations at Teterboro Airport, shifting its flights to the region's three major airports and expanding both Newark Liberty and JFK to absorb the traffic.
The Record Read more
Debt Collectors Are Calling 1 in 4 New Jersey Residents: How Much Do Your Neighbors Owe?
More than one in four New Jerseyans have delinquent debt that has gone to collections with a median bill due of $1,114.
The Record Read more
NJ State Trooper Accused of Pulling Over Women to Ask Them Out on Dates Forfeits Job
A New Jersey state police trooper accused of repeatedly pulling over women to ask them out on dates has agreed to forfeit his job as part of a plea deal to resolve the allegations.
The Record Read more
Editorial: Will Trump Swing NJ Elections
Most years, mid-term elections fail to generate much enthusiasm among the voters. This year, things should be different. Control of the House, and possibly the Senate, are at stake, and New Jersey could play a pivotal role in determining whether Democrats can break the Republican monopoly in Congress.
Asbury Park Press Read more
Editorial: Port Authority Is So Bad, It's a National Joke—Reforms Must Become Law
Since the time it became a massive prairie fire fueled by political corruption, the Port Authority has been a slippery target for reform legislation, and we can all agree that it's time to nail it down.
NJ.com Read more